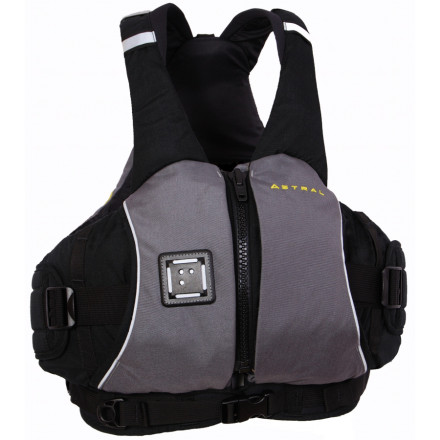 Detail Images
Open-ocean paddles, whitewater adventures, and casual lake paddles all have inherent risks, no matter how experienced one is on water. Slip the Tempo 200 T2 over your torso, zip up the front, and experience the excitement of paddling on the earth's liquid playground knowing you're ready if things take a turn (or roll) for the worse.
Independent Shoulder Suspension with strong, adjustable elastic (buckle-free system) allows advanced mobility
Large cargo pockets on the front feature expandable, low profile design
Attach a strobe beacon to the specific point on back shoulder for added security
Reflective trim accents placed high on shoulders and means fellow boaters and rescuers can spot you in dim light and deep water
Hand-warmer pockets bring life back to your frozen hands
Quick-access tab on front for securing a knife or VHF radio
Internal hydration pocket specifically designed to hold a 1.5L Astral Buoyancy bladder
Chimney venting design utilizes a back-up buckle to secure the vest when the zipper is down
This is a jacket that is completely adjustable while wearing it. Even the shoulder straps are easily adjusted, and all extra webbing is nicely hidden. It has finger warmers and a center zipper for cooler weather, or only buckle it when it is warm. There is a pocket for a hydration bladder in the back (sold separate) that holds just under 2 L of water. I actually bought a cheapo bladder from wally world that worked just fine. This is a comfortable jacket that sits low on the torso but won't interfere with your backrest. I had no problems performing a cowboy scramble with this jacket on. BTW...I paid more for it than what it is going for here....:(
How do I choose the size for this PFD?
How do I choose the size for this PFD?
Size options (measured at widest chest circumference)
XS/M (30"-42")
L/XL(42-54")
The is the PFD I prefer to wear. It is comfertable, very buoyant, and has great features. It has hand warmer pockets to keep the hands warm when scouting rapids in winter, two zip pockets to keep snacks and whatever, mutiple adjustors to dial the fit in, and it is even hydration compatible! It isn't that expesive either. I recomend it.
This is a great fitting, super comfortable PFD. I though it would be too bulky, but has a great shape to it. The hand-warmer pockets are the icing on the cake. Also, this is in general a good company; many of their products are environmentally kind. I use mine predominantly for canoeing and a bit of kayaking. Good luck.