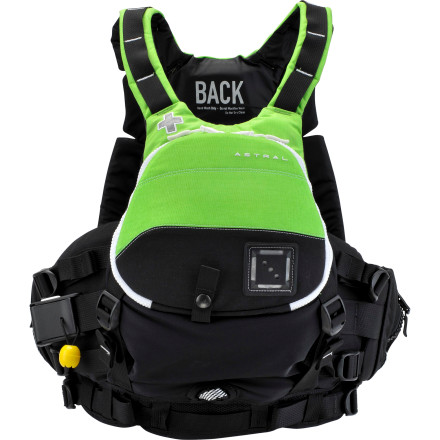 Colors

Detail Images

Community Images
Description
For whitewater professionals and rescuers, anything else would be foolish.
Astral hit the nail on the head when it created the Astral GreenJacket Personal Flotation Device. This is a PFD for whitewater professionals and professional river rescuers, and it oozes with toughness and utilitarian purpose down to the tiniest detail. The front panel features a large, clamshell-style opening that can hold a rescue rope, there's a quick-release harness built into the side, a tow system on the back, a Spectra safety loop for emergency extractions, and the list goes on. Astral's designers even worked in their unique Tectonic foam panel system that uses a static panel at the chest and a dynamic, floating panel at the torso where you need mobility to paddle. Sure, you could find a lighter weight PFD option for the river, and maybe even one that's designed for rescuers, but you won't find another with the laundry list of forward-thinking safety features touted by the GreenJacket.
Freestyle Tectonics buoyancy system uses a dynamic foam plate that allows for mobility at the torso and a static foam plate that guarantees that the chest will always be above water
Foam plates are reinforced with lightweight plastic for protection against rocks and debris in the river
Pullover entry ensures ultimate security by eliminating a zipper opening that could bust open or break
Front panel is large enough to store a rope and features a clamshell opening with five pockets inside
Spectra safety loop provides an attachment point for a rope during emergency river extractions
Carabiner Park allows you to utilize a web toe or tow cord for boat or paddler recoveries
Two side cargo pockets with zip closures for small gear
Front lash tab for attaching a rescue knife or strobe
Quick-release rescue harness tack-stitched into vest, rated to 1,200 lb
Built-in fleece hand-warmer
Top PFD
Familiarity:

I gave it as a gift but have feedback to share
I personally have a Lotus vest, and love that thing to pieces. Sad to see them leave the market, but stoked that Astral was developed! My boyfriend was getting ready for a trip down the Grand and wanted a top notch PFD- settled on this one and stoked on the decision.
One of the most important pieces, at least in my opinion, is how comfortable it is. If you're sitting in it all day long, might as well be as comfy as possible. Doesn't rub or chafe, and it's easy to adjust the sizing. Sizing is also accurate to the size chart provided.
Features are also bomber- super bouyant, and the safety belt is very handy. He never had to use it for any sort of rescue purpose, but it's there for if the time every does come. Another great feature is the clamshell pocket- perfect size for a flask, in case you were wondering. The fleece handwarmer is awesome too!
The only gripe and grime about the vest is that it is a pullover. I understand the reasoning behind it, but I've always preferred the side entry for easy on and off. Overall, super killer PFD. Once my Lotus needs to be replaced, I'll be coming back to the GreenJacket.
New favorite PFD
Familiarity:

I've used it several times
The Astral Greenjacket is awesome. Highly recommend for anyone looking for a solid rescue PFD. The QR best is sewn into the jacket on one side, which prevents it from shifting or becoming lost, but it also means it is non removable, so I recommend you learn how to use it properly. The front clamshell pocket works wonders, and opens to a
Great Jacket Prompt Delivery
Gender:

Male

Familiarity:

I've used it several times
The Astral Green Jacket is an awesome rescue pfd. Very solid build. I also own the Astral Sea Wolf which was my favorite pfd but is now my second favorite jacket. Both are great but you can really feel the increased durability in the Green Jacket if you need or want a rescue level jacket.
Very comfortable wearing two days on the Youghegheny. Never swam but did roll a couple times and couldn't tell it was on.
Backcountry had a great sale on it. When I saw the price I knew I would never beat that and didn't hesitate to buy immediately. Very glad I was looking that day!!
Backcountry delivered very promptly and everything was just as advertised. I ordered close to an upcoming trip and almost spent the extra on the faster shipping. Decided not to and glad I saved the money as their delivery service was excellent.
I've been using the Astral Greenjackets since 2011 andI'm super happy with them. After Astral improved the Velcro pocket with the Zipper the green jacket is hands down the most useful pfd in the market.



I am a Kayaker, raft guide, slalom judge and whitewater events organizer. Also I've been involved in serious natural river disasters in which I've done lots of rescues in flooded towns taking people out of there.



So I'm sure you can use it for all types of paddling and/or situations.

It is essential to have everything you need when you need it, This pfd has got you covered. You can have all your pin-kit, including carabiners, webbing, prusiks, pulleys and rope secure in your Astral Green jacket.



I definitely recommend this life vest for ALL type of paddlers.
The rescue-vest standard
Familiarity:

I've put it through the wringer
There really is not too much to say about this PFD. Astral set the market standard for rescue PFD's with the GreenJacket. I have owned this PFD since it came on the market and am about ready for a second. The GreenJacket took a little bit of getting used to after coming from the previous Astral style which had no bulk above belly. If I did have a complaint it would be that this PFD feels a little bulky up high on the paddler. This added bulk creates room for Astral to add the foam and plastic plates for protection. The fit and finish is typical astral quality and will stand up to years of use. If your in the market for a rescue vest it is pretty hard to find one better than the Astral GreenJacket.
This jacket can handle it all
Familiarity:

I've put it through the wringer
The Green Jacket has features to cover everything you need on the water. Big front pocket for storage, built in hand fleece warmers, rescue features, and pull over style entry to remove bulk and inconvenience of zipper technology.



I SUP (mostly swim) bigger water with this jacket and like to attach my leash to the ring in the back so the leash is out of my way when i'm changing stances on my board. Make sure you understand how the rescue features work before you use them, REALLY get to know this jacket so that if you HAVE to use it, you KNOW how to use it.



I love the colors they offer, and the floatation keeps you feeling safe amongst the chaos in the high class rivers. Great Jacket for any River Enthusiast.



I am 5'9 at 150 pounds and wear the Small/Medium with or without a drysuit.
My go to jacket for paddling
Gender:

Male

Familiarity:

I've put it through the wringer
I have an L/XL limited edition Green Jacket with the Clamshell closure and have been stoked on it. The Jacket fits me well at 6'2" and being around 250 lbs. Also during any out of boat scenarios it has floated me well. I really like the new clamshell as i find it easier to store items inside of, such as my mini pin kit (4 prussics and 2 carribeaners with pulleys), snack bars and a knife, plus its easier to access them. I also enjoy the rescue/belay features of the jacket as it makes extraction and insertion into stouts easy featuring the loop on it and safety belt (if you're going to use the safety belt you should take a SWR course!) All in all I have been super pleased with the on river and off river performance of the new Green Jacket! Thanks to Dave Fusilli for the great shot of me at El Horrendo on the Russel Fork River in my Pyranha Kayaks Green Jacket!
two questions: 1) how is the clamshell...
two questions: 1) how is the clamshell zipper holding up? read a review that said they brake easy.... 2) can any bigger guys 220lbs + comment on the fit and floatation of the L/XL? Thanks!!


Best Answer
Hey Mathias,



Can't comment on the new clamshell zipper, but I've got the same fears. However, I can say that bigger dudes do well in the L/XL. My partner is 6'2'' 215 lbs and has been sporting a special edition version of the Green Jacket (floation rating exactly the same, of course) 100+ days a year for the past 3 years, and it's still going strong. It's definitely a rescue classic for a reason.
Haven't had a problem with the zipper through a season. Can't say that I put that much into it though. Just knives, sunglasses, sunscreen, dog leash, coffee mug, PBR... the basics
No problems with the zipper.

I'm about 205 and the L/XL is more than enough floatation.

Had mine for about 6 months with excellent performance!
Hi! I'm a kinda short stout guy (5'4", 220lbs) and this jacket has been awesome for 3 seasons going on 4! I have both the styles (the old snap front which is still my favorite, but the zipper on the one I use now holds up well.
Take a great vest and make it better
Familiarity:

I've used it several times
I had the previous green jacket and loved it. A discount and a gift card pretty much forced me into another one. Plus I'm a sucker for lime green. I'm not sure how such a simple clam shell design isn't on every PFD. It makes getting to stuff so much easier. Had to test the quick release this weekend during a boat rescue. First time I've ever had to use that feature and it worked like a charm. Safety first.
Best vest on the water
Familiarity:

I've put it through the wringer
used it for the past season and a half, as i was progressing to 4 &5 whitewater and needed a vest that would hold up and keep me (and my paddling partners) safe.



once you get it and learn that the straps need to be loosened to get it on with dignity you don't want to wear anything else. very comfortable and gives you confidence that it will preform.



Pros: full spine coverage, range of motion, durable materials, hand warmers, clam shell pocket, optional throw bag pocket, it looks sweet!



Cons: Can loose some range of motion with throw bag in front pouch, Knife attachment point on front can get in the way (just moved the knife to shoulder and much happier) other people want to try it.
Nice
Familiarity:

I've used it several times
Great pfd. Thought I wouldn't like the bottom entry but it's pretty easy to get used to.
Great jacket... but not for women.
Familiarity:

I've used it once or twice and have initial impressions
I've always been a fan of Astral jackets, and was really excited when this one came out! I bought it but the fit just isn't great. The top edge of the bottom wrap around foam hits mid bust and whether I shift the jacket up or down it still is just really uncomfortable. I'm pretty small chested and it still was just not working for me. So I got rid of it. I'm giving it a 4 star because if you're a guy (or maybe a girl who's shaped differently than I am) it's a great jacket, just didn't work out for me.
BadA** PFD
Familiarity:

I've put it through the wringer
I've got an older model of the Green jacket, and it has been nothing but bombproof. I've used it primarily as a sea kayaking guide, where the safety features are usually not needed, but comforting to the guests. The jacket is super comfortable, and well designed. Other than some fading, it has shown little sign of wear after almost 4 years of solid 4-season use. The big pocket at the front is great for a vhf radio and granola bar, a hat or gloves fit nicely behind the front panel, and the sides can hold everything from a bug net to small oranges to a compass and fire starters. The knife tab is bomber and gets its job done. The quick release belt with the ring, i've only used in practice, but works like a charm. Great adjustability and all around awesome piece.
Does any hydration system mount to the new...
Does any hydration system mount to the new Astral GreenJacket?
Unfortunately no hydration systems mount to the new GreenJacket. The Astral Sea Wolf is the more sea kayak specific version of this PFD and it is compatible with a Camelbak Antidote 50. The issue is that the Sea Wolf is a Type III and this is a Type IV.
Best PFD Around
Familiarity:

I've put it through the wringer
I love the GreenJacket. I have the older model and it has worked great for me over the last few years. As far as the improvements go, the new chest pocket is a nice upgrade. It is roomy and the zipper allows for a little bit more functional space instead of the Velcro and snap on the older model. The cut is great for paddling and fits surprisingly well on a female frame. If you don't need the rescue features of a Type IV definitely check out the Astral Sea Wolf for a very comparable model below the $200 price point.
Does any hydration system (NRS, Kokatat...
Does any hydration system (NRS, Kokatat or other) mount to the new Astral GreenJacket?
Best Answer
Unfortunately no hydration systems mount to the new GreenJacket. The Astral Sea Wolf is the more sea kayak specific version of this PFD and it is compatible with a Camelbak Antidote 50. The issue is that the Sea Wolf is a Type III and this is a Type V.
This new design is great. The new front pocket is where its at. A++
This thing is way nice! It's got all the things you need and stops there. Done. The chest pocket is rather convenient as well.