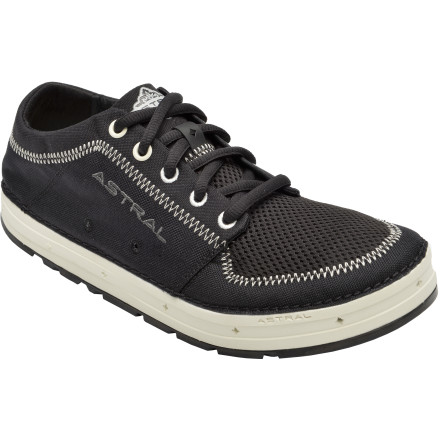 Colors

Detail Images

Community Images
Description
From the river, through the trail, and straight to the pub.
Kayakers will find a lot of versatility with the Astral Buoyancy Men's Brewer Water Shoe on or off the water. Its Cordura sidewalls ensure long-lasting durability and abrasion resistance, and the Airmesh vamp and tongue allow airflow to help your feet dry quickly. A drainage at the front sidewall and a slit at the heel direct water out of your shoe every time you leave the river, and the Balanced Geometry midsole cradles your foot so you can cover technical terrain easier. The G.14 sole provides excellent traction on wet rocks and slippery bar floors.

Cordura sidewalls
Airmesh vamp and tongue
Drainage at front sidewall, slit at heel
Balanced Geometry midsole (zero drop)
G.14 sole
Step-down heel
Great Paddling Shoe
Familiarity:

I've used it several times

Fit:

True to size
Astral shoes are the best for on the water. The BREWERS are great river paddling shoes. The BREWER has sticky rubber like Five Ten. I wear the BREWERS when it is warm (Yak/I.K., Tube, SUP) and the Five Ten Water Tenies with neoprene booties when it is colder. I also have the PORTER for sailing because they have non-marking soles. Breathable, self-bailing and fast drying. I love all these shoes.
More than a great paddling shoe.
Familiarity:

I've put it through the wringer

Fit:

True to size
I just got my Brewers about 3 weeks ago, and I have a confession to make. Aside from the obvious, I HAVEN'T TAKEN THEM OFF! These shoes are awesome scouting your next line, or just waiting in line at the store. So comfortable. I've SUP'd with them on down class II - III whitewater. I've been skating with them almost every single day and I haven't even seen any wear from the grip tape. These are handling everything I throw at them. Thanks for making such a bomber product.
Best Paddling Shoe. Period.
Familiarity:

I've put it through the wringer

Fit:

True to size
I finally got around to replacing my raggedy 5.10 Water Tennies last year. I was hesitant to switch because I loved the 5.10 grip. I'm so glad I did.



The Brewers are the grippiest shoes I've ever worn in the water. The new Stealth rubber is just as good as 5.10 rubber, and the solid construction means you won't need to be getting them resown constantly (I had my 5.10's stitched up twice in one year of use)



I am incredibly tough on gear. I destroyed my 5.10s in less than 6 months, and throughout the last year I've put almost 200 river days on my Brewers, including many on a drysuit. The shoe is still in great shape, with only minor cosmetic wear and a small tear near the toebox. As a C1er, I put more pressure on my feet than a kayaker, and the Brewer is the only shoe I've found that can hold up to the abuse.



10 thumbs up, would recommend!
These Shoes Over-Deliver
Familiarity:

I've put it through the wringer

Fit:

True to size
I have to say, the first impression I had when pulling my new Brewers out of the box was they looked a bit flimsy, BUT after wearing these shoes for a few weeks I have now come to appreciate just how well designed and awesome this footwear is. Why?
- I wear them (I have Brewers and Rasslers) to work, play, on river, at the lake, and on our hikes; they go anywhere
- Inner sole is waaay comfortable and perfectly designed for both wet and dry environments
- Outer sole really does have good traction on rock (wet or dry)
- They dry surprisingly fast; I usually change shoes after paddling, and now my Astrals are almost dry by the time I finish putting the boats on the car.
- They ARE light and flexible, but soooo NOT cheap, just minimal weight in a very durable package
- I wear them to the office and am finding a LOT of people comment on how cool the Brewers look; casual and trendy (can't exactly pull that off with my neoprene booties...)

Bottom line, I bought these shoes specifically for paddling, but they have quickly become my everyday go-to shoe. Definitely a very pleasant surprise.

Greatest river shoe ever???
Familiarity:

I've put it through the wringer

Fit:

True to size
What makes a great river shoe? Durability, support,comfort, and most of all a incredibly sticky sole. With 1000 denier bomb proof cordura outer for durability, ball and heel on a completely flat plane for amazing support, and greater toe rocker creating less opportunity for snagging your toe while walking, not to mention, much more comfort when wearing inside a kayak, the Brewer is already an amazing river shoe; However, what puts this shoe in the soul brother league of river gear is its unbelievable stickiness on wet, muddy, slimy surfaces. The soles simply don't slip. Astral calls its rubber compound Gss. the ss is for (super sticky). This description is spot on. whether portaging damp moss covered trees, steep slime covered rocks, or muddy mucky trails the grip has never failed me. Not sold yet? with fast drying upppers, and killer low profile looks, brewers can be your after river shoe as well. finally an added bonus brewers heel can fold down allowing you to wear the shoe as a slip on. You simply cannot go wrong with this shoe.
painful
Familiarity:

I've used it once or twice and have initial impressions

Fit:

True to size
i think these shoes have a lot going for them. the grip is amazing and it looks like they would have dried quickly too. my problem was that they destroyed my ankles on the outside after walking about a half mile. it probably wouldn't have been so bad if i'd worn higher or thicker socks but still, i want the option of barefoot comfort in a water shoe. i'm going to try either the loyaks or the rassler. wish they made the loyak with the higher grip sole. the low rating is only because of the ankle issue. they seemed great other than that.
My favorite water shoes
Familiarity:

I've put it through the wringer

Fit:

True to size
Brewers

Sticky soles.
If you are looking for a pair of water shoes with good grip, look no further. I have been a whitewater enthusiast my entire life and used many different shoes from different brands. I say with confidence that these shoes have the stickiest rubber in the market. Lately I have been exploring the rivers of the high sierras in California where there is lots of glacially polished granite. Many times I have had to traverse steep slabs of that granite to scout or portage dangerous rapids and each time the shoes have stuck to the rock like flypaper. I can't say it enough, best grip out there.

Other positives
I really like the way the Brewers fit. The footbed offers good support while at the same time remaining very lower profile. They are very comfortable, so comfortable that I use them as my everyday shoes as well as my river shoes.

Side note
These shoes are pretty low profile and don't offer much ankle support. If you are looking for something a little more rugged, you should check out the Astral Rasslers. Same grip, just more heavy duty.
Must have water shoe.
Familiarity:

I've put it through the wringer

Fit:

True to size
I have been a whitewater raft guide for 7 years on the Chattooga, Pigeon, and Nantahala. I've also kayaked all over the southeast. I have had my brewers for 3 years and absolutely love them. They hold up to daily abuse on the water better than any of the other shoe I have tried.

The sticky rubber also gives me the ability to jump from rock to rock during rescues with confidence. A lot of brands like Teva, Keen, Nrs, Salomon claim to have sticky rubber soles but they can't hold a candle to Astrals rubber compound. Wearing shoes without sticky rubber on the river can lead to injuries and slow or failed rescue attempts. Time and time again my brewers have kept me out of danger and helped me rope in and save my friends and rafting customers.

The customer service for Astral is second to none. I have had a few warranty issues with Astral throughout the years and they have far exceeded my expectations. I had a green jacket that was getting old and beat up after 5 seasons of rafting and kayaking. I mailed it back to Astral and they restuffed it with new flotation and all I had to pay was shipping. In my opinion Astral's customer service really goes above and beyond.

Last but not least the brewers are comfortable and look great. I have a couple different models of astral shoes and when one is wet I wear the other around town. I definitely notice the ladies checking out my fresh kicks.
This Shoe Can Do It ALL!
Familiarity:

I've put it through the wringer

Fit:

True to size
I have put this shoe through it all and it stood strong. From first descents paddling in northern Canada to paddling in the jungles of Mexico it thrived! The shoes durability is superb and after one year of having them and wearing them almost everyday they are structural like they were the first day I bought them. The style is perfect for either wearing on the river, walking around downtown on the weekend, cruising around campus, or ripping it on your bike on your hometown trail. Fit is snug and true to size. Cannot explain simply how stoked I have been on the Astral Brewers since the beginning. Now quit reading and go ahead and just get you a pair!!!
Best all around shoe i've ever owned
Familiarity:

I've put it through the wringer

Fit:

True to size
I bought the brewers almost a year ago to replace my go-to water shoes which I used for years for kayaking and fly fishing. I had tevas and keens that I loved, and was a bit skeptical switching brands. After using the brewers for almost a year now, I cannot believe I ever wore anything else. The brewers have better traction on wet rocks than any shoe I have ever worn, they are far more comfortable, and they look so good I end up wearing them straight out of the river and into the bar. I will never get any other shoe.
I love my ASTRAL Brewers!
Grippy, but not holding up to use
Familiarity:

I've put it through the wringer

Fit:

True to size
I have had these shoes for over a year now. I love the rubber compound Astral uses; it is great on slippery rocks while in rivers.



My main gripe with these shoes is their construction. After five days of use, the stitching connecting the shoe upper to the sole was frayed in many places, and actually broke in one spot. Not exactly what I wanted in the middle of a remote river trip.



I've since covered the stitching with a thin layer of Freesole brand shoe repair urethane, and it's seemed to do a pretty good job of keeping the stitching from unraveling further. But for a hundred bucks, I shouldn't have to repair my own shoes after five days of use. Astral, how about making a quality product that will actually last a couple seasons?
Comfortable straight out of the box
Familiarity:

I've used it once or twice and have initial impressions

Fit:

True to size
Great fitting shoe and looks good too. I have wide feet so was happy with the fit. Looking at the construction , I think they will last a long time and use them for getting around on the rocks and beach for kayaking. They fill up with sand quickly but it is easy to rinse and chuck back on , so no drama there.

I live in the tropics and have gone for bush walks in these shoes but not worn socks. If you are sweating your ass off they tend to make a farting sound occasionally but that would be solved by wearing socks.

All in all , very pleased with them and was astounded how quickly they arrived in my state in Australia. Just a shade over a week to my door and I struggle to get stuff shipped interstate here inside of a week. Good work!!! Back Country


Amazing discovery
Familiarity:

I've put it through the wringer

Fit:

True to size
The grip is really really surprisingly good, like a whole new level. I just feel more confident and safe and relaxed walking around wet rocks when i have these on.



They were a little bit tight around the ball but they quickly stretched out and now they feel perfect.



I always and only where these shoes now. They look rad and I keep the laces loose and can just kick em on and off, but when I need performance I just cinch em down and they transform.I also bought a pair of Rasslers which are more burly.




love em!
Familiarity:

I've put it through the wringer

Fit:

True to size
Light, comfortable, dry quick, bomber! Stickiest shoe I have ever had on wet rocks.


Ok yeah so this is why I love the Brewer
Familiarity:

I've put it through the wringer
I'm a kayaker with ~20 years of paddling under my belt and I live in western North Carolina. I can't lie, and I'll accept the name-calling and whatever else, because truth be told I'm a slut for the Green River Narrows. It's my home run, it's where I see my boys, and it's where I escape to get a wee bit of sanity and zen experience doing the boofity-boof and such. That's what matters, that part right there.



I don't care much for gear once I've found the right set of pieces, and then I don't think about it nor care for any of the hype surrounding "brands". But I'll tell you something straight from the heart here -------- and that is that I **love** the Astral footwear they've been making. So far I've got a pair of Bakers that I mostly use as lounge-wear I suppose, and a few months back I bought a pair of Brewers as a new boating shoe. The Brewers are super-duper fabulous.



They are comfy, fit snug, are lightweight, have ridiculously awesome grip on the those slippy rocky-rocks, and suit the Summertime creek boater so perfectly it is beyond words. Friends, you carry a throw rope for someone else's safety -- in my opinion your shoes should reflect that same care, interest, and preparedness. The Brewer gives you that. Vampie this, Cordura that; those boys have it figured out whatever it is. I just plain love them, and Thank.You.Astral.



JP -- Asheville
Certainly worth giving the Brewer a go
Familiarity:

I've put it through the wringer

Fit:

True to size
I have had my pair of brewers for over a year and I absolutely love them. I did purchase the brewer for a water shoe at first, but they quickly turned into my everyday street shoe. Astral really knows how to design a shoe that performs in the wilderness...at the same time it is supper comfortable at the pub. For boating I have yet to find a shoe that performs with grip and low profile that the brewer provides. In the desert on sandstone you should beware that you will have spiderman like powers. They dry fast, lite weight,stylish, and yes once again comfortable. I am very impressed.