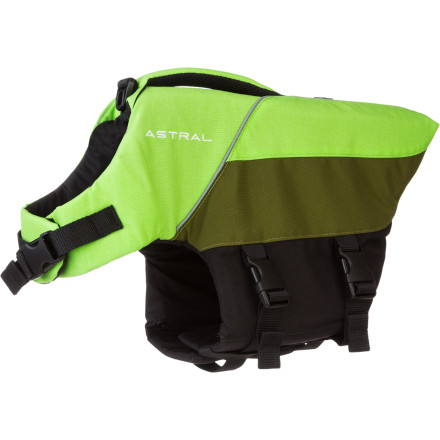 Colors
Description
Water safety for your four-legged friend.
If your pooch has a penchant for leaping into fast-moving waters, give yourself some peace of mind with the Astral Buoyancy Bird Dog Life Jacket. The ergonomic design allows Fido to paddle without restriction, and the tough Cordura shell fabric is built to withstand overgrown trails and thorny riverside brambles.

Cordura shell material is highly abrasion resistant
Ergonomic and hinged foam design supports a dog's natural swimming position and allows all four legs to move freely
Neck and chest straps adjust to give your pooch a perfect fit
Padded grab handle provides a secure grip
Leash loop allows the PFD to double as a harness
Reflective details increase visibility in low light conditions
Floating Canine, Happy Human
Familiarity:

I've used it several times
Let me tell you a little bit about my furry child Winston..He is no fish, in fact, his instincts to keep himself alive in a drown or die situation, aren't where they should be, mostly he just sinks and waits to be saved. You can imagine how terrifying that was learning this about him. Luckily after receiving this, I can enjoy myself on the water knowing that if my dog decides to jump off of whatever flotation device we are using that day, he isn't going to sink to the bottom of the river or the lake. He is a Boston Terrier, and about 17 lbs. A small fit him well in the chest, but not so much beyond his rib cage, as he fills out I'm sure this will be a much better fit.
Pretty Good
Familiarity:

I've used it several times
Purchased the Bird Dog floatation device in a size "small" for my 25 lb. welsh terrier. It fit very snuggly, almost to the point that it was too small. However, according to the size chart, 25 lbs. is at the top limit for a size small, so I would say that the size chart is accurate. The life jacket is very well made, very light and easy to put on. It has a sturdy handle at the top if you need to grab your dog out of the water. I was very pleased with the floatation device and would highly recommend it.
Two dogs: one fit, one not
Great PFD, but we had sizing problems. We have two English Setters. Ordered the M for both. Fit awesomely for 42 pound one. Other at 50 pounds was too snug; she has deep chest. Reordered L and found it too long in the body for her. The sides cut into her back legs, and she refused to walk--went all the way to her tail. There is at least a 2 inch length difference in the two sizes. Sadly we had to return the L as well. Now have reordered a different brand, but were sad that we had to because we really liked the Astral quality, style, and colors. Also sad because we had to pay for the return of two items, but I guess that's what happens online. Would be nice if BackCountry/Astral provided the measurement for length as well as girth and poundage.
Good First Impressions
Familiarity:

I've used it once or twice and have initial impressions
This vest appears to be very comfortable (was worn pretty much 2 days straight), but at the same time, was snug for safety. The dog weighs 30-35 pounds but is very skinny. So I went with the small despite the sizing chart saying I should go with a medium. This fortunately turned out to be the correct decision.



I got the Red color, and it was pretty accurate to the picture. When I read the other reviews, I was kind of skeptical that the vest would give the dog more confidence, but I can safely say that it did alter the dog's normal behavior around the water (in a good way).



The dog jumped out of our raft a couple times unexpectedly, the floatation worked great and my favorite part was the handle that I could quickly fling the dog back into the boat and then turn my attention to back to the rapids.



Unable to speak to durability, only time will tell....but it looks like it should hold up
Turns Dogs Into Great Swimmers!
Familiarity:

I've used it several times
Awesome item to give your best friend when out on the river or lake. Nova is about 75lbs (size L) and she loves to swim at the river with this thing on. The CFD gives her extra confidence when she is paddling around in moving water. The CFD fits her perfectly and the handle helps to bring her onto the boat or whatever vessel you may be riding on. Great item to have for your dog!
She's a beaut Clark!
Familiarity:

I've used it several times
This thing is great! Miika is about 60lbs and the Large fits her perfectly. She has a wider rib cage so definitely go off a girth measurement and not just weight. While she is a strong swimmer, this helps keep her above water when we go SUP at the lake and it is awesome to have the added flotation in moving water. It is really adjustable and doesn't seem to move around after a day of frolicking.
Best Purchase of the Summer!
Gender:

Female

Familiarity:

I've used it several times
I think this was a wonderful investment as I absolutely love this vest and the pups do too. We have two dogs who are each 65 lbs (lab/collie and a lab/wirehair pointer) and both are strong swimmers, but I had concerns about taking them out on the lake for long swims away from shore without a pfd should they get tired. The medium vest fits each perfectly, but I would absolutely recommend getting a girth measurement to confirm the size will fit well. They are light weight, durable, not bulky, and will give them just enough float to keep their heads above water, but will not interfere with swimming, laying down, getting up, running, or playing. Both dogs appeared a bit unsure when I first put the vests on, but one minute later when they headed into the water for the day, any concern that existed vanished as they seem to have forgotten they even had the vest on.
BEST dog vest!!
Familiarity:

I've used it several times
My dog did so well on a river trip this past weekend, and it was all thanks to this vest!! It is made of quality materials, the same fabric as the nicest of the people life jackets. She is 33 lbs and the medium vest fit her fine. I highly recommend!!
Liked it so much I bought a second one.
Familiarity:

I've used it several times
Our 82# and 93# Bernese Mountain Dogs are just learning to swim. I was looking for something that would give them a little confidence and some floatation in case they got in trouble or fatigued. The big girl was already a natural swimmer. The little one was more of a flailer and really didn't like going in deep enough to get her paws off the bottom. We were taking turns, first one dog then the other. On the third day, the little girl was coming in on her own, swimming the length of the pool, turning and going back. We couldn't keep her out long enough to let the big girl have a turn. I had to order the second one. We went with the XL and it's a good fit for both. Just small enough for the little one, and plenty big enough for the big girl. I've been wearing PFDs as a whitewater raft guide and kayaker for over 25 years. I asked another guide for a recommendation and she said the Astral or the Ruffwear. I'm happy with the Astral. I like the fact that the way it wraps under the dogs chest and belly, and wraps around their neck, it actually puts some flotation under the dogs and in the water to help keep the dogs head above water. Unlike the NRS and Extrasport designs with all the floatation on the their back. And no I haven't seen any tendency for this to cause the dog to turtle like NRS claimed in an email to me. Another plus is the flaps of floatation overlap under the dog and keep the straps from rubbing directly against the dog.
peace of mind
Familiarity:

I've used it several times
my dog doesn't need this for casual swims, and he doesn't particularly like wearing it, but it gives me peace of mind when we go out onto open water or on river trips. Hank is a 50lb Aussie/terrier mix and he fits into a M just fine
What size and "model" would you recommend...
What size and "model" would you recommend for:

a shi tzu?

a miniature schnauzer ?

a golden retriever mix (50 #)

Is there a way to measure the dogs to get the right size?
Hey,

Check out the size chart that Astral has provided us. For a shi tzu they recommend a Small, the Golden mix should be a Large. The best way to get a good fit is to measure the dog's girth (largest circumference of the chest).



XS: 13-19 in

S: 17-25 in

M: 21-30 in

L: 26-35 in

XL: 30-39 in
How well would the XL fit a 110# Lab ?...
How well would the XL fit a 110# Lab ? I've found that a lot of the life vests are too small, even in size XL.
Best Answer
Hey there! Thanks for your question. I have a 100 pound lab and the size XL works for him. But the girth measurement is the true test. Do you know your dog's girth measurement? If your dog's girth is 40inches or larger then this XL will not work. Hope this helps!