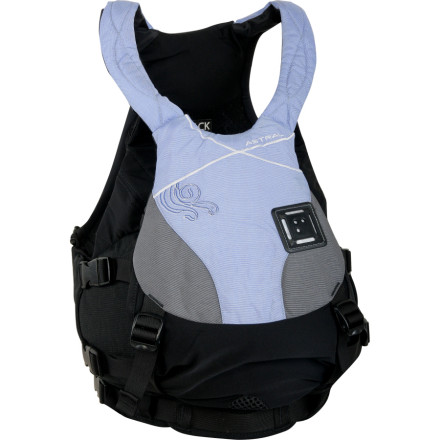 Detail Images

Community Images
For female paddlers, relying on men's PFDs limits your ability to get the ideal fit, which is why we offer the women's Bella Personal Flotation Device from Astral Buoyancy. This PFD has an adjustable torso height and seven-inch adjustable back band to give you the best fit and keep you afloat when you end up trading your comfortable kayak seat for a dip in rough water.
Freestyle Tectonics foam panel design allows the outer front panel of the vest to move freely while the inner stays anchored to your torso (both layers offer separate adjustment)
A stretchy upper layer acts as an adjustable, built-in sports bra for ultimate support and comfort
Buckled side entry/exit makes getting this vest on and off literally a snap
Large pocket located between the front layers accommodates large items like a rescue rope
Hand-warmer pockets bring life back to your frozen hands
Quick-access tab on front secures a knife or VHF radio
Good, but huge.
Familiarity:

I returned this product before using it
Great jacket, ordered in the L/XL because it was the only size available online. Figured I could cinch it up.... no such luck. There's only about 1 inch of adjustability on each side. Shame, it looks and feels great.
Bella keeps me super safe during some sit down paddleboarding on the Weber River.
This PFD is super comfortable and doesn't limit movements. Its easy to get in and out of, it has a few pockets but its fairly simple, if you're looking for a very technical PFD w/lots of pockets, this one probably isn't for you, but if you just want a simple, comfortable PFD, I'd definitely recommend it. I use this PFD for rec. touring.
Great purchase!
Gender:

Female

Familiarity:

I've used it several times
I got this jacket for raft guiding, and I could not be happier with my choice! It is not cumbersome at all. I can paddle very easily. It also offers great support and protection. I fell out and landed on my back on a rock, and the padding on the back absorbed the blow. I also think it looks pretty great too! Highly recommend! I must add that I did not buy it for the support for the "ladies," so I can't really vouch for its effectiveness there.
A Nice Idea...
Gender:

Female

Familiarity:

I've used it once or twice and have initial impressions
I demoed this jacket and had really high hopes for it, since there aren't many female specific jackets out there. No such luck. While it's a great concept, I'd say that until it gets a redesign, this PFD winds up in that familiar action sports category of "Designed for a woman, but probably by a man." (I don't mean to say that it's a bad jacket by any means--just that the design flaws are all the things that should be its biggest selling points!)



As many of the other lady reviewers have mentioned, it is not a substitute for a sports bra. I found the boobie shelf uncomfortable, frankly-- PFDs are going to move around on your body, since you're moving, and I was constantly adjusting it anytime I was in motion.



If you're looking for something similar, but with less awkward "help" for the girls, check out the Astral Willis.
buying it again
Gender:

Female

Familiarity:

I've put it through the wringer
I loved this jacket. While it didn't give the girl's any extra support, it was more comfortable than other pfds I've tried and the fem color had me sold.



I have done several 7 mile, whitewater floats in this. Stayed in place, and kept my head above water.



Someone else evidently loved it too, because they stole it right out of my boat last fall. Ordering a new one, at an even better price!
There are some things I LOVE about this jacket, and some things that really aren't so great.
LOVES
* Jacket is super comfortable to wear. I use it for stand up paddleboarding, and the low profile shoulder straps do not interfere with paddling at all, which is amazing. The front pockets are nice, and the jacket isn't embarrassingly huge or bulky to wear. I used to avoid wearing life jackets since they were so bulky and uncomfortable, but not so with this model :)

DISLOVES
* Astral claims the mesh upper in this vest can be used as a sports bra. Ummm.....really!?? I think a dude designed this vest, there is no way this could ever possibly function as a sports bra for me. Now, I understand I am not the most well endowed lady, but I still can't figure out how that would ever work. It's way too big of a chamber to ever provide the coverage needed to function as a bra. Nice try guys. The other gripe is that the jacket is somewhat hard to get on. I always have trouble reaching the side buckles. The jacket can be a real pain to get on if you don't have handy helpers nearby.

So, other than those two cons, (not that the bra situation is a huge one....I don't really want a bra in my life jacket anyway) this is an awesome product. I would definitely recommend this to a friend!
i like it so far. seems durable, have yet to float in it. i bought it for ww canoeing and kayaking. it is pretty flattering considering that it is a life jacket. the "feminine" aspects of this still puzzle me however... there are just two nylon pieces that stick out farther - seems kind of silly. love the no zipper aspect. (zippers always seem to break on me). overall i am very satisfied, but had to give it 4/5 instead of 5/5 because of the pocket location and the emphasis they put on women's fit, which seems to not be a very important feature. sizing is true to size, but i was in between small and medium on the chart, went with a medium- and i REALLY have to crank down all the buckles. I am 34D with a smaller waist, and I have yet to experience any issues with fitting it, or getting in on by myself as some other reviews noted. I would really REALLY love this pfd if they had just added an exterior zipper pocket as well. I clipped my camelbak around the back where the arms and the body piece meet (that worked perfectly!) If I have any true complaints I will be back to note them!
Astral Buoyancy Bella PFD Product Knowledge
I've always had some trouble finding pfd's that not only fit great but look great as well. Many pfd's look all "flowery" and girly and that immediately turns me off to the product but seeing this (I have the grey one) and how it has this strong and edgy appearance, I totally dug it. I was a little afraid of how the fit was gonna be due to the fact that it I'm a little small and Astral said that it fits best on athletic shaped women and that is not me, but the fit is perfect. It's super snug and I feel super safe and secure in it. The extra large arm holes are nice for kayaking because there is no rubbing. I would recommend this to any woman looking for pdf that not only looks good but fits like a glove.
Pockets and Hand warmers a plus
I agree that the side buckles are a little annoying. It took me awhile to figure out a way to buckle them myself. Now I have them loose when I put it on and can twist it around a little to the front, buckle, then twist back and tighten. Easy to do but I am normal breasted. Feels good on, not scrunched like others.The big pluses are: great flotation and buoyancy. I love the pockets, I keep keys, chap stick, sunglasses,etc at easy reach. I purchased this PFD particularly for the hand warmer pockets because I paddle in cold New England spring weather. A great place to tuck the hands when not paddling. Also a great place to tuck gloves when taken off. Very comfortable overall for whitewater kayaking.
Not the vest for everyone
I hate this vest, I wanted a specific woman's cut vest as I am quite large on top and I hate that squshed feeling and not being able to breathe. This vest is perfect for that aspect. very comfortable in the chest area. The problem I have with it is it buckles on the side one under the arm and two more going down. I could not put it on and take it off by myself... I would never be able to go out on a juant in my kayak without someone there to buckle me in and out of. due to this I am returning and exchanging for a front Zippered version...I just hope it is a comfortable in the front chest area.