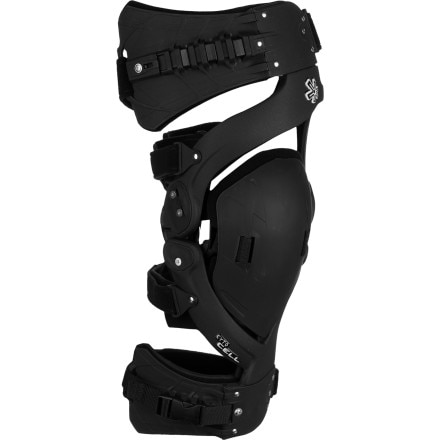 Your knees give out at every step these days, but that doesn't mean you have to abandon your skiing, mountain biking, and motocross adventures. Not when the Asterisk Cyto Cell Knee Protection System is ready to protect your legs at an affordable price anyway. These low-profile braces are very comfortable and follow the traditional methods for easy use whether this is your first pair or your fifth. Its A.F.M. frame is strong, lightweight, semi-rigid, and it has an anatomic design to fit your knee cap comfortably.

An Asymmetrical-Glide hinge follows the natural bend of your leg for a custom fit that aligns with your tibia for extra protection down to your ankle. An Adjustable Compression Control Cuff utilizes Sharkskin to prevent any slipping while you ski, bike, and motocross throughout the year. The anti-rotation tether connects to your motocross boot in order to prevent both your knee and ankle from popping out of place. The straps give you an ideal fit whether you have layers on or not. Its fused patella cup has hybrid shock padding that absorbs any impacts with soft support. And non-corrosive materials resist water to prevent rusting in wet weather.

A.F.M. frame
Asymmetrical-Glide hinge
A.C.C. cuff
Anti-rotation tether
Nylon straps
Fused Patella cup
Non-corrosive metal and composites
Share your thoughts
What do you think of the
Asterisk
Cyto Cell Knee Protection System - Pair
? Share a...
After injuring my left knee last year I decided this year I wasn't going to risk keeping my knees unprotected and potentially injuring them again (and losing a ski season). My initial reaction after opening the package was "woah... these are HUGE". They seemed gigantic compared to how I imagined them, but after putting them on they seemed much less bulky, especially after removing the pad that covers the patella. I also wear loose fitting ski pants, so that helps a lot with their bulkiness. I was also afraid that they wouldn't fit with my ski boots, but they're high enough to not interfere with the fit of my boots.

So far, I have worn these braces over my long underwear for skiing and they have fit exactly like I thought they would. There are so many opportunities for fine tuning the braces and all the tools needed to do so are included in the package, along with instructions.

I've been using them everyday for about a month now and am really happy with them. For what they are, and the price compared to other knee braces of the same quality, I don't think they can be beat. I do wish they were a little lighter weight (for touring) and had better patella protection, since I dislocated mine last year, but their lack of it hasn't caused me any pain or injury, so I think there's enough support elsewhere. They feel bombproof and I really think I'll be able to use these for protection for years to come!