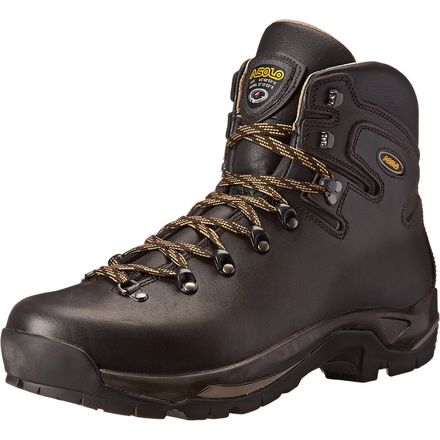 Description
A tough, heavy-lifting boot for venturing deep into the bush for days or weeks at a time.
A dozen or so miles of rugged, roadless wilderness can't be safely traveled with just any shoe. The sturdy leather Asolo TPS 535 V Backpacking Boot provides a grippy, stable platform for hauling a heavy pack deep into your own private patch of earth. The tall collar reduces ankle rolls while descending into lush, waterfall-riddled valleys, and its rigid arch stabilizes your steps during rocky mountain traverses.
Asolo Triple Power Structure midsole features a dual-density PU molded structure and ensures stability while reducing shock
Lite 2 anatomical footbed cradles your foot in its natural shape so it doesn't take weeks to break in the boot
Vibram rubber outsole features effective, self-cleaning lugs to keep you gripping the muddy, sandy, or rocky trail
Stiff arch area in the outsole limits twisting and bending to prevent injury and provide a reliable feel on steep trails
Tough nubuck leather upper sheds puddles and doesn't wear out during rocky scree crossings
Chambrelle lining wicks interior moisture to prevent sweat and blisters
Just bought these boots lst week, now they'r on sale for 30% off.....
Anyway to get a rebate?
Hey Howard,



I'm not seeing that these are or were on sale for 30% off. If you have a screenshot of them at that price I can adjust that for you and issue you a rebate. Feel free to shoot me an email and your order number to mburnett@backcountry.com and I'll see what we can do for you.
A Definite Must Have
Familiarity:

I've put it through the wringer
These boots are like having an ATV for your feet. The full grain leather is extremely durable. I prefer that they don't have gore tex just for the fact that I use them in the Rockies. If you are in a wetter area then you may want to check out that version for the added waterproofing. This model just needs an application of Nik Wax and you will be all set. These have great ankle support and is an all around great boot. I would size up a half size to account for foot swelling and thicker wool socks if you use them.
Beast for your feet
Familiarity:

I've put it through the wringer

Fit:

True to size
These are indestructible beyond anything I could describe. My feet have never been sore after any day of hiking in these, and more importantly, my ankles and lower leg feel fresh after anything thrown my way. I've abused these things in the 7 months I've owned them but they keep taking it with a smile.
When I received my boots, the first time I tried them on they were very tight. I wore them as often as I could stand it to try and break them in. When I just couldn't take it any more I tried to return them. Back Country wouldn't help at all because it was just over the 30 day policy. $300 bucks down the drain!
well made
Familiarity:

I've used it once or twice and have initial impressions

Fit:

True to size
I ordered these as a second boot option (Limmers are my main boots) for something in all leather without Goretex (which I find too hot unless it's snowing already).
I've been wearing them sparingly, taken them on some walks of up to an hour and a half, and so far, they seem fine--although a bit warmer than the Limmers which feature a leather lining.
What can I say so far? Definitely well made--quality hardware. Generous toe box and seem to be on the wider side of a D. A higher than some boots. No comparison to the break in needed for Limmers (which have thicker leather uppers), they were fine from the box to wear out and about a bit. Great support. Time will tell...
Bomber Boot for Unforgiving Terrain
Familiarity:

I've put it through the wringer

Fit:

True to size
I used this boot on a week long backpacking trip in Escalante,Utah as well as on a 30 day backpacking trip in Washington's Olympic Mountains. Although on the pricy end, these boots can take a serious beating. These boots would be overkill for day hikes with a small pack. These boots thrive when you are off trail on unforgiving terrain with a heavy pack. As a warning, like most leather boots these take awhile to break in. Make sure to wear them around town and around the house before taking them out on an overnight. One thing that really helped the comfort of this boot was to throw in a custom insert.
Best hiking boot I have found....
Familiarity:

I've put it through the wringer

Fit:

True to size
I am into my third pair now....hiking upwards of 30 miles each and every week on uneven and rocky terrain. The sizes run true and the boots are a pleasure to break in.
Awesome boot for the money
Familiarity:

I've put it through the wringer

Fit:

True to size
I did a lot of research on hiking boots before coming to the conclusion that Asolo is the best boot for the best price. I live in the high desert of Santa Fe, NM, so moisture is not something of an epic issue, such as the NW region of the U.S. So I opted for the 535 over the Gortex 520 model. However, I did apply a nice coating of Sno Seal to the boots before I wore them. Using the hair-dryer to heat up the leather and the BeesWax has really helped the boot to keep my feet dry in the snow. This past Christmas break, i pulled in 3 cords of wood, tromping through snow, kicking branches and hauling heavy logs up to the trailer. These boots did absolutely fantastic through this rough treatment. At first when I put them on, the tongue seems a bit tight, but after they broke in, they were very comfortable, and I didn't even give a second thought to the protection my feet needed while hauling huge logs up a mountain side to the trailer, through lots of snow and mud.

The shoes fit true to size, and are very comfortable, so comfortable that you forget you have boots on your feet. I'm very pleased with this purchase from BackCountry. They had the best price on the web, and the shipping was quick.
Love these boots.
Gender:

Male

Familiarity:

I've put it through the wringer

Fit:

True to size
These boots are very tough and I actually like the fact that they don't have Gore-Tex. They'll breathe better than a boot with Gore-Tex and the full grain leather has been plenty waterproof for my needs. I just treat them with Nikwax a few times a year. They're overkill for hiking without a pack, but I love these for backpacking.
Iv worn the same pair since 2006, now considering a resole (not because of rubber failure but upkeep). I have conditioned them regularly which has allowed the success of the leather thus far. They have been used from 14ers in CO to the desert in Moab. They have stabilized me up 8000 meters in the Tatra Range in Poland and Slovakia to the Whites of NH. Fine Piece of equipment.
sick kicks
Gender:

Male

Familiarity:

I've put it through the wringer
I bought this boot in 2004 and it has made it through every summer and hunting season until 2012. This is one tough boot if you take care of and condition the leather properly. I let them get too dry on a two week excursion through the desert on foot and the leather cracked and split. I was heart broken to see it happen but for the thousands of miles I put onto these boots in 8 years, they were worth every penny. I am replacing them with the same model and have committed my old pair to being by new work boots (they are still in good condition, just no longer water resistant due to the leather cracks). I have a narrow foot and have not found a boot that fits better and has the same support this one does. They are on the heavy side of backpacking boots, but if you want support and a bombproof boot that will last you years, this is it.
hell of a boot
Gender:

Male

Familiarity:

I've put it through the wringer
great boot, foot area was stiff at first now seems to be getting softer, the ankle support is still very stiff this will take awhile o work in the boot itself very goodlooking boot and made to last and with the lifetime guarantee you will never buy another boot again
Unanswered Question
O.k. so these are non-gore-tex--a plus!--full...
O.k. so these are non-gore-tex--a plus!--full leather. They seem to exist in wide, which I need. I also like a wide toe box and great ankle support. I own and like Powermatic.-but not the goretex! Can anyone compare these to P.matic? Esp. are these lighter?
How well do these boots fit a wide foot?...
How well do these boots fit a wide foot? If not very well, what boot do you suggest?
These are not wide specific boots. We do not really carry a ton of inventory that is wider than D width. Some of the Keen boots are on the wider side of D.
Asolo makes this boot in a wide width. I came to this site looking for them. The guy who answered your question clearly does not have a wide foot. A boot that tends to be wide won't cut it if you've got a EE+ (or 4E in my case) foot.