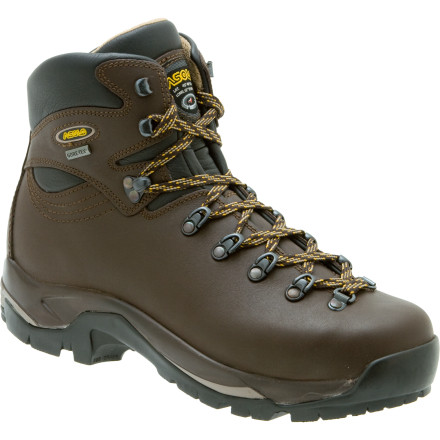 Detail Images

Videos

Community Images
Description
No messing around.
Serious backpacking trips call for serious footwear. Luckily for you, the Asolo Men's TPS 520 GV Backpacking Boot takes on long distances and heavy loads with ease. If the weather turns nasty, you can count on the waterproof breathable Gore-Tex insert to keep your foot dry every step of the way. Asolo used a durable full-grain leather upper to ensure maximum durability. The TPS 520 GV Backpacking Boot also comes with a top-of-the-line Vibram sole for excellent traction on any type of terrain you encounter.
Perfect all-mountain boot
Familiarity:

I've put it through the wringer

Fit:

True to size
On my second pair now! No other non-technical boot compares. I have put hundreds of miles on these boots, mostly on rocky terrain, and they hold up like no other footwear. Pricey but worth it.
Top protection for my dogs
Familiarity:

I've used it several times

Fit:

True to size
These boots are real easy to get on and off. The linings are super comfy, and boot themselves are crazy durable. I have taken them only on a handful of hikes, but they have made the trips up and down the mountainside a pleasure. I have walked through running streams without having my feet get wet. I have had some time getting them broken in however. After one of the first 5+ mile hikes, my upper heel was a little sore from the heel cup of the boot. They seem to be getting better the more I use them.
Solid boot
Familiarity:

I've put it through the wringer

Fit:

True to size
I bought this boot in 2007. Today I will retire them with a delaminated sole down to the leather, torn stitching on the inside and outside heels, yellow parachute line for laces, oxidized lace mounts, and knotty leather...they are still waterproof and they are still comfy. My job/life involves a lot of hiking on weathered limestone, through desert sage, up volcanic boulder fields, and across snow covered ridges; all of which tears up a boot. My advice is be kind to this boot and it will be kind to you. Service it, at a minimum, yearly by maintaining the leather competency in every crack, add bees wax to the margins, and keep them stored in a dry location. The laces unravel quickly, I recommend buying parachute line and covering it in wax. Twas a good boot
Fell Apart After 50 Miles
Familiarity:

I've used it several times

Fit:

True to size
I purchased these a few years ago (not from backcountry) and have used them a few times for some short day trips and one overnight. I would say they have about 50 miles on them. They fit well and I was excited to own them until I used them this spring and the soles delaminated after a few miles. I understand that they are out of warranty but they are clearly defective. Unfortunately without my receipt Asolo is unwilling to do anything.
Solid backcountry boot
Familiarity:

I've put it through the wringer

Fit:

True to size
These were my first pair of Asolo boots. I hike anywhere from 6-10 mi a day for my job, in rapidly changing weather conditions, rocky/steep terrain, and wet high grass. For the rating I gave, I want to list pro's and con's to help others decide if the boot is right for them.


Pros:
- Fits true to size, not too narrow
- flexible, sturdy, & easy break in period (not one blister)
- pretty good ankle support (definitely saved my ankles a few times)
- lightweight.

Cons:
**Not waterproof** You must waterproof these boots if you plan on hiking in wet conditions because if you don't your feet WILL get wet. This is probably the main reason for the 3 stars. I did not additionally proof my boots and suffered the consequences on a few occasions. These were my main work/hike boots I used everyday.

- Lacing will thread out, I recommend buying an extra pair of laces too.



I had these boots for 6 months, literally putting them through the wringer. They held up, but I would probably not buy them again. If you are looking for a solid backcountry boot for a trip or maybe a few per year, these are a good choice. I recently switched over to the Fugitive GTX's and are proving to be a solid pair of hiking boots I would highly recommend.
Great boots for the price
Familiarity:

I've put it through the wringer

Fit:

True to size
I've purchased 4 pairs of these over the years and have liked every one. I used to buy vasque sundowners but they changed how they were made (junk!). I wear these boots every day for work and they perform very well plus great for hiking.
Finally Found Them!
Familiarity:

I've put it through the wringer

Fit:

True to size
I have a pair of EMS hiking boots that are 10+ years old. They were getting pretty worn so I began my search, last year, for new boots. Finally found them with the Asolo TPS 520 GV. They are comfortable right out of the box and have a stiff side for great support. Don't hesitate if you are considering these, buy them and you wont be sorry.
You get what you pay for.
Familiarity:

I've put it through the wringer

Fit:

True to size
These boots are pricey, of course. But they are the LAST boot you'll ever want to buy. Everyone's feet are different, so will it work for everyone? Probably not. So for goodness sakes try them on before you guy them. That being said - they are incredible. Good strong shank, lots of support, 100% waterproof. These boots will take you to Hell and back. And then back again if you want ...
I just returned from a 22 day trek thru the Himalayas. During my journey my Asolo TPS 520 Hiking boots wreaked havoc on my feet! I lost 4 toe nails and had bad bruising on one of my big toes. I carried about 12K in my pack. The socks I was wearing were Stoic Merino Comp Hiking Sock (good sock). When I purchased the shoes I bought them 1/2 size larger than I normally wear to allow room for my socks. Besides the pain I have no complaints, kept me dry, good ankle support, vibram soles worked well. I've had these shoes for 2 1/2 years before the trek, have worn them for a 3 week trip thru the west, also did some hiking on the AT, and elsewhere, no problems. My wife purchased a pair of Salomon Quest 4D GTX a few weeks before we left and didn't have near the problems. I would love to give these shoes a better review, but... See the photo of my feet, two last toes black on the right side, the middle and last toe on my left foot.
AWESOME
Familiarity:

I've put it through the wringer

Fit:

True to size
AWESOME
Are these std width or do you have them...
Are these std width or do you have them in wide
Hey hanknkayte,



Thanks for your question.



These boots have a standard width. We do not carry the wide version.
So far so good
Familiarity:

I've used it once or twice and have initial impressions

Fit:

True to size
I went to a sporting goods store and got great advice on selection and fitting of these boots. Wearing a mid-weight wool sock I went straight out and backpacked with a 50lb load 9 miles including mountain terrain. These boots were awesome. They did not require any break-in. My feet were protected at all times through the mud, gravel, creeks, and rocky slopes. Definitely on my "what works" gear list.
Where are these boots made?
Where are these boots made?
Hey Gabraham,



I believe most of Asolo's production is coming out of Romania with some production from the Ukraine.
I have an 11.5 foot size. Would you...
I have an 11.5 foot size. Would you recommend a half size larger for backpacking with medium-thick socks?
Bill,

I would be interested to know what brand/model of boots you have worn in the past in 11.5 (e.g. Asolo, Vasque, Scarpa). However, my experience wearing the Asolo TPS 520 GV Boot is that you will want to stay with your 11.5 size, even with medium thick socks.
On the Fence...Sole separated
Familiarity:

I've put it through the wringer

Fit:

True to size
I can honestly say I put my shoes through hell and back, from working in the field in construction to 10+ mile backpacking trips. Bought in 2010, the bottom sole eventually came loose as others have pointed out. Hats off to BC for honoring old return policy. Got a credit but now they're out of stock. Probably wouldn't go back with same pair but looking at Asolo again. Doesn't breathe terrible well (too obvious?) and definitely water proof. Just get the sole issue figured out and these babies get 5 stars to the moon and back. Did I mention BC is awesome? Just be mindful the NEW return policy.
Excellent--
Familiarity:

I've put it through the wringer

Fit:

True to size
I did not buy these from BC.com, but as you can see in my profile pic, I do own a pair : ) It's tough for me to compare these to other hiking boots because mine have lasted so long, I haven't needed any other hiking boots since I replaced my Asolo Meridians some 6 years ago. These boots are, without a doubt, built to last. They're about as light as you can get with still being a supportive boot suitable for long treks carrying heavy weight. I've carried 150lb loads while packing out elk quarters wearing these boots, without a single worry of a lack of support. Keep the leather on these treated well (I keep it simple and just use mink oil), and they'll last a very long time.



Just an interesting tid-bit: I was in Israel a few years ago and a friend of mine, who was in one of Israel's most elite infantry recon units (the Sayeret Golani), saw me wearing these and claimed that they use these exact boots. They are not combat boots, so I doubted him, and told him they probably use something that just looks a bit like these, but he adamantly disagreed and said "no, those are the exact boots, I am sure of it".
Beastly boots but beware of blisters
Familiarity:

I've put it through the wringer
I put the Asolo Tps 520 to the test of 50+ days on trail in the High Sierra, here is what I found.



The ankle support on these boots is superb. Due to an injury I have an ankle that is prone to rolling, and in the past I have had trouble finding a boot that gave me enough support. The Asolo does not dissapoint, there were times when my ankle would start to give, and the boot would refuse to let it. This saved me multiple times on trail and will keep me using the TPS 520 in the future.

The boots are waterproof to the point where I could wade up to the laces without getting my feet wet. I never had a problem with my feet getting wet when I didn't want them to.

The boots have a hard shelled toe, that is incredibly durable. I used this pair of boots to do trailwork, and this feature came in handy time and time again whether using the boot to kick rocks off trail, or to stop a log from crushing my toe.

The Ability to slip in and out of the boot and the ease of lacing them up may not seem like a huge factor, but its a detail that I appreciated time and time again. There are rolling ball bearings used to make cinching a breeze, and the width of the boot while unlaced makes putting these on so easy a 2-year old could do it.

And last but not least, the Power Matic Goretex/vibram sole has such insane gripability that you will start bleating like a mountain goat in no time.

Unfortunately I can only give this boot a four star, it was amazing in every regard except for the fact that I was constantly experiencing hot spots and blisters while wearing them. I never tried using a different insert, so if you experience the same issue that may be a fix. It also could just be the way my feet are shaped contrasting with the shape of the boot.



Pro's

-Legendary ankle support, somebody tell Tanner Hall

-Incredibly water resistant

-This boot has some serious sole

-Hard shell protects your toes from all sorts of stubbery



Cons

I battled blisters pretty often. Mole skin!
Looking Good
Familiarity:

I've used it once or twice and have initial impressions

Fit:

True to size
Just got a pair and they seem solid.

I have a size 11 steeltoe work boot and my street shoes are 11-12. Ended up with size 12 and they fit my skinny feet great with some medium weight hiking socks. No heel lift or toe bang.

Break in is not that bad. I was definitly limping after a long walk out the box, but after a week they feel great.

Never had Goretex boots before and not sure how I feel about them yet, wet feet are a part of the experience. I never had much luck with Vibram soles as a treeplanter, but now that those days are past I am hoping for a longer lifespan.

If ya like stiff leather hikers these seem great.