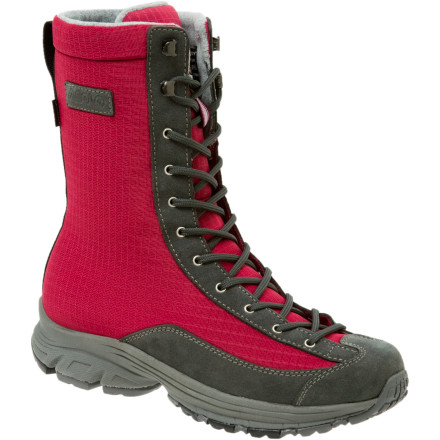 Detail Images
Head into the nastiest winter storm of the year with total confidence in the Asolo Women's Mystic GTX Boot. A guaranteed waterproof Gore-Tex insert takes care of the wettest of the wet, so your foot stays dry and you can be on your way in comfort. Speaking of comfort, the EVA midsole cushions impact and the Lite 1 anatomic footbed cradles your weary dog to reduce fatigue.
Unanswered Question
do these boots fit true to size? i am...
do these boots fit true to size? i am usually a size 7 in regular shoes, but the last pair of winter boots i bought in a 7 were way too large for me. i was wondering if i should always size down for winter boots?
I loved these boots at first, they were lightweight while keeping the feet dry. Unfortunately after only two and a half months the lining on the heel area of one began to rip and after three months so did the other. Would not recommend buying for anything more than occasional use.
Probably not for extreme cold
I really liked these shoes and it was hard for me to decide to go with a different pair. However, I was looking for a boot that could withstand -20F temps while snowshoeing, dogsledding, or just standing around. They were very light, comfy, and I liked how they looked but I didn't think they would be warm enough for really cold weather in Alaska. They're probably great for standing around in +20F temps or more though.
Do these boots run narrow? I was thinking...
Do these boots run narrow? I was thinking of getting them for my niece but she has a very wide foot. I don't think they come in W..
They do not run narrow but are not a wide boot either. If she is a true wide this may not work for her as these are a standard width.
Unanswered Question
Has anyone used these in below freezing...
Has anyone used these in below freezing conditions or well into the negatives? Were they warm enough?
I love my new boots! I'm from Australia and I was worried about ordering shoes without trying them on. I also was worried it would take too long for my things to be shipped here. Well, I ordered everything on Thursday night and on Friday received an email that my shipment had "hit a snag." Even with the snag it still arrived by Tuesday! Just 4 days later!! I was so impressed.

I was very confused about what size to get because all shoe size conversion tables say different things. I am an Australian size 7 and was told to get the US size 8.5. They didn't have it so I got the US size 8 and I'm glad I did! The US 8 is bigger than the Aus 7. It's probably 0.5-1.0 size bigger. But this particular boot is quite narrow so it fits my foot well. Because of the lace-ups I don't feel like the boot is too big at all. Plus now I can comfortably wear thick socks with them. This boot is soooo comfortable and warm! The black boots look really funky with jeans so I can wear them casually but they also have really good grip so I can wear them hiking. They're totally multipurpose. So stoked!!! I haven't used them for hiking yet but I'm trekking to Machu Picchu in August so we'll see how I go. :)
How waterproof are these boots? Has anyones...
How waterproof are these boots? Has anyones feet ever gotten wet or damp in them?
Hey Courtney,

These will be highly water resistant, but like any other boot if you were to submerge them in water you're gonna have some wetness get through. However submerged in snow, they'll do just fine.
Has anyone used this boot for snowshoeing...
Has anyone used this boot for snowshoeing or hiking?
Yes, I used these with snowshoes for the first time about a month ago. It wasn't very cold that day (~42 degrees F) so I still can't tell if they'll be warm enough when the temp. really drops. Somehow I don't think they will be, but as far as being compatible with a snowshoe, they work just fine. They're also lighter than most other winter boots, and that's a plus when you're lugging the added weight of snowshoes.
The wife loves these boots. They are light but keep your feet dry and toasty!
I LOVE these! They are warm, light, and also really great looking. They almost feel like a running shoe, they are so light and nimble. I've been looking for something like this for years.