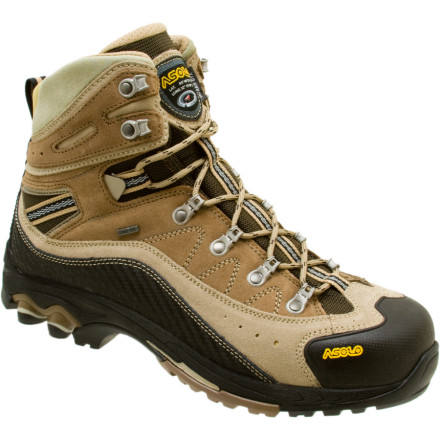 Detail Images

Community Images
Kick the great outdoors in the backside when you put on the Asolo Moran GTX Hiking Boot. A water-resistant suede upper and Gore-Tex lining keep the rain and dew out for good, while the Power Lite Asoflex technology is so comfortable that you'll never want to return to the car.
Power Lite Asoflex with Power Lite midsole and outsole combine light weight with high shock absorption and stability for unparalleled performance on any trail
Pebax heel reinforcement consists of four rubber Pebax elements that increase stability by structurally uniting the midsole with the outsole at the heel
Lite 2 anatomic footbed cradles your foot like a baby
Rubber toe box protects your toes when the mountain kicks back
Dual-density rubber outsole has extraordinary grip with a self-cleaning design
sole issue
Familiarity:

I've put it through the wringer

Fit:

Runs small
I love these boots; however, they have the following problems after 5 months in Afghanistan:



1. they are not water tight. they will leak (slightly) if you go in past the laces.

2. The sole (in the heal area) has separated from the boot on one foot. the other is holding strong...maybe it has something to do with the hot weather and asphalt...who knows.

3. the tread is slippery and wears out stupid fast. If you intend on walking down the street in these, you may consider another boot. They are great on the sand/ rock/ soil/ and mud, but you will slip your ass all over the place if you step on ceramic, steel or any other smooth, wet, surface. I read other reviews regarding the traction of the boot, i ignored them...let me say, that these are not "wooden shoes on ice" slippery, but you do have to watch your step.



They are insanely comfortable, offer great support when wearing 50+ lbs of gear, and breath fairly well. Heel interlock is good and i have never felt my foot slide around or blister.



As with any boot, make sure they fit. i had to return the first pair and bump up a half size. Break in took about 3 or 4 miles, after that, they felt better than any of my street shoes. just wish the tread held up better.
brand is good, feature not so much.
it's decently light weight and easy to break in. if you are looking for goretex this is a good choice, but if you don't mind other things, you might be able to find leather upper sole and better arch support for less.
They are sturdy, rock gripping ankle supporting boots. They are good winter hiking boots and definitely going to need Breaking period.
Before I purchased these boots, I had been using another pair I found for a great deal that kept my feet dry and warm. The problem with them was that my feet would rub around very slightly while I hiked. This resulted in large blisters. The Asolo Moran GTX Boot is everything you could want in a boot! I can hike for hours on end without sore feet and they stay dry despite hiking in slushly snow for hours.
I just got these boots and they feel a...
I just got these boots and they feel a little narrow to me. I think my feet might be a bit on the wider side, but I don't normally wear a Wide shoe. As others have pointed out, these boots can run a little narrow. I'm wondering if after some break in if they will conform to my foot or will it just prove a source of discomfort the longer I hike in them.



Also, this is the first pair of mid hiking boots I have tried on, so I am not sure if what I am feeling is just what to expect from an unbroken in boot. I do wear Merrell hiking shoes, the Moab variety, and they fit like a glove. So I'm not sure what I should be expecting out of these.
ASOLO boots run narrower than your typical American focused footwear.I have both the Moab and the Moran, and my Moran's are a half size larger to prevent my toes from smashing into the small toe box. But you are comparing hiking shoe (basically a running shoe) to a full on boot.The Moran's will break in and form around your foot. Also consider that your feet become swollen as you hike so if you are feeling discomfort now, especially with thin socks, you may want to look for a different boot.



My advice, try the next half size up, with a thick mid to heavy weight hiking sock. be sure to fit the boot late in the day when your feet are at their 'fullest'.
Can I use my shoe size for a hiking boot...
Can I use my shoe size for a hiking boot size?


Hey jeff stump,



That is the case more often than not. For a better read on if you should size up or down, compare the sizing of the shoes you wear now with the sizing of the Asolo Moran GTX Boot (runs true to size length wise and a bit narrow width wise).
I typically increase boot size half to a full size depending on application and socks. best to try them on with the socks you plan to wear. My ASOLO's are a 1/2 size larger than my street shoes and fit like a glove.
Just the boots I need
Gender:

Male

Familiarity:

I've used it several times
My first Asolo boots, and they are great. Quick break-in by a short 5-mile-hike (and numerous subsequent short hikes) and survived a 3 day backpacking trip in Pennsylvania. Just the boot I need to supplement my Altama Hoplites when in winter.
These are my first Asolo boots, and I have to say that I love em! They're light and feel like they could bring me to the ends of the earth and back!



I would say one thing that if your a guy who has a wide foot, be a little aware. The boot is a little narrow, but I've just worn it in, so it feels fine now! Definitely go get yourself a pair!
Broke in Well
Gender:

Male

Familiarity:

I've put it through the wringer
I broke these in on a 20 mile hike and they were great. Took them to Isle Royale for a week (50 miles), by the end I was having major pains on my achilles, there was no excessive swelling going on from what I could tell. Overall, a very sturdy boot. Run pretty true to size in my experience. I wear a 10 in most brands of shoes (including Merrell & Timberland) and a 10 fit well with medium crew socks.



UPDATE: Have used on a few more trips since (including Yosemite) and have had no issues with my achilles. Also, not one blister yet from these boots over the first 100+ miles.
Best Boots I've ever owned....
I can't seem to really WANT to put these down. I would classify these as winter/temperate weather boots but even when it is warm outside my feet still crave these. They are one of the most comfortable boots U will probably ever find. I won't say they fit like a sneaker because they don't, but they are not meant to! I am always cautious about overtly comfortable footwear that perhaps may fail in the tough/ruggedness department. These however are the exception....I received them as a present in October and being now in June they have shwon minimal wear and tear. Except for maybe the laces, which are re-inforced with 550 type cord "guts" just in case they ever fail....this should tell U the REAL attention to detail and commitment to excellence these guys offer. So I say that because I am a retired Combat Infantryman who ties his boots on entirely too tight and ends up tearing right through the laces....(if anyone can tell me how or where to purchase these laces, please let me know) They are Goretex lined and hence the price point....for those that do not know what Goretex is or why U may need it, I venture to say U haven't had cold/wet frozen foot syndrome. If this is not the case consider yourself lucky....for those of us who have, this may be your solution to prevent that from ever happening again. I love these boots and as with the majority of things I purchase I research it and make sure I am making an informed investment. I don't think I will ever buy any other brand boot for this purpose ever again! The quality and craftsmanship on these is second to none. Stop by a retail dealer and see for yourself....Hope this helps!
Loved em', but gave em' back
Well, what can I say? I was heartbroken with these... during the break in (only need a few short hikes, nothing too steep up or down), they felt snug, no slippage, solid but not clunky - I was happy, a side from the fact that it seems like the toe box was a bit small. Then I took them out on my first real trek - about 20 miles there and back. On every down hill my toes were crushed. I haven't seen one review where anyone said they ran a little small, in fact quite the opposite. However, in my case, I always wear an 11.5 mens, and that size boot in this model Asolo tore my toes up. I tried everything, but if the boot doesn't fit it doesn't fit, and as we all know not every boot is meant for every foot. I went up a half size, and they were a little big. Oh well, I thought I had found "the one", but in my case, i just couldn't get the sizing right.
I've had these for about a year. Wore them on 8-10 climbs of +3000 vertical feet over harsh rocky terrain. 3 of which were in fairly harsh winter conditions (around 10 degrees F plus windy). Also backpacked about 12 miles with 70 lbs. on them. I would highly recommend them. They required very little break in time. Excellent waterproofing, warm, and durable soles. My only complaint is that the stock laces are horrible. I bought a replacement pair for $2 at the grocery store that have lasted 3 times as long as the originals. This "feature" requires me to always carry a spare set (probably a good habit anyway). A great 3 season hiking boot with backpacking and winter capabilities as a bonus.
I'm wondering about the traction and...
I'm wondering about the traction and durability of the sole on these. How do they compare to Vibram soles, like the ones on the 520 or the Powermatic 200? I'm looking for an all around boot that won't let me down in all sorts of weather and terrain, including rocks (wet or dry), snow/ice, sand, gravel, mud, tile, etc, and I also want the boot to be durable. Thanks!
I've owned a few pairs of Asolo's and I can tell you that the soles have proven to be more durable than the Zamberlin's I've owned. The sole of the Moran seems to be a little more "sticky" to me than the 520's which were made to hold up under considerable weight. The Moran in general is a more versatile boot, performing well in all kinds of terrain. Unless you're strapping 50 pounds and hitting the trail I think the Moran is a really good option.
I've used these in granite, snow, mud, you name it and they are very durable and offer solid footing in any condition. I've very confident scrambling in these on granite cliffs in the Sierra's, almost as much as my Vibram 5-fingers. You won't be disappointed.
Does the tongue come up high on this boot...
Does the tongue come up high on this boot and tried a pair of Asolo Flames and the tongue was the same hight as the top lace.
Yes, the tongue comes up slightly above the top lace.
I own a pair of Asolo boots which are...
I own a pair of Asolo boots which are extremely good, but how would they compare to the Salomon Cosmos 4D?
The Cosmic? Going to be a littler heavier and warmer.
How do they fit on the heel? My heel is a...
How do they fit on the heel? My heel is a bit narrow, but ave. mid foot. Have tied Scarpa and Lowa, did not like Lowa and scarpa was to lose on heel and tight mid foot.
Full disclosure, I'm the rep, but you may want to try the Salewas, they run narrower in the heel and fit most midfoot shapes. The Alp Trainer GTX or Mtn Trainer GTX would be the comparable models.
they fit pretty normal in the heal. not super tight.
Will never buy anything else!
I picked these up on sale and they were about half a size too big (Tip: Size down a half size). I decided to give the larger size a try because the sale ended and I would have to pay another $100 to exchange them (new color). Even a half size too big, they were still the best hiking boots I've worn. I put 14 miles on them right out of the box and didn't get a blister, hot spots or the infamous "black toe." Very comfortable, no break in period and incredibly durable. The ankle support is amazing and the traction is great. In the end, I decided to bite the bullet and exchange for half a size smaller and pay full price. In my opinion, they're worth every penny.