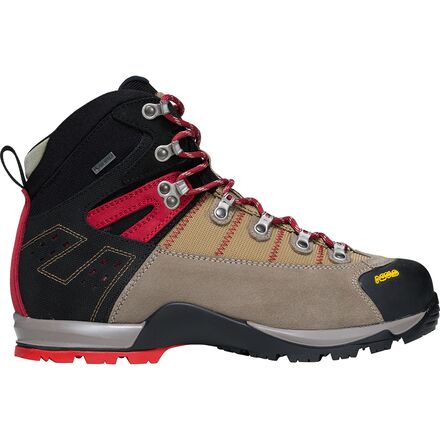 Detail Images

Videos

Community Images
Description
Travel light, go far, and be comfortable in the Asolo Fugitive Light Hiking Boots.
Travel further on your next backpacking trip thanks to the comfort and versatility of the Asolo Fugitive GTX Men's Light Hiking Boots. Though they weigh only 3lb (size 8.5), these Asolo boots provide excellent support and traction with their burly Syncro outsole, and have an ultra-secure lacing system, which reduces heel lift. The Fugitive Boots' Gore-Tex lining keeps your feet bone dry on soaking-wet days, while their low-profile design makes the hike so comfortable you'll think you're strolling through the park in your sneakers. Once you take a trip in these sporty hiking boots, your old clodhoppers are doomed to gather dust in the closet.
Still waiting to break them in...
Familiarity:

I've used it several times

Fit:

True to size
I've had these for about a month now, and have taken them on one serious hike, and many walks around town and workouts at the gym. The left boot feels great, but the right one, for some reason, feels pretty tight around the toebox, as if it's more narrow. It feels like my toes are jammed in there, but that doesn't make sense because it still feels roomy at the heel. I've found that the remedy is, counter-intuitively, to lace them up tighter, moving the whole shoe somewhat more forward in relation to my foot, producing a little more room up front and less room at the heel. Since doing this, and making sure they're tight, I've noticed that the smushed-toe feeling seems to go away. The next big test will be the next real hike, especially the downhill sections, as this is when my foot wants to slide forward. Anyway, I'm still hoping this is just the process of breaking in the boots. The left one, as I said, is great.
Great boots!
Familiarity:

I've used it several times

Fit:

True to size
Great boots, been wearing them this fall for hikes around the mountains and on a recent vacation in Ireland(Very wet). Boots have been great with little to no break in time. Feet have been dry, I highly suggest
Pretty good
Familiarity:

I've put it through the wringer

Fit:

True to size
Love the stiffer heel on these boots and ankle support. Definitely had some issues with the seem that connects the gore-tex and leather tearing after a short amount of time. The tear occurred where the boot naturally flexes from my foot motion towards the big toe of both feet. Obviously this has a major impact on the water-proofing. I think this is pretty standard with most gore-tex/leather boots i've used in the passed. Maybe i need to go all leather. I wore and hiked in these boots practically everyday for 20 of the 24 months i've used them and am generally pretty rough on my gear. Good for active hiking in all seasons and prior to the gore-tex tear they were great as a light winter boot. Plus, they look pretty cool.
Ok I plan on going to glacier national park and backpacking 21 miles on gunsight pass I just want to know if these boots would be the right boots for the job I want something breathable and not to heavy like they say 1lb in the feet is equal to 5lb in the pack so if anybody here know a thing or two about backpacking I would be very grateful for a suggestion on a pair of boots that are gonna do the job but not be a big ole pair of heavy boots oh and I plan on going next summer thanks so much
Best Answer
These are fine boots for you application, if they fit you well. But - many great boots are not right for some feet!



This is the key with any stiff (ish) hiking boot - fit. Ankle fit, room at the toe, sufficient overall width, heel fit, arch support!



You must buy, try on in your home so you can return them if need be, then break-in boots if you want to be happy on a fancy trip. No way around it. If you don't have time to break-in a solid (these are medium+ solid) boot, buy something soft, or even 2-3 pair, and send the rejects back. Blisters the 1st day can & will wreck your trip.



Dealing with blisters on the trail is an art you may not know well, and it's always painful and time consuming no matter what. You cannot trust a boot to fit you by looking at it or asking us!




Are these boots crampon compatible? I'm looking to do some summer snow climbing (no steep ice) that requires moderate use of crampon/ice axe. Thanks
Really Comfortable Hiking Boot
Familiarity:

I've used it several times

Fit:

True to size
The problem I had in the past while hiking is that about half way into a long hike my "dogs" would start barking. Although I have owned different hiking boots and hiking shoes over the years the result was always tired and sore feet before the hike was even close to ending. Only the draw of the beauty of the areas we hiked in made it worthwhile to endure this discomfort.



My hiking experience took a dramatic turn for the better after buying the Asolo Fugitive Gore-Tex Boot. My feet no longer give me the problems they once did prior to buying these boots. Between a combination of these boots and exercising my arches, hiking now has taken me to a new level of fun and enjoyment.



I feel fortunate that this boot fits my 8 ½ D feet like a glove. There is no unusual slippage and going downhill on steep trails has not caused any discomfort. Equally important that these boots provide tremendous ankle support for my weak ankles and I have not experienced any ankle rolls or lack of stability on scree or other uneven and unstable terrain.



The only difficulty I have experienced with these boots is that the cuff on the right side of the boot has caused me a hot spot on occasion. But a simple adjustment after I tie my boots eliminates that problem.



Finally, these boots are holding up well after going on some fairly brutal hikes and I look forward to future hiking trips while wearing these boots. Of all my equipment and clothing they will be the least of my concern.


Do it all boots
Familiarity:

I've used it several times

Fit:

True to size
These boots are great for just about anything. Felt great the first time I put them on, and they've gotten even more comfortable with time. I wear them for work, riding my motorcycle, hiking, etc. and they perform well in every situation. I've splashed boiling hot water on them and it didn't even phase this boot.



I did end up putting in some green superfeet soles just because I have high arches and was getting some pain from working 15 hour days, but since have had no issues.



Gotten several compliments on the mandarin color scheme as well.



Great boot, super comfy, seems like it will last for a good long time.
My everything boot
Familiarity:

I've put it through the wringer

Fit:

True to size
With so many positive reviews on this boot you probably don't need another to make your purchasing decision. I'm gonna write one anyway because I love this boot that much.



I originally purchased these in the summer 2011 when I was working on the Boulder, CO trail crew. They were comfortable right out of the box, my crew members were amazed that I didn't get any blisters through the first few weeks of breaking them in. Since working trail crew they've seen every condition I could throw at them. They've spent months working in the heat on a Virginia cattle ranch and were still breathable. They've been my everyday winter shoe in the Ice boxes of Fraser Valley, CO and Jackson Hole, WY (paired with decent socks of course, I personally love Dahlgren). They've seen construction sites and miles on the trail and kept me comfortable and dry the whole way through. While they certainly aren't cheap they get the job done and then some at a price point that is hard to beat for comparable boots.



However, while I adore these boots they are starting to show some wear. The same seam point on both boots is starting to come out on the interior side of the boot where it bends, I can just squeeze a finger through but not through to the inside of the boot, thus the 4 stars (call it 4.5 because I do love these). Honestly this is something I would expect considering the hundreds of tough days the boots have been through. The manufacture warranty is 1 year but when I purchased them at REI I was told a lifetime warranty so I'm still hoping to replace them next time I swing by a store.



Whether I can replace them or not my next pair of boots will still be Asolo and despite the wear on the seam I still highly recommend these boots. When I say I put them through the wringer I mean it, I have beat these things as hard as I could and after years they still have some life left in them, couldn't ask for anything more out of a boot as this price point.
Asolo Fugitive GTX boot
Familiarity:

I've used it several times
Very rugged boot. Hiked about 30 miles on varied terrain in Big Horn. Sure footing on rocks. Waterproofing worked well in some serious mud after rain.

Lacing system is a little odd but secure. I am a size 8.5 and felt the boot was a tad large with light hiking sock. Thick hiking sock worked best.

No problems with break in. Was great right out of the box.
Good all arounds
Familiarity:

I've put it through the wringer

Fit:

True to size
Following up to my earlier review. These boots have broken in nicely. I would reiterate that these are not your average all leather hikers, these have a little more stiffness to them. If you are just walking ur dog thru the local trail, these are overkill. But for mid to heavy loads and a variety of terrain, these are great boots. They are warm, despite no real insulation, and keep your feet dry. Good grip on the soles. I've classified them as 'true to size' but be aware they are somewhat narrow in width. Some ppl have complained about the durability, but no issues here yet. Nice big toe cap gives u protection, and all metal lacing eyelets are better than the cloth ones which always seem to tear eventually. 4 stars because they do require some work to break em in


BEST OVERALL BACKPACKING/HIKING BOOT!
Familiarity:

I've put it through the wringer

Fit:

True to size
ASOLO PLEASE NEVER DISCONTINUE THE FUGITIVE. IT IS THE DO IT ALL BOOT AND NEEDS NO MODIFICATIONS!
These boots have handled the thick persistent mud of the adirondacks flawlessly; they kept my feet warm and dry after 20 miles of hiking in the Santanoni Range. The only time my feet have ever gotten wet with these boots was after a 15 mile winter hike where they were covered in snow all day.
Solid as ever
Familiarity:

I've put it through the wringer

Fit:

True to size
A bit narrow but they make that pretty clear. My second pair felt great out of the box. My first pair lasted 5+ years! no reason to think the second pair won't do the same
Comfortable, quality product
Gender:

Male

Familiarity:

I've used it several times

Fit:

True to size
I'm a hard to please boot & shoe customer. After tying out about every brand of higher end hiking boots I found the Asolo Fugitive to be the best for me, but had to exchange the original size 9 for a 9 1/2. I normally

wear a 9, but my toes bumped into the front of the boot when hiking downhill. They are very comfortable, reliably waterproof, have decent support for my medium to high arch, and feel acceptably ventilated for Gore-Tex footwear, even here in Florida. I've only used the boots for short hikes, but from the comfort that I have experienced so far I am confident that they will be fine for the multiday backpacking trips for which they were purchased.
What he said...
Familiarity:

I've used it once or twice and have initial impressions

Fit:

True to size
Good boots so far. Took the hiking almost the first weekend I had them (no blisters) and have had them in the pouring rain out in the field (work construction). Break in period was short, buddies had boot envy, and they are a lot more breathable then the leather Asolos I had previously. The boot to sole separation issue is one I'll keep an eye on because it happen to my last Asolos. Kudos to BC for filing me under their old return policy so I could get back to rocking some kick @$$ boots.
Killer Boots Man...
Familiarity:

I've put it through the wringer

Fit:

True to size
I scooped these suckers up on my way to catch a flight bound for Africa. Needing to pack light on this trip, I brought only these brand new boots and a pair of flip flops. Wore them the whole time straight out of the box and they were great. They look tough and are easy to get on and off, even in the airport security line.
Preliminary impressions
Familiarity:

I've used it once or twice and have initial impressions

Fit:

True to size
I just got these a few days ago, and i will start by saying I haven't put them thru the wringer yet. These are just my initial impressions after having put a few 'break-in' miles on them.



I got these at the recommendation of a friend. I intend to use them for just about everything from deer and bird hunting to hiking to general outdoor use around the house to walking around town.



These boots are definitely stiffer than your typical $120 north face hikers, but are not nearly as stiff as some Lowa or Salewa mountaineering boots I?ve used. I would consider them directly in the middle of a generic hiking boot and a mountaineering boot. I have very average to slightly lower volume/narrower feet, and when i wore these for the first time, they felt a bit narrow. I initially thought I?d waste $230. But after a few break-in miles, they got considerably more comfortable. Initially the arch in the insole was a little much, almost like it needed to be matted down, but after a few walks it seems to have worked itself out. One thing I do like about these boots is the high ankles- they give a ton of support. Another thing, and I know this is nitpicky but I?ve had problems before...all the eyelets are metal, which is great because on the fabric/cloth eyelets, as soon as u scrape one rock it's game over.



Again, the boots have definitely improved in terms of comfort, but I have not given then the hard trail test yet. I hope this initial review is helpful, and I?ll revert back after an upcoming bird hunt. 4 stars until i give it a hard test
Comfy right out of the box
Familiarity:

I've put it through the wringer

Fit:

True to size
Great backpacking and day hiking boot. My feet never get wet. On my second pair. Perfect fit. Going to have my second pair resoled if it can be done. Note: Last year I upgraded to the Asolo Flame and they run about a half size smaller. Found it out the hard way, lost both big toenails on the downhill hike out. Switching back to the Fugitive.
A great all-around backpacking boot
Familiarity:

I've put it through the wringer

Fit:

True to size
I've gone through lots of hiking/backpacking boots in my life so far. And I've gone to both ends of the spectrum - old, traditional full leather that needs to be broken in like a good baseball mitt all the way to completely synthetic. I've never found something that just fit right, held it's own in all scenarios and withstood the test of time . . . until I got this boot. It fits my foot so perfectly. I can really kick the crap out of this boot and it just keeps coming back for more. I've trounced all over Mt. Washington for three out of four seasons and this thing gave as well as it took. I hope Asolo doesn't make that mistake of taking a great boot and canceling it from the line because this one is a keeper for me.