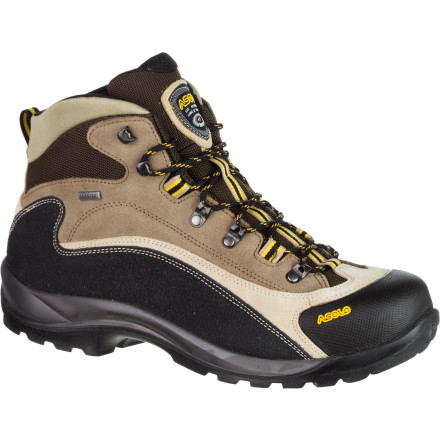 The Asolo FSN 95 GTX boot has evolved from Asolo's philosophy of great design. These excellent trekking boots are lightweight and versatile—perfect for fast backpacking trips. The Gore-Tex inner liner provides breathable waterproofing to keep your tootsies dry and comfortable no matter what conditions you encounter out there. Asolo specializes in mountaineering and hiking shoes, and the FSN 95 is the perfect example of their attention to detail and performance.
Unanswered Question
Sorry, I'm just wondering do this shoes...
Sorry, I'm just wondering do this shoes have a choice of a wide width?

My left foot is 3.74 inches and right foot is 4 inches

I don't know my feet is going to be able to fit a regular width or not ?
Good Boot
Gender:

Male

Familiarity:

I've put it through the wringer
I wore these on a 14er hiking trip over the summer. i wore them on a 15 hour climb of hallet peak (12,700ft) on a much harder route than expected. my feet never got a blister, they did get a little hot spot but nothing much. they have spectacular ankle and arch support and with my skinny ankles there was no heel lift. also no water ever got inside the boots when i was crossing streams and they breath very well. very pleased. i would recommend these to the hardy backpacker and hardcore daily hikers.
Took forever to break in.
Gender:

Male

Familiarity:

I've used it several times
I won't complain too much that these took forever to break in, because my feet definitely don't play well with new shoes even to the point where my friends always know they will be in for some complaining from me shortly after a new shoe purchase. ha. But anyway, after breaking them in from a couple weeks wear around town, I took them on a 24 mile backcountry hike in the Frank Church Wilderness near Salmon, ID.... and I have to say the last 10 miles required wincing with every step. It just felt like it couldn't hold my heel in place very well and thus half dollar sized blisters were the result. Since then, they have given me no problems, but I would say definitely take some moleskin for their maiden voyage despite any casual break in around town.
Which width of this shoes is normal or...
Which width of this shoes is normal or wide?
Best Answer
Hey Pozzie,

The width on these is a regular which equates to fitting up to a "D" width foot.
Great boots... Tons of backpacking miles on them and they are still in great shape. The Gore-Tex is amazing and let's the feet breath very well. My only complaint is the sole. They have a great sole, but it's not Vibram. I've been to the top of Half Dome with these, and the climb up on the slick rock was perfect, so I guess it may not be that big of a down fall. Perfect boot though... Asolos are the best!
I have a pair of these boots and they are...
I have a pair of these boots and they are excellent, however how would they compare to the Salewa Alp Trainer?
I have both - they are two different boots. This one has less edging capability and more cushion alas a heavier boot. The Salewa is a little stiffer and offers less cushion & the ability to really tighten them in for more of a fit. I found the Asolo to be a bit warmer, especially when wet.
I agree, the Salewa has better edging abilty, obviously because it is lighter and possibly less stiff as the FSN 95 is quite stiff.
I recently purchased the Asolo FSN-95 GTX at a different store for $105 and I've climbed with them out of the box new in the New Hampshire 4000 footers. The boots are extremely durable, shed water like crazy and have a good grip for a non-vibram sole. I climbed them on Eisenhower in bad weather, Washington, Cannon, Osceola, Chocura (even though its not 4000 ft) and much more. The gore-tex is surprisingly breathable and comfortable. The only problem I've had was that the metal lacing kept bending, and now is soft, however that does not affect the shoe's performance
Boots are really good, but if you're under heavy rain 3-4 hours feet will be wet. I was hoping to full their water resistance. My foot is 101 mm, the shoes a little tight, but after some time it was OK. So only 3 star ...
anybody every put some strap on crampons...
anybody every put some strap on crampons on these boots?
chr,

Are you shopping for boots? Or are you shopping for crampons? The answer changes a bit one way or the other. To put it simply: I would not put crampons on these boots. However, what types of activities are you hoping to do and what kind of crampons do you intend to use?
I'm mainly going to be backpacking and hiking in them; however, I need to make sure whatever boot I get can handle a crampon, similar to a black diamond. I'll be in the N Cascades for a few days with them. I don't want mountaineering boots... to uncomfortable.
Any thoughts or insights are appreciated.
Tx!
It sounds like you're going to be spending quite a bit of time in the snow, yes? Even if you don't want to get a mountaineering boot, you probably want to look at something with additional waterproofing, such as a boot with a Gore Tex liner. Nothing like soggy feet to ruin your day. For a similar boot with more water proofing, check out the Moran:

http://www.backcountry.com/asolo-moran-gtx-hiking-boot-mens?rr=t&cmp_id=&rrType=ClickCP&rrProd=ASO0035

Or the lighter Fugitive

http://www.backcountry.com/asolo-fugitive-gtx-hiking-boot-mens?rr=t&cmp_id=&rrType=ClickCP&rrProd=ASO0013
cool boot light protected toe and sides. my boots hadnt been use much but the soles of both boots came apart. walked across a stream and feet got soaked. runs narrow and small. honestly worst boot ever bought
I really love these boots. They are well made and hold up very well over time. They are indeed waterproof as the Gore-Tex implies and provide great support. They are stiff at first and take a little bit to break in, but once they are broken in I can wear them all day without any sore spots. They run true to size. They work well for various conditions from spring hikes to winter snowshoeing. Just adjust your socks accordingly and you should be fine. I like the stiff rubber on the toe because it holds up well against scuffs from rocks and tree roots. The sole is firm for added support, but soft enough to provide sufficient traction in the loose stuff. Take into account the height of the boot when buying because if you are looking a taller mountaineering boot this might not be what you want. They are a typical height backpacking style boot. I use them snowshoeing, but usually need to wear gators. I forgot my gators in the attached photo, but I guess it helps show more of the boot that way.
These boots are great! I have owned them for several years. I wear them most of the winter and for summer hiking trips. They have held up great and are still very comfortable. 100% waterproof, but don't roast your feet on summer trips. These have great traction, whether its hiking or walking on frozen sidewalks. I love these boots. No plans to replace them anytime soon.
Lightweight Durable Dry Stable Boot
I use these for short hikes without heavy packs, for quail and dove hunts in brushy country, and for field work conducting environmental studies. This is my second pair. The first pair lasted about five (or so) years.

They are just now splitting at the basal seams after they got accidentally soaked with diesel fuel in late 2009 on a long-term job. I finally got the diesel out of them with several heavy-duty hot water and detergent wash cycles, but the seams had already deteriorated somewhat due to the diesel oil. They actually still seemed water tight until the summer of 2010.

The Vibram type lug soles are now nearly worn out, so it is about time to replace the boots. The protective glued side material helped keep them together very well. I have had other cheaper made boots bust out the sidewalls in less than a year or two.

With the typical leather hiking boots, I usually struggle to keep them dry when regularly tracking through wet grass and brush - even with regular sno-seal. But, these lasted a long time before that happened and I didn't have to apply sno-seal - even after they became more like suede texture from the rocks and brush that rubbed against the outside.

I used to get full-grain leather hiking boots and pay about twice the price. They would usually only last two or three years before the welt started rotting out.

I play and work in Texas most of the year, so these lightly insulated Asolo boots were better than the more heavily insulated ones. My feet were dry but rarely felt hot - even in the summer.

Got a $110 price on the first pair and an $85 price on this pair. I believe they are well worth the price.

I tend to destroy boots pretty fast, so the five plus year lifetime of these Asolo FSN95 boots is impressive. Especially, when considering the diesel mess that shortened their life.
These would be considered a 6" boot.
This is my second pair of the Asolos. You can do any length of hike right out of the box, no wear problems or sore feet. They're lightweight and comfortable.
Confrotable but not durable
Last month I bought these boots for climbing Kilimanjaro and Mount Kenya in Africa.

I summited both mountains and the boots worked great, good traction, comfortable and no blister, but when I was coming down the second mountain (Mt. Kenya) they started to break on one side, first the right one and then the left.

They stayed together enough to come down without problem, but they will not stand another trip without repairs.
I've owed these boots for three years now, and I'm sure they should be thrown out but I can't. They've felt so good on all my pack trip's I've worn them (Yosimite, Mt.Hood, Mt.Ranier, etc.)to work also. The bottom is almost worn thru and most the eyelets have broken off. I've patched a rip and they're still waterproof!
First, I have to specify that I have the FSN 85, which is essentially this boot without the Gore-Tex waterproof lining.

If you live in the southwest, the last thing you need is a waterproof boot, because Gore-Tex adds another layer of fabric, thus insulation and heat retention.

Even the FSN 85 is treated with silicon and sheds water like a duck, so if you do mostly desert hiking it's the way to go. IMHO Gore-Tex is a lot of marketing hype.

Do you have the problem with most makes of shoes and boots being too narrow? I do and it drives me nuts! According to that shoe sizing thing, my foot is between D and E, but anything less than an E smashes my toes together like canned sardines. Hey, manufacturers, look at most people's feet, they aren't shaped like bullets at the end!

Anyway, I got these in wide, and there's plenty of toe room and they fit perfect. The sole provides a nice stiff but springy feel, make you feel like you have a "bounce" in your step.

They look pretty cool too, not just a drab slab of plain leather. I look forward to every hike, not in small part to the performance and comfort of these boots.
I got my boots about a year ago. I have done many mountain hikes in them. I love 'em! The Gore-Tex was not too warm in the summer and my feet never got wet. In fact, I tested them and would stand in water whenever I could. Not a single drop! I didn't need to break them in either. They are an excellent quality boot!