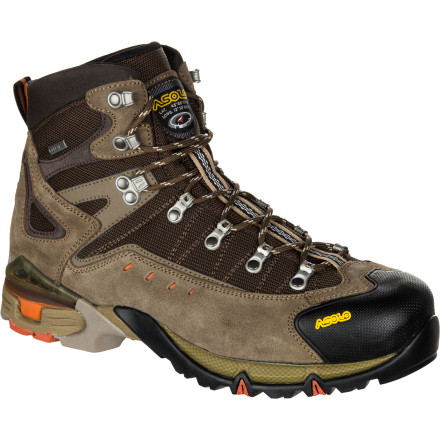 Detail Images

Videos

Community Images
The Asolo Men's Flame GTX Hiking Boot uses a blend of water-resistant suede and high-tenacity nylon to withstand all the abuses of a season in the backcountry. If any moisture manages to get through the tough exterior, it's stopped cold by the waterproof breathable Gore-Tex insert. Asolo used a Matrix sole with Active Heel Support to make the Flame GTX Hiking Boot a solid choice when you have to carry a lot of gear or travel on rough terrain.
5 long years
Familiarity:

I've put it through the wringer

Fit:

Runs small
These boots were great took 5 years to completely wear them out. Tried in Afghanistan in 2010 and wore them hunting ever since. They are very warm and will do well in subzero temp with thick socks. The only part that wore out was the soles just lost all their lugs, but the boot held up great. I would order a half size bigger as the toe doesn't stretch because of the reenforced toe cap. I would order another set but waiting for winter to come back again looking a boot a little more breathable for the summer months.
Poor quality
Familiarity:

I've put it through the wringer

Fit:

True to size
This was my second pair I owned for only 6 months. I run a school campus, and wear these boots daily to walk the grounds. The shoe is very comfortable, but the sole is made of poor quality materials, for a shoe at this price.

Not happy, to shop again.
perfect for my needs
Familiarity:

I've put it through the wringer

Fit:

True to size
Hiked difficult terrain for hours at a time, snowshoe-ed, climbed a fourteener with microspikes, you name it. and these barely look worn. excellent purchase
Comfy, but Wear Quickly
Familiarity:

I've put it through the wringer

Fit:

True to size
I got these to replace my ten year old Vasques that were cracked and leaky. These lasted about five years of moderate use; the soles are worn nearly flat, the lace eyes are pulling out in a couple places, and the toe rubber has fallen off of both boots. On the up-side, there was minimal break-in, and they stayed laced tight through stiff downhills with heavy loads. I won't be replacing these with another pair; partly because I expected better life-span from a boot in this price range, but mostly because they just weren't quite right for my feet.
This are the boots you want
Familiarity:

I've put it through the wringer

Fit:

True to size
I've had these boots for a few months now and they have been my go to shoe for all outdoor activities. I highly recommend these boots they have been fantastic so far. I just hiked 20 miles down the Appalachian Trail with zero problems. They have performed everywhere from the rocky trails to the marshlands and anywhere in between. they are a little pricey but I expect they will have a long lifespan so don't get to hung up on the price.
Coromandel; WINTER; Toasty Warm Feet
Familiarity:

I've put it through the wringer

Fit:

True to size
It turns out Coromandel Peak is a real thing, not just a random ledge, in the sense that Kiwi's from all over New Zealand hike Mt. Roy in the summer to take wedding photos on the peak. Google image search it. It is breathtaking.



That said, many generally advise against visiting the actual peak in the winter, as snow piles onto it and the ledge walking out is SLIM. My buddies and I knew none of this.



I strapped on these Asolo boots in the morning and we blazed a trail up, hitting Coromandel Peak midday without realizing it was anything special. It looked like a promising spot for photography so we ambled out. These boots have FANTASTIC tread and the GORE-TEX inserts kept out snowmelt from about 2 ft. of snow we slogged through. The toe-box was reinforced enough that kicking through high drifts wasn't an issue at all. I walked out to the peak without the slightest difficulty, with toasty warm, grippy, comfortable feet. It was only afterwards, comparing our photos to those online, that we realized where we had stumbled onto! How many times do you get to hike up to one of the best wedding-photo spots in the world, without realizing it?!



I'm not one for really high boots, and thought the cut of this one, coming above the ankle but not digging into my upper shin, was perfect. The sole kept me from noticing the rocky terrain below, and was surprisingly well-padded. The GORE-TEX insert kept my feet both dry, and comfortably warm, throughout the hike up. The final peak is only a little over 5,000ft (1,578m) up, but in the winter, this can get snowy, iced, and COLD. These boots were great - I never slid, never grew cold, and felt comfortable and stable throughout. Thanks Asolo, thanks Gore.



The boots fit true to size, I am a fairly average slightly-below-size 9 mens, and the 9's fit comfortably with a medium-thick sock.


Best Boots I've ever owned
I was previously in the military, and was always on the search for the best boots available because of the copious amount of time I spent on my feet. I opted to but Asolo boots because they are so incredibly popular among the military (those of us who could wear non regulation boots). I used these boots for the better part of a 12 month deployment in Afghanistan. I love everything about these boots. They had a very short break in period, if any break in period at all. Two years later the boots feel like an extension of my feet. They can be slightly warm when walking around in the middle of the desert. The sole has worn down significantly. Of course I can't imagine how many miles I have logged in them. I would recommend these boots to anyone who needs a boot that offers great support, and durability, with minimal break in time.
Asolo Flame Gore-Tex Boot - Men's
I purchased these boots for an upcoming trip my wife and I are taking to Mt Kilimanjaro. We haven't taken the trip yet, so I haven't put them to the true test, but I can say these boots exceed my expectations. The boots are extremely comfortable out of the box. They are as comfortable as my sneakers and I have been wearing them frequently to ensure they are completely broken in. The sole has ample support to keep me from feeling every rock or stick I step on. In addition, the fit of boot is such that I can tighten the laces comfortably if I am wearing a single pair of thin socks or a heavy cushion trekking sock with liner. I would highly recommend this product to someone who was in the market for a sturdy hiking boot.
Tight in the toe box
Gender:

Male

Familiarity:

I've put it through the wringer
Asolo makes great gear for sure. Quality is awesome. But I can't quite figure out the toe box - I have pretty narrow feet and the toe boxes (I've had this model and two others) are always narrow. Otherwise awesome.
Nice and light but NOT TPS 520 caliber
I bought these for a lighter hiking boot and having been in 3 pairs of 520's they had some "Big shoes to fill". Lightweight they certainly are but I hardly believed they were gore tex as I got soaked my 3rd trip out in them. They could be improved with a Vibram sole because after one season, the sole is Gone! I have had 520's go 5 years before they look like my flames do after one. I will certainly look into a Vibram resole. As for the gore tex leaking I didn't get far in trying to warranty them :(
Does anyone know if these. Can be resoled,...
Does anyone know if these. Can be resoled, or rather has anyone here had their Flames resoled? My experience has been that the sole wears out long before the upper does, and I would hate to throw away a great feeling pair of boots that I love simply because the sole wore out, especially after it took me three trade ins at the REI to finally find the boot that worked for me. So, that's my question, does anyone have any experience having these resoled, and if so will you please post pics?
Hi Paul - these boots, like all boots in the Asolo line, can be resoled multiple times.



One great spot to go is Dave Page Cobbler in Seattle, WA

(206) 632-8686 http://www.davepagecobbler.com.



Another is Rocky Mountain Resole in Salida, CO - http://rmresole.com/ (719) 539-1455
Unanswered Question
Anybody have experience w/ the wide version...
Anybody have experience w/ the wide version of these or the Fugitives? Either of these seem to fit very well for me in size 12 aside from the outside edge of the toebox bumping against the next toe in from the pinky of my left foot when pushing off on it or descending. Would the Wide version primarily add to the fore foot or does it also add a lot of volume to the instep/ankle/heel?

I'm a little gun shy at this point as I'm now stuck w/ a pair of 11.5 Fugitives that felt fine in the store and in the 2 days I wore them around the house before hitting the trail but became pretty painful in this area when carrying load for more than a mile or so. I paid for a pair of 12 Flames tonight and did around 1.5 miles of laps inside my house w/ a ~30# pack and was noticing a slight interaction of the same problem toe w/ the toebox. Any suggestions for other boots w/ similar fit/function w/ a bit larger toebox?
Unanswered Question
I have some microspikes, which work really...
I have some microspikes, which work really well with these boots. Now I'm looking to do Whitney next month and need actual crampons. Can you recommend any crampons suitable for this boot and for Whitney conditions? I'd prefer to use this boot rather than spending half a grand on a pair of bona fide mountaineering boots. Thanks!
Time and again, I try to go beyond and experiment with other non-Asolo boots and they all fail. I've have worn Asolo in the most harsh environment and yet they never cease to fail me. Took them on a deployment to Afghanistan wore them everyday in the mountains and around base and they still perform as if they were new. Their comfortable and their built tough. Word of advice, go with Asolo and you'll never regret your purchase.
Just looked at a pair of Asolo Force GTX...
Just looked at a pair of Asolo Force GTX boots. Nice, but can't find them here on Backcountry. Is the Force an old model?
Hey Jeff,

Yes, the Force is from 2010 if I'm not mistaken. We unfortunately do not carry them any longer but if you are set on those do a Google search and you will find a few other retailers carrying them.
I originally bought these boots for a trip to Afghanistan to deal with all of the different terrain in the country and they served that purpose better than can be expected. Where I was really impressed is how comfortable they were when I wear them back home just walking around town. They provided a great deal of cusion and support even when walking through town on paved roads. Given that they are GTX your feet will stay warm so take that into consideration when picking socks to wear. Overall, I am highly impressed and I will definitely be looking to Asolo for my next pair of boots.
These are the absolute most comfortable pair of boots I'd had so far. Extremely durable, dry, cool and easy on the feet.