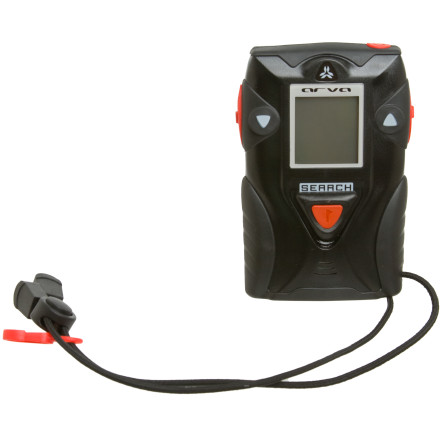 Detail Images
Delivering the newest, fastest technology in a user-friendly, rugged interface, the ARVA Link Avalanche Beacon helps you master basic and advanced search functions without guide-level training. Though fully compatible with standard 457kHz beacon signals, this digital and analog three-antenna beacon also operates with the new W-Link frequency (868mHz). Developed by Mammut for its award-winning Pulse beacon, W-Link enables the Link to connect directly with compatible beacons (like the Pulse), forming an interactive network that speeds up search data and transmits other useful information like a victim's heart rate.
Two modes let you choose between Novice and Expert settings to match your beacon knowledge; there's also an all analog mode to utilize a wider search range
An average search band width of 50m lets you sweep the debris field without missing a signal
In its detailed LCD display, the Link detects multiple victims simultaneously and creates a list, then you can mark or unmark victims as you locate them
Arrows and distance values guide you to the signal using three different levels of search, including a four-arrow pinpoint search graphic to get you within probe range
An audio and visual alarm notifies when you make a wrong turn during your search, even though the Link points you straight to the signal, not along flux lines
A motion detector switches the Link back into transmit if you get caught in a slide during a search, and a standby mode conserves power
W-Link frequency adds speed and bandwidth to your search, which aids multiple burial scenarios with up to five victims and lets you communicate efficiently with other searchers so there is no wasted time or overlap
The group check function lets you simultaneously locate every beacon at the trailhead so you know everyone is beeping and compatible
Share your thoughts
What do you think of the
ARVA
Link Avalanche Beacon
? Share a...