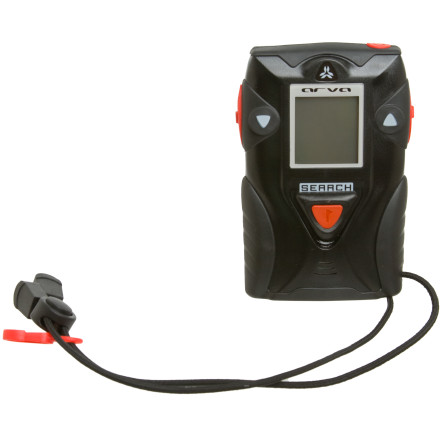 Detail Images
Delivering the newest, fastest technology in a user-friendly, rugged interface, the ARVA Link Avalanche Beacon helps you master basic and advanced search functions without guide-level training. Though fully compatible with standard 457kHz beacon signals, this digital and analog three-antenna beacon also operates with the new W-Link frequency (868mHz). Developed by Mammut for its award-winning Pulse beacon, W-Link enables the Link to connect directly with compatible beacons (like the Pulse), forming an interactive network that speeds up search data and transmits other useful information like a victim's heart rate.
Two modes let you choose between Novice and Expert settings to match your beacon knowledge; there's also an all analog mode to utilize a wider search range
An average search band width of 50m lets you sweep the debris field without missing a signal
In its detailed LCD display, the Link detects multiple victims simultaneously and creates a list, then you can mark or unmark victims as you locate them
Arrows and distance values guide you to the signal using three different levels of search, including a four-arrow pinpoint search graphic to get you within probe range
An audio and visual alarm notifies when you make a wrong turn during your search, even though the Link points you straight to the signal, not along flux lines
A motion detector switches the Link back into transmit if you get caught in a slide during a search, and a standby mode conserves power
W-Link frequency adds speed and bandwidth to your search, which aids multiple burial scenarios with up to five victims and lets you communicate efficiently with other searchers so there is no wasted time or overlap
The group check function lets you simultaneously locate every beacon at the trailhead so you know everyone is beeping and compatible
We live in Australia. Do you honour the 5...
We live in Australia. Do you honour the 5 year warranty if we buy the Arva Link Avalanche beacon from Backcountry in the USA?


Hey Lynne,



I have posted below a link to our return policy, you can also find this link from anywhere on our website at the very bottom of the screen. Anything beyond our returns need to be take up directly with the manufacture.



http://sales.liveperson.net/hc/s-9551721/cmd/kbresource/kb-193163200275399580/view_question!PAGETYPE?sc=127&sp=94&sf=101133&documentid=239593&action=view&VisitorProfile=BCS&MESSAGEVAR!home=yes&MESSAGEVAR!cookie=no&MESSAGEVAR!docid=239593
Arva Link - "W-Link" frequency explanation
Expert-oriented device with W-Link frequency
I now have two trips in using the link beacon and absolutely love it.

Arva did a great job making a beacon with all the bells and whistles that you could want but still keeping it very smile to operate.

My first time using it I kept it in novice mode while practicing multiple burials, it worked like a dream. My friends that had other brands also did well but some of them put their beacons in expert mode which made their beacons much more difficult to use.

I have since practiced in expert mode with multiple burials and I can't tell you how easy it was.

You use the two buttons on either side to toggle between which beacon you want to go after and the middle button to either mark or unmark, very simple. Compared to other beacons which ask and make you answer questions to toggle and unmark.

After using the same beacon for almost ten years the harness that arva uses is a much needed addition, I no longer have to figure out how my beacon get's worn.

The standby mode is super cool, especially if you do any teaching.

The w-link defininately makes a difference when searching for other beacons utilizing the same technology.