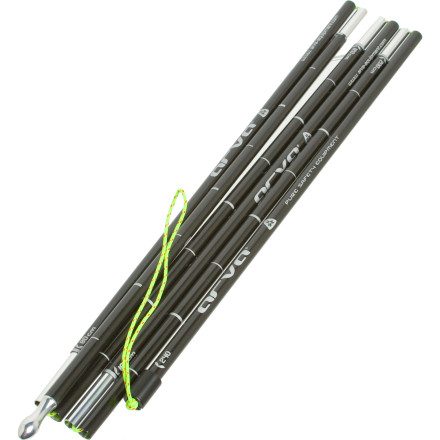 Detail Images

Community Images
ARVA makes two probes lighter than 160 grams: the Carbon Cup Probe is the first, and the second is not nearly as stiff as the Carbon, and it's shorter. At 240 centimeters long and rocking all the same features as ARVA's line of thicker diameter aluminum probes, this carbon probe shaves weight without sacrificing durability. For randonee racers or those looking to go light-and-fast, it doesn't get much better, so reach for this probe and take the to mountains feeling supremely prepared.
Carbon and aluminum shaft makes this probe strong, light, and stiff so you can easily penetrate layers of snow and ice with minimal effort
Nigh-bulletproof KEVLAR® cord connects the shaft sections together and withstands all the use and abuse you can deliver in an emergency situation
Tension locking design automatically clicks this probe together when quickly toss it out and pull the cord at the top
Five centimeter markings make gauging snow depth quick and easy
This thing is barely noticeable in my pack but I know it'll be there when I need it most (hopefully never). With some practice it is very easy to deploy and get to work with. Just grab the end loop, toss the probe, pull tight and start working. My one problem with the probe is that if you don't tie some sort of stopper knot near the pull loop, you can potentially have the probe sections slide right off the cord. This happened to me on my first practice toss (in my living room) and I just tied a knot on the end so the cord can't pass through the sections and have never had a problem subsequently (in the field or otherwise).
Tug firm and find the knot!
This system is nice in that is pretty straight forward, no buttons or mechanisms that can freeze up. Be sure to firmly tug on the nylon cord to find the knot, then set it. Goes quick with some practice!
Just got this and was playing with it in the living room, impressed with the weight and durability for the price, overall quality is good, you really have to tug the rope to set it in the slot, but I got used to that pretty quick. I would recommend this purchase if you are looking for a good pole for everyday packing..