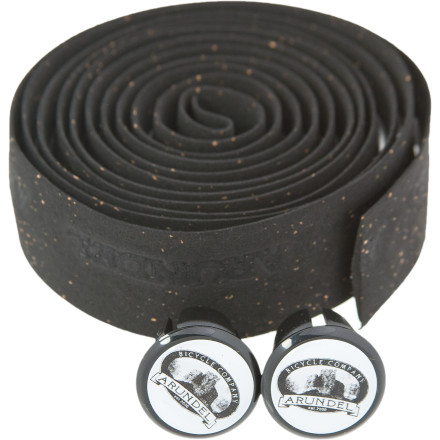 Description
Fresh and comfortable.
While we don't doubt that 20 years from now we'll be riding 6lb bikes with telepathic shifting and hydraulic braking, we're fairly sure we'll still rely on cork handlebar tape. Cork is just thick enough to absorb a bit of road shock; it's just tacky enough so your sweaty hands won't slip when you move from hoods to tops; and by putting a fresh wrap on your bars you make your bike like pretty much new. Can you really improve upon that? We don't think so.
Our pals at Arundel -- creators of the world's best bottle cages -- now make bar tape. It comes in a variety of solid colors. In each color you get "Arundel" printed along the tape, with cork flecks subtly visible throughout the tape. And one important detail is that it has an adhesive strip on the back, which makes installing it super-easy.
The actual weight of the Arundel Cork Handlebar Tape is 56g.
An All Time Favorite
Familiarity:

I've put it through the wringer
When I need the most comfort for the $, the Arundel Cork tape is my go to. Soothingly soft to the touch, yet grippy enough to feel secure and in control. Very easy to wrap, and durability is on par with more expensive options. This is an easy choice.....great stuff!
Corky Goodness
Familiarity:

I've put it through the wringer
It's cork tape, been around for ages. I always pick these up on sale, and they last just as long as any other tape. Great stuff
Tape when you need it
Familiarity:

I've put it through the wringer
It would seem like a difficult task to make bad bar tape, but there is plenty out there. Arundel has taken their near perfect execution of the bottle cage and carried it into bar tape. Cinelli cork has always been my standby, and this tape is an easy stand-in. Easy to wrap, stays where you put it, and is comfortable on your hands. It's an easy choice.
Simple, Effective, Durable, Perfect
Familiarity:

I've used it several times
I've been using this tape on my ride for almost a year riding about 3-4 times a week in our rainy, sunny tropical weather. I've even removed and rewrapped using the same tape within those 6months at least twice. My buddies who use fancier Lizard skins and Fizik tape have already needed to change theirs while my old school cork tape has lots of life left and still looks great and feels like new.
Great Tape
Familiarity:

I've used it several times
Works as advertised, east to wrap handlebar, and very hard to tear, so you can wrap as tight as you like.
best bar tape hands down
Familiarity:

I've put it through the wringer
I'll never use another bar tape after using this. It feels great and after almost 2,000 miles its still looking good.
I am admittedly, an Arundel fan anyway, but this tape is great. I rode with it yesterday and didn't even take a pair of gloves for a short 13 mile ride. This tape is plenty soft and stays dry. It looks great too.
Even though you probably know how to put handlebar tape on, read the instructions. Funny stuff. As for the product - great cork bar tape on a budget. Nothing beats the feel of cork tape if you're the type that usually rides without gloves.

The double sided tape tape that's on the back to stick them onto the bars isn't terribly well bonded to the handlebar tape, so you have to be careful peeling the backing off - but it does help keep the tape in place while you're wrapping. And yeah, despite the fact that even the instructions tell you to use electrical tape, the finishing tape works fine.
Excellent Cork!
Familiarity:

I've put it through the wringer
Soft, supple, does not get slippery with sweat, installs easily, uninstalls and reinstalls easily, just the right amount of padding, doesn't tear. Mid level pricing but the quality is there!
Great tape
Familiarity:

I've used it several times
Comfy, classic, and easy to install, this tape makes me wax poetic of days of downtube shifters and mustaches. Its a good thing only the former has gone the way of the dinosaur. This stuff works as it should and is timeless.
Cork Tape; if it aint broken, why fix it
Familiarity:

I've put it through the wringer
Bar tape is one of the few areas where there seems to be constant reinventing of the wheel. While newer tapes might be easier to clean, or perhaps slightly more thickly padded, cork tape just works, and works well. Throw on the black tape for training days, and perhaps bust out the white cork for race day; either way you'll get pretty solid performance for about the cost of a race at your local tuesday night world championships. For what its worth, Arundel Cork tape wraps much more easily than many more expensive tapes.
already a classic
Gender:

Male

Familiarity:

I've put it through the wringer
The fine folks at Arundel nailed it with this cork tape. I've used it on numerous bikes, and it holds up well, all the while providing just enough comfort but a good feel for the bar. And the packaging provides all too humorous (but very true) instructions for installation.
If want basic tape and feels good, this is a good product. I bought the white and black to cover the two road bikes. White, just like shoes, picks up dirt fast and loses the fresh look in about a week of riding. And if you are messing with chains, or changing tires and go back to riding, the cork will absorb the grease and give you a grungy look. Maybe it will become a trend.
The tape doesn't stick to the bars very well, but I just used electrical tape on both ends and it holds just fine. I like the cork feel on my hands and it does offer good grip. I'd buy these again. The pro's out weigh the con's for the price.
It's a cork wrap, cheap and efficient, nothing more and nothing less. But if you're looking, you probably already expected that. Would I take some Lizard Skins over this? Any day. But would I pay for Lizard skins every single time I needed to wrap some bars? Nah. So the cheap cork is worth it.
high price/ medium performance
When the instructions tell you to use electrical tape instead of the supplied finishing tape, they're not jokeing. Maybe Arundel should focus more on the actual product, and less on glitzy packaging.