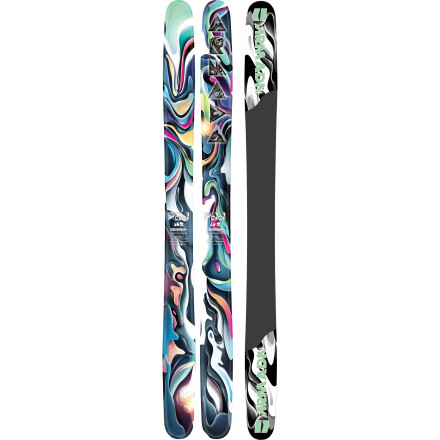 Rad enough for a man, but PH-balanced for a woman, Armada's VJJ Women's Ski--yeah, vuh-jay-jay--serves up the game-changing hybrid-rocker shape for the pow-slayin' ladies out there. When the snow gods hear your prayers, you can grab this plank and float the heavenly deep. If your prayers fall on deaf ears, the VJJ will gladly beat the hardpack into submission as well.
The VJJ was inspired by the Men's JJ, so you know that it's versatile and well crafted. Armada's EST Freeride Rocker features the perfect blend of rocker and positive underfoot camber. The Hybrid Ultralight Core is made from lightweight wood with an exceptionally high strength-to-weight ratio, giving you the performance you demand without the extra weight. Armada's special Laminate Matrix utilizes directional fiberglass layering to dictate torsional rigidity and flex pattern, ensuring you will be the boss of your skis at high speeds. The AR50 Sidewall sports a cap construction in the tip and tail with a classic sidewall underfoot, providing the perfect blend of performance, durability, and low swing weight. There's an ideal balace of wide-enough waist (115mm) for deep pow, and speed with the Comp Series Base, Armada's fastest.
EST Freeride Rocker
Hybrid UltraLight Core
AR50 Sidewall
Laminate Matrix
Camp Series Base
1.7mm Impact Edges
115mm waist
Don't get me wrong..
Familiarity:

I've put it through the wringer
The VJJ is an excellent ski! The only problem I have with these is that if the snow condition is anything less than Utah or Colorado champagne powder, I hate to ski them. As a very strong female skier, I feel I can ski most brands and models with ease, but these in the sticky mashed potatoes or anything less than 10 inches I have difficulty with. The "european chatter" (that plastic-y sound when you hit the hard stuff) makes the ski sound as unresponsive as they feel. They float like boats and are fairly quick, but ONLY with fresh snow. I wish I could ski these more than I do. It's almost a shame. I call my self a stiff ski person but I almost wish these were a bit more forgiving.
VJJ all the Way! Pow Mow Pow Wow!
Gender:

Female

Familiarity:

I've put it through the wringer
Like many of the talented ladies on the VJJs. I am on my 2nd pair! I am still rocking last year?s graphic, but it?s been the exact same and badasstic ski from the start! This ski is all you want for a fun powday on the mountain. It also handles exceptionally well on groomers. Part of why I love this ski is that it is so responsive! For a pow ski, it turns on a dime and is great for any technical lines or tight trees where you need to make quick directional changes. Don?t let the smaller turn radius scare you away, these things can hold their own in the deep pow, in gs turns, and they are stomp monsters! If you want to feel invincible send these bad boys off a cliff, cat track or any fun feature the mountain has for you. Overall, highly recommended ski! As Lexi D. noted, they are changing the tails on these for next year, that hasn?t changed how much I love these skis! The photo below shows the great places you can go on your VJJS! Enjoying some pow at Powder Mountain!



If you want to see any additional reviews, there is a plethora from years past:

http://www.backcountry.com/armada-vjj-ski-womens-arm0442

http://www.backcountry.com/armada-vjj-ski-womens-arm0331


A fellow employee, Alyssa F. and myself enjoy a fine day at Powder Mountain on our 2012 and 2013 VJJs.

There are no tweaks or changes to this ski between 2012 and this current 2013-3014 model (save the topsheets, of course).



BIG, NEAT changes in store for VJJs of the future....

Stay tuned for the 2014-2015 model! I'm SO excited to check it out!
I demoed these today and fell in love....
I demoed these today and fell in love. Thoughts on mounting my Tyrolia Ambition 12 touring bindings on these?
Sounds like a great setup to me!! Stoked you like them!!
What is the weight of the VJJ, and how...
What is the weight of the VJJ, and how does that weight compare to the new Rossignol Star 7? Weight is an important consideration for me when hauling gear in the backcountry.


Best Answer
How's it goin!



The 175cm VJJ weighs in at 4.5 lbs per ski.

You can peruse my lengthy review about the VJJs here:



http://blistergearreview.com/gear-reviews/armada-vjj



I LOVE this ski, and it would make an excellent touring option, I'm thinking about rigging up my older pair with Dynafits. I've got a few gentlemen friends here in SLC that tour on the Men's JJ and love it.



The Rossi website reports that the Star 7 weighs in at 4.75 lbs per ski, but they did not specify which size this was for. Hope that helps. If you have any questions about the VJJ, feel free to e-mail me at ldowdall@backcountry.com. I've been on this ski for 3 seasons now and LOVE it!
Lady Shred Stick of Choice
Familiarity:

I've put it through the wringer
Yup, and we all know it!



It's no surprise that Armada made the best women's ski on the market. With their trusty construction and progressive design, they took their award winning men's JJ, slapped a sexy graphic on it, and created the VJJ! It's generous turning radius make this ski quick and nimble in tight spaces and bumps, but unlike other women's skis it's not a total wet noodle so you can bring them up to speed and leave all the boys in the dust! The early rise is substantial enough that floating in pow is not a problem, but it's not so drastic that it takes away from your edge control when you end up on the groomers. I can't ever get on a lift without someone complimenting the graphic (my favorite ski graphic of all time). The topsheet is textured so it doesn't scratch and is durable...plus the sparkles in the graphic is badass.



So overall, if you're looking for a versatile pow ski or even a one ski quiver, the VJJ is your solution!




Armada Nailed VJJ
Gender:

Female

Familiarity:

I've put it through the wringer
I've tested quite a few skis in my day and nothing gives me more satisfaction than the VJJ. It's versatile, it's fun, it's poppy, it's tough enough for a woman.

I think the width is a nice compromise for an everyday or pow-centric skier for conditions out west. This will be my 3rd winter on VJJs and I couldn't be happier. I had to replace my first pair because they were looking a little dodgy after 150 days of hard use over 2 low snow years.



The VJJ performs decently on groomers, phenomenal in powder, awesome off drops, decent at high speed. It's responsive with a low swing weight.



I sized up. I am an advanced skier at 5'3" and 120 lbs went with the 175 and couldn't be happier.



Not enough info?



Read my 3 page review here, giddy up!



http://blistergearreview.com/gear-reviews/armada-vjj