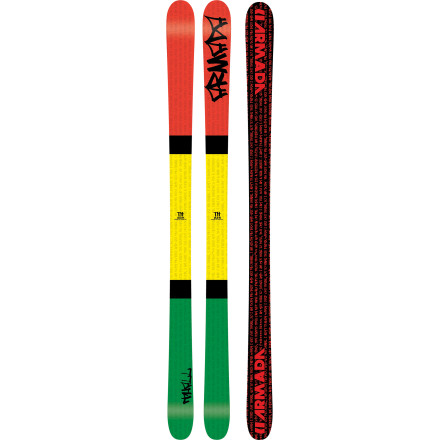 The butter-tastic Armada T-Hall Ski bears the name, the favorite colors, and the skier himself when he's setting the bar for everyone else. Particularly engineered to drop jaws in the park, the T-Hall's softish tip and tail and solid underfoot will help you achieve the status of Jib Box Hero—extra butter, please.
Traditional camber, Armada's Positive Camber, enables effortless carving
Wood core, Armada's Hybrid Triple Zone Core, is like the philosopher's stone of flex—shit's gold, son
Laminate Matrix and CK Stringer reinforcements increase durability and dampening
Great ski. No problems at all. One of the best freestyle skis on the market.
Proper sizing on these? I'm 5'11 and about...
Proper sizing on these? I'm 5'11 and about 170 lbs.
I would get the 176s or the 181s. Im 6' and I would get the 181s
I'm 5'11 - 160 lbs. I usually ride a mid 160. a longer ski will generate more friction and will remain more stable at higher speeds. if you desire quick rotations for tricks a shorter ski will allow quicker cuts and rotations. but then again it all comes down to rider preference and ability. I prefer a shorter ski for myself though, a 160 is do-able (for me) as an all around ski for park, slopes or powder.
t hall or rossi scratch??
t hall or rossi scratch??
Tanner Hall talks about his newest pro model from Armada. Featuring skiing by Phil Casabon, Ben Moxham, and others.