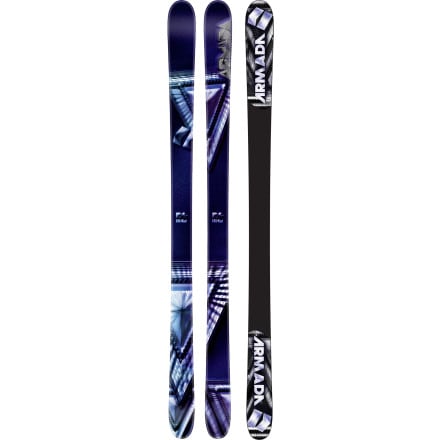 Description
The gold standard.
The Armada Pipe Cleaner is the gold standard of competition-grade halfpipe skis, in fact, Armada claims that it's the winningest pipe ski in history. Well, at a minimum, it is another offering from Armada's well-buffed LTD Series. The Pipe Cleaner offers a mix of speed and stability to take your skills to the top of the pipe, and maybe even the top of the podium.
Positive (traditional) camber profile doesn't mess around with reverse-anything or rocker-this-or-that, instead it gives you that precise and stable feel of a traditional park ski. The Hybrid Double Zone core is super-strong, so there's no need to be gentle. There's lots of added durability and long-lasting pop thanks to the CK Stringers. AR50 Construction uses cap construction in the tip and tail and sidewall underfoot for the ultimate balance of reduced swing weight, increased durability, and powerful edging, and the Laminate matrix layup increases torsional rigidity and further reinforces the core and construction so you can ride the Pipe Cleaner in the pipe as hard as you want. Armada loaded this ski with its fastest base, the Camp Series Base and gave it the tough as nails 2.5mm Impact Edges. So, we ask: How bad do you want to stand on the podium?
Positive (traditional) camber
Hybrid Double Zone Core
AR50 Sidewall
Laminate Matrix
CK Stringers
Camp Series Base
2.5mm Impact Edges
92-96mm waist
Share your thoughts
What do you think of the
Armada Pipe Cleaner Ski
? Share a...
What are they like in terms of carving and...
Member since
Posted on
What are they like in terms of carving and taking them all over the mountain as well as just in the park/pipe? Also, i'm 6', 165lbs expert skier, just tossing up between 176 and 181. I'm leaning towards the 181s but some advice would be appreciated!
Cheers
Member since
Best Answer
Responded on
Hey there Oscar,

This time of year it is hard to get people to jump on questions, especially park ski questions. Your post has been up for awhile so I wanted to give my two bits.

True park/pipe skis do very well as all mountain skis depending on their width. My son has a pair of 177cm Nordica Badminds which are a full camber twin tip park ski. They have a fairly stiff overall flex and perform great on firm groomed snow. Not the best when in anything over 6" but only mid 80's in the waist. Pipe Cleaner is pretty narrow in tips and tails so don't expect great results in anything soft.

From my research the Pipe Cleaner is a little softer than some of the other high end park skis so that may help with float and forgiveness off piste.

How old are you? If you are young and still growing I would go for the 181cm because of the twin tips. My son is 16 years old, 6' and about 155 lbs and his 177cm are about right. But if you are wanting off piste versatility jumping up to the 181cm will help.

If you prefer a more playful mogul ski and want a ski that's easier to spin you could size down to the 176 but that's about the only areas that will be an advantage.

I hope that helps clear a few things up. I'm never very good at letting people go unanswered for very long.

SkiFreak
Member since
Responded on
I'm 19 so probably have a touch more growing to do. I am very happy to read that answer though because i went with the 181s. I do love playing in the moguls, but i'm sure the extra 5cm won't make too much of a difference. Thank you!

Always solid...
Member since
Groups:
Posted on
These are my favorite park/pipe skis of all time. So solid, always.
ARMADA Pipe Cleaner 2013
Member since
Groups:
Posted on
If you are looking for the ski that has spent more time on the podium than any other, you've found it. The Pipe Cleaner is ARMADA dedicated competition Pipe ski. Built to world cup specs the Pipe Cleaner is faster, lighter, and ready to take the competition by storm...