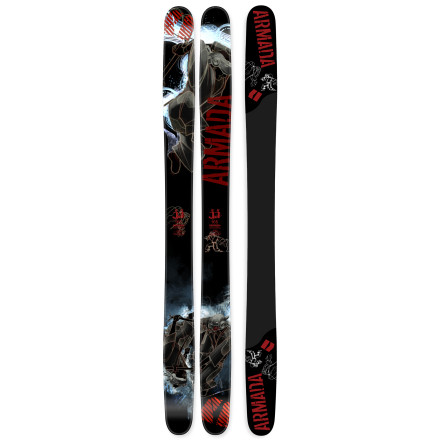 Videos

Community Images
Seldom does a ski come around that pleases the crowds like the can't-do-wrong Armada JJ Ski. This goodie-two-shoes has the girth and rocker of a pow ski, traditional camber and sidewall for hard, high-speed railing, and a flex pattern for both easy turning and straight-running. It's the fearless fat ski that can still arc a turn. A 115-millimeter waist and rockered tip and tail give it float; camber underfoot and AR50 sidewall make it quick edge-to-edge; and tapered tip and tail add lengthened stability and prevent tip from catching or tail washouts. This ski feels a little shorter and more nimble than its size would imply, but the actual length adds to the speed and float.

EST Freeride Rocker profile with traditional camber underfoot
AR50 Sidewall construction
Hybrid UltraLight Core
Comp Series Base
Laminate Matrix directional fiberglass laminate
1.7 Impact Edge
I am 6'0-6'1 and roughly 200-210 pounds. Im an advanced-expert skier. I plan on using these for inbounds pow, cliffs, chutes, and trees skiing primarily at Arapahoe Basin and other Summit County resorts. I am curious if the 185 is a big enough ski for me?!
My last ski was the full cambered rossi s6 from 09 in a 186 (really a 183) so I dont really know how all this rocker would feel.
Hey Rob,



At your height, weight, and skill a 185cm will be super manueverable but a 195 would give you a longer effective edge. These skis do have a fair amount of tip/tail rocker making the ski feel shorter.



Check out the JJ 2.0 - ARM00AY



Ben
Unanswered Question
I'm 6'7" 230 pounds and am looking for this ski to hit the powder, huck chutes, air, started getting in to spins last season. Advanced skiier, living in Park City, I have the Atomic Ritual in a 190 for a more all-mountain ski.



I am wondering if the AKJJ 195 is enough ski for me or if there is something else recommended? I ask this because it looks like this ski rides short and at my size it feels like getting the "right" ski and length is virtually impossible.



Thanks!
Hello. I'm 152 pounds, 5ft 9 and beginner with fat skis. Should I go with 175 or 185s ?
I'm the same exact same size as you and ride 185. They ski really short. Even if you're a beginner, I'd go longer. They might feel a little intimidating at first but I think you'll be happier in the long run.
I'm 150 pounds, 5ft 10 and am on the fence between the 175 and 185. I am an intermediate skier. Skiing 90% trees and powder in the backcountry. My backcountry pack weights about 30-40 pounds depending on the day. Thoughts?
Hi Ben! Ryan Moore here from ARMADA. Given your height and weight I think it's the 175 for sure. Will float float you without a problem in deep pow and be more forgiving the trees. With the new buildout of the JJ 2.0 it will be plenty stable at speeds as well. Go with the 175 and never look back...


Hello, I'm new in backcountry skiing and I need help to choose the right ski. I want to use it for 70% all mountain and 30% big mountain, many days in tree skiing. I ride in balcanic moutains, don't have the greatest pow all over the year, maybe 4-5 weeks on the season. I want these ski to play with it ( switch turns, switch landings ) I'm 5'8'' (172,5)and 160lbs. So I ask, if I get the 175 it will suck on that powder days ? Should I go for 185 ? I am an advanced-expert skier, I skied mostly on tracks, I excel at slalom but I handle GS really good as well. This will be my first fat ski. :)
Go with the 185, I thought these ski very short due to the amount of rocker in the nose and tail. You'll need that extra edge. These are awesome!
Yeah, just like everyone else says!
Love my JJ's. Bought these on a relatively bad snow year and got to play with them in all conditions. Awesome and floaty in pow, nimble in the trees, fun in the air, and reliable in variable conditions.



These may not be the PERFECT ski for any one condition, but if you're a young nomadic fella like myself, who can't afford a multi-ski quiver yet, you can't really go wrong with these. Size up to account for the rocker. I mounted my Marker F12's at the factory mark and ended up with an amazingly fun and versatile inbounds/touring ski. Hard to imagine anyone not loving the JJ!
Anyone care to share an opinion on the...
Anyone care to share an opinion on the right length JJ for me? I'm 5.8, 180 and currently on a 177 Enforcer. Troy?




Best Answer
I would say go with the 185cm. This ski has more rocker in it than the Enforcer, I think the 175cm would ski too short for you. You're Enforcer also has titanium in it making it a bit stiffer than this ski. Even though this ski is wider I think you will be able to maneuver the 185cm just fine.
Hey there John,



Sorry for the delay but summertime has me waterskiing and playing outside, not on computer much.



185cm all the way! Skis super short and you will go over the handlebars on the 175cm on deep days. It may feel a little big for about the first run and that's it and maybe in some big moguls for your height. At 180lbs 185 is the right choice.



I will start paying more attention to the questions from now on. Buying guides on the way:)



SF
Unanswered Question
Well now I'm at a loss. I thought I nailed...
Well now I'm at a loss. I thought I nailed down next seasons ski, the JJ but now I'm having second thoughts due to sizing. I'm 6'1" and 195lb, freeheeler who tends to ski soft utah bumps and our super light powder.



At the bottom of the reviews, I read the 185 JJ might not be enough ski. The recommendation was to go to the AK JJ 195 which sounds good except for bump skiing.



What to do? I honestly ski 85% in bumps or chop.



I'm currently on K2 Anti-Piste(188), Scarpa T1, Hammerheads (set on 5th hole with super stiff spring)
These sat in my garage a full year. California gave me no reason to dust them off. So naturally we booked a trip to Japan. Skis did not disappoint. I am in love.
Hey there, I'm 5'8" 160lbs and like to ski...
Hey there, I'm 5'8" 160lbs and like to ski anything I can get to pretty much. I'm a PSIA certified instructor that likes touring the tetons and getting into pretty tight chutes and couloirs and stuff like that. Im a pretty playful skier (Slashes and medium sized drops are my fav) but need something more aggressive than my Obsethed's and I feel like im right in the middle of the sizing for the Auto's or the JJ's. I spent the last 3 years riding Seths in 179 and i am now thinking of automatics or JJ's to up the ante. I feel like going from seth 179 -> JJ 185 will do that, as will sticking with the 179 length but going from seth -> auto. so if you think i should ride the auto, do i stick with 179 or go up to 186. I could see my self skiing a bigger ski and feel like id get used to it quick, but could also see an incresee in size AND stiffness as too much for the trees and chutes. maybe the JJ 185 is the answer (assuming the 175 is too short?) sorry for the rambling, just lookin for some input. thanks

Paul

ps Geeeeez yall have Magic J's on sale too....
Best Answer
Hey there Paul,



Check out this review and this is similar to my opinion of the two.



Josh Raggon

Posted on April 7, 2014

Familiarity: I've used it several times

I just finished up my 2nd day on the Atomic Automatics (unfortunately not in powder yet) and they are superb. I had last season's model in a 193 length and I'm finding the 186 to be much more maneuverable and a little more quick turning. They are very stable and fast and although I haven't had them in powder yet, they performed well in a small variety of conditions at Squaw (off piste on Headwall, the Funnel, and Chute 75) and they demolished the groomers at Northstar on hardpack and slush. After skiing on the Armada JJ for most of the season I noticed that these skis are not as turny and playful but still just as fun for their stable, fast quality. Not real playful, all business.





I'm a JJ fan through and through but they do have negatives. If you want a powerful charger the JJ is not the ski for you. What version of Obsetheds do you have? What's the waist width? Even if that Obsethed feels soft in longitudinal flex K2 skis I feel charge pretty hard, very absorbing of the terrain. JJ doesn't absorb anything, Lol. It bounces over everything unless you really keep them on edge. So lightweight but that's why they are PLAYFULL in every aspect.



Atomic Bent Chetlers and Automatics are stiffened up Armadas in my opinion. They charge and play harder, require a little more muscle and input from the skier. You are rewarded from that effort though.



How many big mountain skiers do you see riding a regular JJ, not many? They usually will step up to the AKJJ but it's 195cm or go Magic J or even Norwalk.



Regular JJ has been one of my favorite skis for the last four years and I will be buying a new pair next year if that tells you anything. I never have a bad day on a JJ, except for heavy tracked out crud.



That will get you thinking a bit and I will check back in.



SF


they were the 10-11 seths in 179 (117 in the wasit). so the real story here is that i won a pair of automatic 186's and am wondering if i should mount em up, downsize to 179, or sell/trade? Ill still have the seths for when i want soft and playful so I think JJ's are out but magics looks fun. In looking for something to tour and tackle more aggressive lines in Wydaho I'm back to the autos though. I read they run around 2cm shorter than they're advertised length, so if the tape says 184 on the 186 i might just man up and stick with those mounted at like +2, but as not that big a dude (5'8" 160) just not sure how much it would take for me to flex the 186 vs the 179 in tight situations. I really just wanna go demo, but ill just have to keep nerdin it up on here instead
Paul,



The dilemmas of ski gear, lol. The Magic J in a 180cm would work well or check out the Salomon Rocker line.



I spent only a brief amount of time on a 179cm Automatic and not in ideal conditions for the ski but it felt pretty short to me. I'm also 6'1" 178lbs, the 186cm wasn't available to demo. So if you are truly wanting a more powerful charger to conquer more aggressive lines the 179cm might not be enough. You also say you are a pretty playful skier and worried about having to stiff of a ski so jumping up to the 186cm for a guy your size could be exhausting all day long.



Your 179cm Obsethed is by no means a light ski, Atomic should be lighter in a similar size and easier to swing around. This may offset the length in the 186cm for you.



My advice is this. If the Automatic is a ski that you have always wanted to try and think it's the right fit then go for it!! It's end of the season so you will get less money than what they are going for online being a private seller. Make sure you pick a binding that can adapt to other skis if you decide it's the wrong choice next season, like Marker or Salomon/atomic with interchangeable brakes.



If you would have never picked the Automatics in the first place then sell them and start looking at other things now or next season. If you won the skis you won't be losing anything anyways. I feel you may second guess yourself crazy and never give them a fighting chance if you never considered them in the first place. Never hurts to advertise them and see how many bites you get.



Maybe not my best advice but a difficult scenario, lol.



Good Luck and keep me posted.








Some pop in your step
Familiarity:

I've put it through the wringer
Not sure about the weak wood, but have been riding these for about 3 months now. What I like is they really have some pop off kickers, drop ins, park runs and anything else I can think to jump off of. They turn like a dream and maneuver in some of the tight trees and chutes better than most skis I have been on. I feel like these ski really short, and when on the 185s I feel like I am on 170s. As far as chopping through the crud, corn, groomers and pow, listen to Dan Brown below he is right, this ski does do it all.
Weak wood, weak wood.
Gender:

Male

Familiarity:

I've put it through the wringer
I'm not really sure what to say about these anymore. They served me well for the majority of the 13-14 season until my Marker Griffon ripped out of my right ski in the middle of a good pow day at Mammoth. They're great in terms of being light, quick-turning and versatile but I just don't think I can trust Armada anymore after what happened. I don't think the combination of Marker Griffon to Armada JJ should warrant or justify their ripping out of the ski for no reason. Had I been hitting huge jumps or big cliffs, maybe but not for just skiing the Avalanche chutes off of chair 22 at Mammoth and making simple turns. I only weigh about 185 at the most and only had about 40 some odd days on the set up. To some it up, light wood equals weak wood in this case. I don't know how else to explain it.
The Epitome of Versatility
Familiarity:

I've put it through the wringer
This ski carves like a GS ski, has the stability of a 2x4 whether you're riding fresh pow, hardpack or 3 day old chop, and has the float of a true pow ski. I'm 5'10, 170 and I rode the 185 with an FKS 185. If you're looking for something to do it all, look no further.
Im about 5'8" and was wondering which size...
Im about 5'8" and was wondering which size to get. I dont know if I should get the 175 or 185. Help!
Best Answer
Hey Will how are you doing? Thought you were going for the Bents so I lost track of your last posting. You do sit in between sizes as of this year but if you think are you still growing then the 185cm will be fine. You are 180lbs from what I remember so 1856cm is the way to go. Especially if you were looking at the 183 Bent Chetler the 185 JJ will be easier to toss around and its lighter.



My wife is 42 years old, 5'6" 138lbs and skis the 175cm VJJ if that gives you some reference. Your weight alone needs the 185cm for adequate float.



Hope that helps and you better get them before the season ends:)



SkiFreak






I was going for the bents then I did some more searching and found the JJs were a bigger ski that's a bit more all mountain friendly. I still don't know what i'll choose. I still going for the bents but I'm considering the JJs
Yes JJ is a bit more all mountain friendly but the Bent Chetler is a bigger, wider and stiffer ski in general. Not a lot of difference in length between them because armada/atomic similar molds. It's a true 2-3cm difference is all. I found the 192cm Bent Chetler poppier than the 195cm AKJJ, thats also what wore me out faster.



Whatever you pick it will be the right choice, both skis are a total blast. Regular JJ just a little bit lighter, quicker, touch more playful. Bents are little heavier, charges a bit more, more float in the deep.


Question on mounting position: I just...
Question on mounting position: I just picked up a pair of 185 JJs and want to mount them with Look Pivot 14s (I know, I know, I'm a traitor to freeheelers. Deal with it; there's nothing wrong with having a couple pairs of alpine skis in the quiver). I'm 5'8", 145 lbs., so this is a pretty big ski for me. On the one hand, I'll only be using them on powder days (and for the occasional trip out West), I'm willing to stay aggressive with them, and I never ski switch, so mounting them on the line seems reasonable. On the other hand, I've never skied anything longer than a 178 and will be spending a lot of time with these in bumps and tight trees, so maybe mounting a cm or two forward would be good to make them feel a bit more nimble. Thoughts?



For reference, my 178 Rossi S3s are mounted +1, and I think the line on those is 5 cm back from ski center like on the JJs. I love the feel of those as an all-mountain ski (making tele or parallel turns), but I definitely think that the tips are too short in serious pow and that they're not super stable at speed.
Best Answer
Just my two bits, stay on the JJ factory recommended. Its there for a reason and even though Im bigger than you are I have never once for a second wished my 185 JJ was further ahead. I never ski switch unless by accident. I wish they made a 190cm JJ if that helps you with anything. I just don't see any advantage to going ahead of that line on this ski. It feels like you are skiing in the dead center of it as it is. I have a Griffon on mine but the pivot will just allow the ski to flex a bit more under the heel.



I also own a 195cm AKJJ thats mounted on the recommended line and if it was further ahead I would really hate it.



Hope that helps and you will love them. Just give them a chance if you don't click with them right away. They get better every time you jump on them.



Skifreak
Thanks -- on the line it is! Stoked to get these mounted and try them out in some spring bumps!
Please let me know how you like them. The little extra height of the 185cm will take some getting used to in the moguls but give it time. You were in between sizes in my opinion but you picked right. I'm curious to know how you think they handle the groomers. I personally think mine are a blast. I keep a really good tune on them, and don't let somebody detune the tips and tails very much. Do it gradually if needed. I keep mine sharp and I can carve it up!! As long as I keep them rolled on edge.



Skifreak
Should be able to get them out the weekend of the 26th... I'll give you an update after that!
So the JJs are mounted up and ready to go, but I'm now sick... bummer. May looks wicked busy for me at work; I'll be lucky to get out on them at all this season. Fingers crossed, though! The 185 was definitely the right way to go, though -- just from looking at them, with all that rocker and reverse sidecut in the tips and tails, I can tell that the 175s would have felt way too short. I'll post an update if I do manage to get out!
Bummer is right. Well at least you are keeping them fresh and new looking.
Weak Top Sheet.Weak Top Sheet.
Familiarity:

I've put it through the wringer
I just had my great ski day at Mammoth ended at 1230 because the back right piece of my bindings ripped right out of my JJs that Ive only skied maybe 40 days between last season and this season

. Im not sure who to blame on this but it wasnt the Marker Baron because all the screws were completely intact. Im thinking weak top sheet. These are the 12-13 s in case that matters.
Thinking about getting a dedicated pow...
Thinking about getting a dedicated pow setup for New England skiing, which for me mostly means pounding soft bumps and hunting powder stashes in tight trees. My current go-to skis are my Rossi S3s; I love the tip and tail rocker with underfoot camber and would want the same profile in my pow skis, but I would want to see improved performance busting crud and chop (they don't have to be total beasts, though -- nimbleness is definitely the priority). Would the JJs fit the bill? What else should I look at? If I do go for the JJs, which length would be best? I'm 5'8", 145 lbs. and ski 178 S3s; I could probably go a little longer for a pow ski, but going up to a 185 seems like kind of a big jump.



Appreciate any recommendations!
Best Answer
My favorite saying over the last four years that my family hears every time I ski my JJ is this, "always a good day on a JJ." It's so true for me. Yes the JJ does have its drawbacks but the positives outweigh the negatives in my book. The JJ hater's will say it sucks on groomers, it gets tossed around and it's rough riding in the crud, it's not damp enough, not powerful enough, etc... But really look at the JJ lovers out there, there is a ton of them!! JJ riders learn to ski this ski and when they do it does wonders. I hated it the first few times I was on it, especially in the crud, but I learned to keep it up on edge and let the stiff center of the ski truck right through it. My wife went through the exact same thing and now LOVES the VJJ.



The JJ is one of the most fun mogul skis I've ever been on. I rip through any size, shape, and consistency of bumps I can find. Many people stop and ask me how I can ski them so fast in moguls for such a big ski, so fun! Carving hard firm groomers... No problem at all. Just look at the sidecut, the turn radius, the sidewall construction under the foot, and it will trench and hold if you are a good technical skier. Tips and tails will flap but who cares, the midsection will stay rock steady. I don't need to go over the powder and tree ability of the ski and how much fun it is, that's a no brainer.



I know I gave you more information than you probably wanted in this long message but what can I say, I own several skis but I just love my JJ.



Tough call on the length. My wife is 5'6" and 138lbs, very aggressive and skis the 175. I'm 6'1" 180lbs on the 185jj. I wish mine was a little longer on the deep days, she wishes hers was a little shorter on firm mogul days. If you ski very aggressively and want more float go 185, if you are more timid, willing to have a little tip dive when deep, and want more mogul friendly go 175cm.



I'm outa room now so good luck!


Or go new Super 7 in 180cm. Neither Super or a JJ is what I would call great in the crud but you can't have everything. Nimble, quick, light, fun, mogul friendly, and bombs through crud is just not in any ski I've ever found. Trade off's, always.
Haha, thanks, never too much information! I've written some novel-length gear reviews myself.... I'll take a look at the Super 7 as well, but as for the JJ, I think I'm leaning 185 over 175. Also, somebody mentioned further down this page that next year's model is supposed to have a little less rocker... Anyone know anything about that? Thoughts on how that might affect my decision if I wait until next season?
I've had my hands on next years and it is modified slightly, I'm waiting to ski it soon if the season holds. It's only about 2mm wider and yes the widest parts of the ski are pushed a little bit further out. Turn radius is a touch longer too, which I'm not sure I will like. Not a major change but I'm hoping it was a good update. Mine is four years old and getting pretty beat up. I've been thinking of buying another pair just in case they wreck it. I think it might blend a touch of the akjj into the normal version so slight better crud performance and possibly better float. But these are minor changes in my opinion and that's good. Don't mess with a proven winner.



If you can find a good deal on this years version and have never experienced a JJ then saving some cash and putting the rest into a binding is a good way to go. Remember next years version will be a touch bigger and that means slightly heavier in my opinion.


Perfect Fun Shape for Trees & Pillows
Familiarity:

I've put it through the wringer
Skier: 6'1", 160lbs. Technically proficient on any terrain.

Setup: 185cm, Marker Baron binder.

Daily use: trees, pillows, chutes, & tight technical terrain of S. Lake Tahoe.

Of the dozen or so "fun shaped," rockered skis I've tried in the 115mm-ish waist category the JJ is by far the most balanced design: it excels in soft snow & is still tons of fun in mixed conditions typically found at resorts. Float is awesome, pivoting & smearing effortless, and the cambered section offers fantastic edge grip on hard snow for a ski this wide and light (9.8lbs in 185cm).

My daily skiing is in tight, technical trees, chutes, spines and pillowlines typical of the resorts & backcountry of South Lake Tahoe. While I don't ski switch outside of the park, I do find the rockered tails useful for tail drags in tight spots where you want to keep it on the snow and for wheelies to help get the tips up and over larger obstacles.

For skiers of similar weight & w/ the technique to lay down good, carved turns on hard snow, I'd rate the "speed limit" around 40mph. The ski will go faster, but like most other tapered, tip & tail rockered skis of this width, you'll begin to feel the tips & tails flatter at high speeds when slopes get icy.

Caveat: bigger skiers (~180lbs+) looking to ski wide open spaces flat out & blast through heavy crud should look elsewhere. Blizzard and Volkl make flatter-tailed, stiffer, big-mountain skis better suited to your needs.

Punchline: Do you want to go deep, tight, & technical? This is your ski.

Note: *For the 3-star reviewer who complained of tail "hookiness" the problem was definitely his tune: skis with tapered tails & shovels need to have the edges detuned fore & aft of the widest contact points.

I'm a former shop tech who tunes his own skis. Get the right length (go head-height+, they ski short), tune these skis properly & keep the edges sharp, and you will be impressed with the edging capabilities of this powder ski.
How people are mounting these for tele...
How people are mounting these for tele (i.e., 0,-1, -5, etc)? I haven't been able to find a lot of beta out there and I am new to this ski. These skis will be skied in wide open alpine terrain, trees, and occasionally at the ski areas. So I am looking for the spot that will give me the most versatility. I'll probably being using axl's and my t-races. Anyway, just curious if anyone has any insights or opinions. Thanks
Best Answer
Hi,

I don't have the JJs in particular, but I have a somewhat similar profile ski mounted with the Hammerheads. I mount them 2-3 back and get the most versatile ride out of them- touring, trees, cliffs, jumps. The more length in front of your boots will give you a more aggressive big mountain ride, but you don't want to go too far back, because then it takes away the stability from your tails!