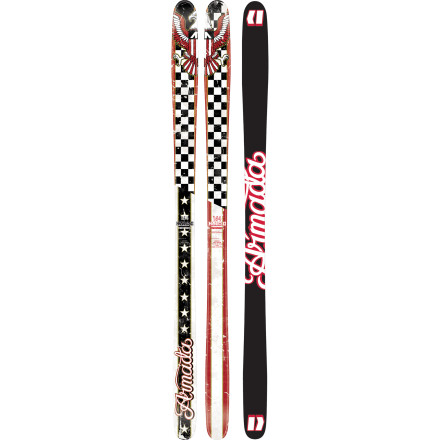 Videos
Smear butter all over the park with the Armada Halo 2 Ski. This is a poppy and predictable park ski that's ideal for experts who press everything in sight and beginners who want something a little more forgiving. The 2 maintains its 5-dimensional sidecut and EST Park Rocker, but gets an upgrade with a wider footprint, for added versatility.
EST Park Rocker utilizes rocker at the tip and tail and the largest area of positive camber underfoot to maintain balance and give you predictability on the hill. Hybrid Double Zone Core is a wood core with two high-density wood stringers to stiffen longitudinal flex and two ABS layers laid alongside the core to increase torsional rigidity. To achieve the ultimate balance of reduced swing weight, increased durability, and powerful edging, Armada crafted the Halo with AR50 Construction that uses cap construction in the tip and tail and sidewall underfoot. The AR50 Sidewalls increase torsional rigidity, which translates into powerful edge hold, and the Laminate Matrix layup provides further reinforcement above and below the core so you can ride the Halo hard. CK Stringers add to tail durability while giving this ski pop essential for haggard jumps and ollieing onto rails, and the S7 Base glides fast and maintains speed between rails and jumps and on long in-runs. Armada widened the waist of the last year's Halo ski by about 10mm (92-95mm), so it feels stable on rails, forgiving when you take a landing a little too deep, and nimble enough to make quick edge-to-edge movements in the pipe, but can also play in all-mountain terrain.
EST Park Rocker
Hybrid Double Zone Core
AR50 Sidewall
Laminate Matrix
CK Stringers
S7 Base
2.5mm Impact Edges
92-95mm waist
how well do these things do in crud,...
how well do these things do in crud, groomers, and at higher speeds? i want an all mountain park ski and i cant decide on these or the alpha x's. i want something that is decently stable at high speeds when sending it off of jumps and cat tracks. yet i want something that i can butter and press. im 6ft or 6'1 and 160 lbs. i ski aggressively all over the mountain. also has anyone ever ridden the alpha x's? and yes i know the guy below me answered most of these questions, but has anyone else ridden these sticks? Thanks!
Best Answer
The alpha x's will be better for tearing up all mountain because they are stiffer and have faster bases. The halo 2's don't have problems handling high-ish speeds and can send it off of jumps/cat tracks, they are really solid on landings too, so jumps aren't a problem. But it really depends if you're going to be skiing more park or more all mountain. Like if you ski 60%park 40% all mountain, then either choice would be fine, it just depends on if you want something softer or not at that point. if you ski any more all mountain than 40% of the time, then get the Alpha X's, if you ski anymore than 60% park then the Halo 2's might be better.

Also for you're height get the 182's, I'm you're size and they work perfectly.
These skis are super fun!
Familiarity:

I've put it through the wringer
I am 6'3" 170lbs, and am riding these skis at -2.5. They work amazingly in everything that I have gotten to ski(sadly no powder, midwest problems). They rip on groomers, soft snow, and park. The tips are VERY soft(which I love), so they are perfect for nosebutters, presses and more. The tails however are a lot stiffer(about 2x to 3x as stiff as the tips) but that makes them super solid on landings, and gives them a SHITLOAD of pop. They are honestly the poppiest skis I have ever ridden, and one of the best I have ridden.

One last thing, these skis are extremely durable, I haven't even gotten an edge crack yet and I have been riding park with them all season long.
Unanswered Question
Can anyone tell me how these are measured?...
Can anyone tell me how these are measured? Straight tip to tail pull or tip to tail with all the bends and curves, anyone?
Can anybody out there tell me claimed...
Can anybody out there tell me claimed weight on these bad boys?
Best Answer
Hey Pete,



The 182s have been posted at 1815 grams per individual ski.



Hope that helps
do these have enough rocker to be floaty...
do these have enough rocker to be floaty in the powder?
They have a pretty narrow waist, so you're not going to be floating too much. But I would say they float a lot better than a traditional camber ski of the same waist width.
like the video game. Phil is like a video game character
If I still hit the terrain park...
I would choose these skis. Fun enough to take all over the mountain, but at home in the park, the Halo 2 is a progressively designed terrain park destroyer.