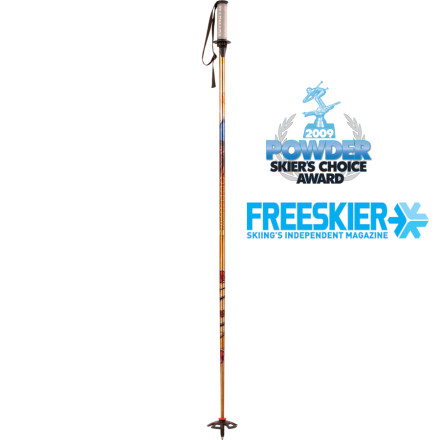 Share your thoughts
What do you think of the
Armada
ARV Ski Pole
? Share a...
Stylish and Cost Effective
The light aluminum and easy swap baskets were a huge selling point for me. With the baskets you don't need to have two sets of poles for slaying the powder or hitting the park. If you ski both a lot like myself, two pairs of cheap poles would cost about the same the ARVs. The jury is still out on the straight grip handle vs. something that is a bit more ergonomic like in a standard pole. I've only used this poles for about the last quarter of the season, so maybe it just takes some getting used to.
The different graphics really set you apart from everyone else in the lift lines, just make sure nobody steals while you're hanging out in the lodge.
How do you make these shorter?
How do you make these shorter?
Pull the handle off, and CUT it... hack saw usually works nicely. Always try to cut a little less than you think, to make sure you don't over cut.
These are pricey but the quick basket swap and the ability to buy replacement shafts sold me. They are aluminum shafts, so they are VERY light, but can bend easily if you wreck hard...so a 20 dollar replacement shaft is awesome. Poles are 52"...someone said 47, that is incorrect I use 52s and I'm 6'3"...so if you're taller than 6'4" these might be too small. Moto(round) grips took about 4 days to get used to....I didn't like them at first...now I can't tell a difference. Tighten the screw on the grip's quick release so it never comes off...this eliminates the quick release, but you will never use it until you need to swap out a busted shaft anyway, so crank it down.
The Armada ARV Ski Pole comes with a wide...
The Armada ARV Ski Pole comes with a wide pair of baskets and a narrow pair, right?
Right. It says it in the description: "interchangeable pow/hardpack baskets included" The pow are the wide baskets and the hardpack are the narrow baskets.
I use a 56" pole. Are these long enough?
I use a 56" pole. Are these long enough?
They should be, yes. You might have to actually trim them down to fit your length.
i just got these, i haven't put a lot of ride time in on them yet but they do feel pretty sturdy when pushing, the only thing i wonder about is how they will hold up to bending since they are aluminum.
long, you will have to trim them down.