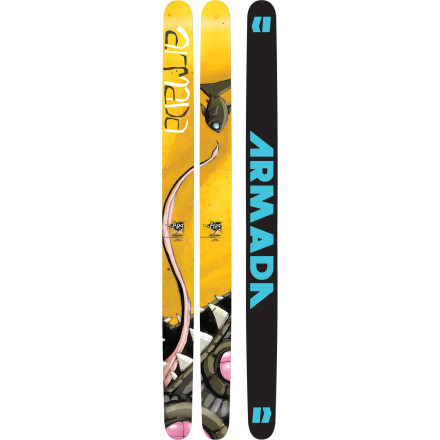 You know when that animated genie-made sultan is showing his lady a whole new world while flying on a magic carpet? Armada's ARG Ski is like that, but even better. For the deepest of deep days when not an inch of groomed terrain is in sight, the ARG Ski floats, smears, slashes, and slarves you into a solid state of pow addiction. Nearly full rocker profile, just a touch of sidecut and traditional camber underfoot, and a stable wood core: Armada's perfected recipe for a pow ski.
Rocker with traditional camber profile, or Armada's EST Powder Rocker profile, floats like a magic carpet
Reverse sidecut in the tips and tails makes for non-hooky, slarvy, pivoty bliss in the deeps
Torsion box construction—Armada's AR50 Hybrid construction—increases stability underfoot while reducing swing weight
Armada's ultralight wood core negates the anchor effect common in such a large ski
Powder Skiing on a New Level
All I can say is, if you are looking for a deep pow ski get them while they last!!! I would warn the buyer straight away you want a 8+inch day to break these babies out, luckily this season in the PNW has provided a ton of them. In addition the ARG is designed for one thing and one thing only, powder skiing (if you looking for a 1 ski quiver there are a ton of great skis, many listed below).

It is truly amazing and different how this ski rides in powder. I state this from a perspective from someone who owns way to many skis and demoed many many more. Currently in my quiver includes the Atomic Benchetlers, Nordica Patrons, and even next years Armada Bubba (Fatter JJ). Though all of these skies listed and even the JJ (and many others) are more then enough for a deep powder day, making skiing pow effortless and fun the ARG provides such a noticeable different experience. The biggest difference is in the float, though all the skis listed have great float the ARG feeling of surfing is so much greater. The other big difference is in the pivot of the ski, again all the skis listed turn quite well, but the ARG is on a swivel. The ARG makes tight tree turns at speed effortless and dumping speed in those needed situations is so easy to do (I'm 5'6 155lb on a 185 ski). The reverse sidecut design seems to have faded a good deal since McConkey's introduction but after spending time on the ARGs I can tell anyone looking for that deep pow day ski it provides an experience that you will want over and over again.

P.S. I know there are several reviews in the past discussing how they ARGs ride when getting back to the lift, honestly if your good enough to ride these skis making turns on the groomer to get back to the lift or the track to get out to the run is not an issue.
I love these skis. They aren't that good on groomers, but they can carve okay. They float in powder. The best part is how quick they turn. The resort close to my town is almost all tree skiing, and they're great for it. I've only used them for about four days, and only one really was a powder day, but they've been amazing.
I've got a pair of ARG so I know how much...
I've got a pair of ARG so I know how much they are the best in tree lines with deep pow. However, I was wondering of how do they perform on big mountain: big open faces,bowls, steep couloirs at high speeds? Going to jackson hole in a couple of weeks from now make me rethink of their ablity to carve at high speeds in this type of terrain also knowing that it isn't the stiffest ski. Does anyone have experiences or recommandations to share about this?
Best Answer
THe ARG's do not perform their best at high speed. If the conditions are at all variable, like you find sometimes on the big mountain lines, than you would want something else. These are powder skis.
How is touring with the armada arg?
How is touring with the armada arg?
Its doable, but not entirely enjoyable. If you are cutting trail in fresh snow its not really a big deal. But when the skin track gets hard, steep, slanted, you may find yourself in some trouble. The JJ's are excellent skis for touring, and equally as fun.
in my dreams, Im on an eternal 45 degree tree run with powder up to the bottom of my beard, and with me are my ARG's.
Unanswered Question
how much do they weigh?
Unanswered Question
how much do they weigh?
Unanswered Question
how much do the armada arg weigh?
how much do the armada arg weigh?
Riley Leboe and Ian Provo talk about Armada Ski's 2011 edition of the ARG.