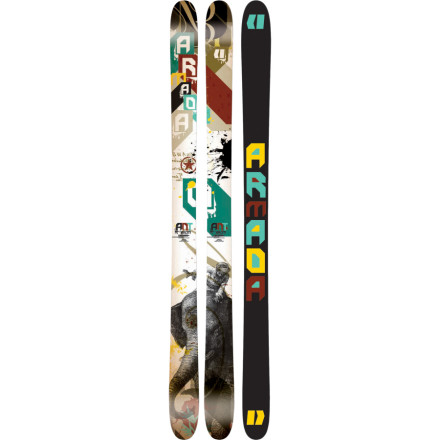 Armada's stiffest ski, the ANT takes big mountain riding back to basics with a powerful flex and fat footprint. We think ANT should stand for "Ain't no joke!" This burly, responsive ski wants to stomp landings, point chutes, and run wide open over whatever else you throw at it. Positive camber, tough ABS sidewall construction, and traditional sidecut let you carve up hardpack, shred pow or variable terrain, and even ride some park.
Unanswered Question
I'm looking for a traditional camber...
I'm looking for a traditional camber sidecountry ski that i can also use to rip all mountain if the snow isn't good. I ski east coast trees a majority of my days out and i want a little waist under foot (around 110).

Is the ANT gonna cut it in the trees and still be a reliable all mountain ski?
Im 5'10", 160lbs ski everything and looking to buy the 181's.
Excellent everday traditional camber ski.
I used to ski the 191 older version of these skis, they were great. They were a big fast ski when they came on the market back in the 2005-06 winter, now they are an everyday ski, but still a hell of a lot of fun. The only negative thing about these skis I can think about is that Armada puts the mounting point (at least my version did) is set up more for a park instead of big mountain boot center. I compared them to my 194cm Dynastar Pro XXLs and there is a 5 to 6 cm difference. If you do pick these up, compare them to another ski so you mount them at the right spot. That can make all the difference in the world in the way it skis.

These are stiff, fun, responsive skis to rip the hill everyday for a long time. I'll admit I have two sets of rocker skis, but these still get the job done. There are some days I prefer my traditional camber skis to rocker skis when you want more surface when the the snow is so-so to just alright.

I now have the 194 Dynastar Pro XXL, & I had the 191 ANT, both skis were pretty similar, the XXL is just a little stiffer.
if im 5 foot 3 would these fit me ?
if im 5 foot 3 would these fit me ?
Even with a smaller 181, this ski is goin to be a lot to handle. If it had a softer flex I would say maybe. But this is the stiffest of the stiff. Unless you're a strong experienced skier, I would say check out some other skis like the JJ's or something along that line.
would the 181s be a good touring back...
would the 181s be a good touring back country ski with a set of freerides
They would be. Armada makes some of the lightest skis in the business. I wouldn't see why they wouldn't be. They are the ideal size for backcountry travel.
I have a pair from the first year they were produced and they are mounted with Freerides. They really tear it up on the hill in powder in fact I find that I have to really be on my game as these skis want to go fast, they respond and make quick turns, but they want to point it. That said the ski is really just too big to be very light, after a thousand feet or so going up I find myself wanting something lighter on my feet. Also, not many people hike up several thousand feet just to straight line the whole thing. Use these things for a big powder day in bounds or side-country.
Does the ANT have any rocker at all?
Does the ANT have any rocker at all?
no rocker. Its a traditional, regular camber charging ski.
The ski was designed back for the 05-06 season & has not changed, I would compare it to the the Dynastar Pro XXL, just a touch less stiff. It is a big, fairly stiff, fun ski. The only complaint I have with Armada is the mounting point is too high up.

I have both the 194 XXL and 191 ANT & there is a 5 to 6 cm difference in the boot center. Armada has more of a terrain park boot center (at least on my '05-'06), rather than a traditional boot center. If you get these skis, mount them at negative 5 cm or so.

I have two sets of rocker skis, but it is always good to have one or two traditional camber skis. My ANTs are going on there 6th season with A LOT of camber left, tough base, they are now my rock skis, but still are awesome. Overall, they are awesome skis that I still love.