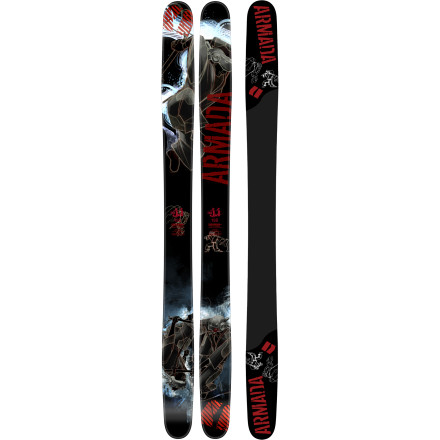 Videos
The Armada AK JJ Ski is a monster, a versatile powder-lovin' ski that's not afraid to charge the hard pack. A monster on a mission that gets the job done.
Armada's EST Freeride Rocker features the perfect blend of rocker and positive underfoot camber, so you float when the flakes fall and carve the hardpack like an ice sculptor. The Hybrid Ultralight Core is made from lightweight wood with an exceptionally high strength-to-weight ratio, giving you the performance you demand without the extra weight. The AR50 Sidewall sports a cap construction in the tip and tail with a classic sidewall underfoot, providing the perfect blend of performance, durability, and low swing weight, and the Laminate Matrix Laminate Matrix utilizes directional fiberglass layering to dictate torsional rigidity and flex pattern to add to your performance value. The AK JJ get's Armada's fastest base, the Camp Series, and its lightest 1.7mm Impact Edge for more performance. With a 141mm front contact point and 120mm waist, the AK JJ effortlessly floats the deepest pow.
EST Freeride Rocker
Hybrid Ultralight Core
AR50 Sidewall
Laminate Matrix
Camp Series Base
1.7mm Impact Edges
115-120mm waist
I have always read how well the JJ skis....
I have always read how well the JJ skis. My question is I'm 5'8" 180lbs, I currently ski a 177 Enforcer. Is the 195 JJ too long?
Best Answer
Hey John,



In my opinion it's pretty long but I don't have the ability to spend a day skiing with you either so it's hard to know how aggressive and strong you are.



Your weight can tolerate the 195 but it is going to stand very tall on you. I'm 6'1" 178lbs 42 years old and my AKJJ is a big board on me. I honestly wish Armada made a 190cm regular JJ but they don't.



If you are truly wanting a ski for only the deep days and want maximum float, then as an aggressive skier the AKJJ will do very well for you. If you are a conservative intermediate-advanced skier then I think it's overkill.



Can I ask why aren't you considering the 185JJ? It should provide great float for your size and remain more playful, BUT it's not as much of a big mountain charger as the AKJJ is by any means.



Compared to other skis in its class the AKJJ is a nimble player for its size. Light with a tight turn radius. I can't think of any other 195cm ski that I would prefer over it.



Again this is only my personal opinion and I do know a lot of guys your size that prefer longer and burlier skis than I do. Only you know your ability level and what terrain you are wanting this new purchase for.



I hope that helps.....



SF
Now that it's end of season and I have a...
Now that it's end of season and I have a little extra cash lying around, seems like time to pick up a new pair. I've heard so many good things about the JJ that I'm pretty set on it, but unsure on length.



I'm a big dude, 6'2", 250 so I'm thinking about the AK JJ, but I've never skied anything longer than 182, so 195 seems a bit intimidating compared to the 185 JJs



Any thoughts? 185 or 195?
Best Answer
195 AKJJ for sure! I would not recommend the normal 185JJ for a guy your size, if you don't think you want to handle the 195AKJJ then lets look at some other options. The 185 wont provide adequate float for you and it will always feel like you are going to go over the tips when in deep snow.



I'm 6'1" 178lbs, 42 year old expert and I own both, so will be a great resource for you. The AK truly is the JJ on steroids. Yes it is 10cm longer, yes it is wider, yes it is a little stiffer, but considering all that it still remains to be a pretty playful ski compared to others in its category. At 250lbs you will be able to handle it easier than I do day in and day out.



What are you currently skiing on and what length?



Hope that helps and feel free to ask anything you want.



SkiFreak
Anybody spent anytime on the new Super 7...
Anybody spent anytime on the new Super 7 in comparison to the akjj and the normal 185jj?
Yes, the S7 is a bit stiffer with a longer turn radius. I enjoy the sharp, quicker turns on the Armada's much more. They are also lighter. If you do decide on Armada's, order them long. They ski much shorter......you can't go wrong with either of the Armada skis of you like quick, sharp turns in the trees.......they also carve, really.....


Thanks for the info. I own both 185 cmJJ and AKJJ but haven't had the chance to try a new Super 7. Not many reviews out there for them so looking for people that are JJ fans like me that have had the chance to compare the two.
Trill
Familiarity:

I've put it through the wringer
This ski is great. There is a new base and edges I believe on this year's from my model (last year's), so it's just that much better. Don't be afraid of 195cm: all JJ's ski about fifteen cm shorter than actual length. This ski is just as nimble as my 182 Bacons were, but oh boy does this thing rip. Super stable at speed, sturdy tails for drops, and chops crud like nothing. In MT we get some pretty serious spring corn and this thing chews right through it all at speed. Make sure you have a good binding because this is a burly ski that puts some torque on anything less than fourteen. When jah Ullr bless with jah pow, you're gonna have a smile frozen on your face.
Awesome Ski
Familiarity:

I've put it through the wringer
This ski has been a great powder ski for me, has tons of float and it's super fun. It's most at home in powder but also works very well in chunky conditions, the ski is also stable on groomers. These things love to go fast and make big turns!