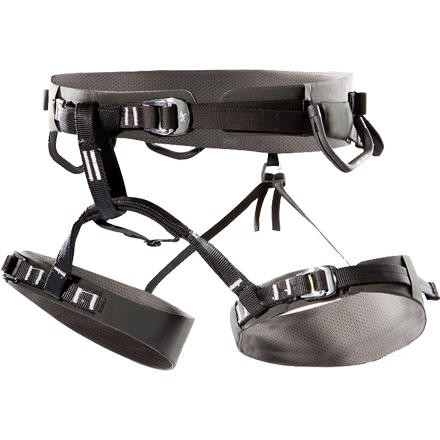 Community Images
The Arc'teryx X350a Climbing Harness features adjustable leg loops, ice clipper slots, and other goodies to take on anything from sport to ice climbing. And it weights only 12.3oz. The key to the X350a Climbing Harness's low weight and incredibly low-profile design comes from newly created Warp Strength Technology, which uses a specially woven fabric instead of traditional padded webbing. To round out the features, Arc'teryx added four gear loops to carry a big alpine rack, and the rubber molding can be removed to create a low profile for increased comfort when you climb with a pack. *Only available for US shipment.
Does not last
Familiarity:

I've put it through the wringer
very light harness and packs down to nothing.

Unfortunately to reach this low weight Arcteryx has trimmed down too much the belay loop. The belay loop wears out very quickly. This harness last half of other harnesses.
Love it! Favorite harness...
I'm a 110 lb 5'2'' woman and this harness fits me on the tightest setting. Even though it is not a woman's harness, it fits much better than the R280 and is incredibly versatile. It has a very solid, yet lightweight feel about it. I highly recommend it.
I spend a lot of time on a BDEL Chaos and while the padding in the BDEL make it extremely comfortable you can' treat this harness for lightweight and its resistance to soaking up moisture. Especially nice when you have thicker warming layers on but certainly still a good harness even in the summer months. It is and has been for many years my go to ice, alpine, and back country skiing harness.
During a super steep descent in AK
First Descent in the Wrangle-Saint Elias Range of AK. Nice to have a harness on for a belay on the exposed 60+ degree terrain!
For those looking for a comfortable harness for sport, apline, ice, trad ... anything ... look no further.

My only complaints are that the leg loops to require re-cinching occasionally and the back "haul-loop" / chalk bag hanger could be beefier with a real belay loop.

Packs to nothing. Feels like nothing. After buying, your wallet will have nothing.
I had it sent to Australia through my us account

Over here the stores charge Alot more for the harness
It really doesn't look like it but this harness is very comfortable to hang in. Great for those long approach alpine and ice routes that you'll expect to spend time weighting a harness. Also great for rock climbing and projecting. Plenty of gear loops to haul your crap. Adjustable leg loops make this harness awesome for alpine ascents as it will fit a variety of layering options. Light weight and pretty packable make this harness a good choice when weight and space are issues.

For fit purposes, I have a 33in waist and the medium fit me close in cragging clothes, so I sized up to the large. It's almost too big in cragging clothes, but works well with layers; so size accordingly to your activities.

I've used this for rock climbing (trad and sport), glacier traversing and general mountaineering and it's excelled in all of these situations. Spending the extra money is worth it if weight, space and comfort are factors for you.
Best harness i have ever used except:


I'm supposed to trust that little plastic d-ring with my haul line, or my climbing boots? Its rated to 35 pounds, but what hapens when the line is wet and frozen and snags in a crack while i'm cruxing out on some pitch the second day of some alpine line in freezing temps? No, i can't just stand up and crank it free, because IT JUST MIGHT BREAK!

WTF!

Some designer at ArcTeryx consciously made the decision to save a few cents and not put a full strength haul loop on this harness.


If this was a budget harness i could understand this, but the fact of the matter is that this harness costs double to triple anything else out there!


Arc Teryx... You suck! AAAAAAAHHHHHHHH!

Ok I feel Better now.. Sorry
Is there a difference between the X350a...
Is there a difference between the X350a and the LEAF X-350a? Besides color and $60?
They look the same to me, besides for the color.
Great general alpine harness assuming that you value lightweight and packability but need a comfortable harness for technical climbing too. Bought mine in 2008 and like it except you cannot unhook the leg-loop suspenders easily for a call of nature. Also I bought a size larger to fit down pants and multiple layers, figuring I could just cinch it down, but I have found it hard to keep the legs and waist tight for very long, with the buckles slipping...it seems a pain to have to tie them off...my bad I guess.
arcteryx website shows the arcteryx x350a...
arcteryx website shows the arcteryx x350a harness as having a Haul Loop.

bc dot com, please verify and update Tech Specs accordingly.
Best Answer
The Arc'teryx x350 does have a haul loop for tag lines- not body weight.
, ☃bcs_badge_alumni_label☃
Gear loops
i bought it more as a novelty and figured I'd still use my BD and Petzl harnesses for climbing...but I was wrong...this always gets packed into my gear bag when readying and i love it...you'll forget you have it on until you fall...

Hey Arc'teryx, make the gear loops more rigid (stick out) like BD's Chaos please. Only folly of the harness, but other benefits outweigh even when trying to clip/unclip a piece of gear from one of the loops. Even in OWs a flatter gear loop isn't a massive advantage...
Can anyone tell me where the ice clipper...
Can anyone tell me where the ice clipper slots are located and how functional they are? That is my major concern with this harness. BD's Xenos has 6 slots and seem to be very well placed, but this harness is lighter. I have the R320 and really like how they are constructed, just trying to make sure the ice clippers are in the right places.
Best Answer
You can see them sticking out in in between the two sets of gear loops. I have one (its a prototype so I don't know if its different) and there are two more behind the second set of gear loops.
On your right side they're exactly where you'd want them - one slightly ahead of your hip and one slightly behind. The left side is missing the front slot (due to the buckle location), which is slightly annoying if you like to clip your tools up front for raps and belays. But the rear slot is where you'd want it, symmetric with the right side.
Undecided between this harness and the BD...
Undecided between this harness and the BD Xenos harness. I am into trad climbing and want a harness that is comfortable, safe, and lasts in time (considering the price of these two harnesses).
I tried on the Arc'Teryx harness here in a store and it is extremely comfortable, but I have some doubts because it seems so 'delicate'. Is it UIAA certified? I also tried on the BD Xenos which is just as comfortable, however it is bulkier. Someone please help me on deciding between the two.
Best Answer
I've worn both the light, sporty varieties and the all-day varieties of BD's most recent line and Arc'teryx's hyperthin harnesses and I prefer the BD ones. They feel a little more substantial and I also found them more comfortable in hard falls and long hangs (consecutive hanging rappels for instance). I would say that if you're into all-day trad climbing, the Xenos isn't really the harness best suited to your needs though. That's more of an ice climbing harness, and has BD's ice screw clips on it for just such occasions. The Chaos is the best BD harness for all-day, trad-climbing trips, and I've been loving it for months now.
I've been climbing in the X350a all summer, and I love it. No more having to double check that I'm doubled back thanks to the new buckle system. Hanging in the harness is quite comfortable too. (Not that I ever "take" or anything....) Draws and gear hang where I need them to and it fits like a glove. I wear size 30 carharts, and I went with the small. There's still plenty of room in the harness should I need to layer up in the fall or winter. This is my go to harness when there is a fall potential. When ski-mountaineering, or for a just in case harness, check out the Camp Alp 95:

http://www.backcountry.com/outdoorgear/CAMP-USA-ALP-95-Climbing-Harness/CMP0028M.html
very light, wore it on top of 3 layers and 60 pound pack, didnt even feel that it was on me. very strong and comfortable
Will this work on Rainer, Elbrus and...
Will this work on Rainer, Elbrus and Denali?
Best Answer
It would work no problem on all of those objectives. You can even get the slimmed down one, that has no plastic on the second set of gear loops so you can wear a big pack more comfortably.
Igor, save your money man, and go with BD alpine bod.
one of the best characteristics of this Arc'teryx harnesses is that you don't notice you're wearing it. They don't obstruct leg movement or interfere with backpack belts, plus the weight and pack-ability makes them ideal when space is at a premium. Additionally, the face fabric is really tough and there is no exposed stitching on the belt and legs, which also contributes to a long life, both yours and the harness'.
So far I'm completely happy with this harness, with no expectations of future disappointment. I do a lot of sport climbing currently and I've never been able to hold more draws on a single gear loop. put it on and forget. for me the adjustable leg loops were a must. I bought the 320 but the leg loops were entirely too small at the mediums size. so upgraded to this. definitely recommend it for any sport/trab/ice climbing