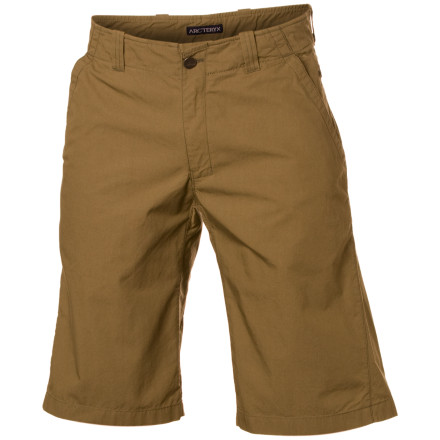 Based on reviews I bought these in a 36 instead of a 34. Bad move...I was able to take them on and off without unbuttoning/zipping. So, they may run a tough small, but not much. Too bad because I picked them up on SAC and they would have been a steal had I grabbed the right size.
Got these shorts for $21 shipped from SteepandCheap, but they're so nice I might pay full price for a second pair (and I'm a notorious cheapskate). They're light, well-built, and fit great. They do run a little bit small (I bought a 32, feels like a 31, but that's my size anyway) For athletically built guys, the tapered cut on the waistband means no annoying waist gap or bunching up. Highly recommend.
what are the back pockets like?
what are the back pockets like?
, ☃bcs_badge_alumni_label☃
I got these shorts and couldn't be more happy with them! They are the best shorts I have ever had. Great for hiking and climbing the fit is good and allows a large range of motion. Some reviews said they were a little small but I am 6'1" and they go to my knee and don't bunch up with a harness. Couldn't ask for a better pair. They are tough and dry quickly.
Incredibly comfortable, I can't wait to get a few more.
I forgot my long pants so I wore these climbing at indian creek. I drug these along the rock for about 400 feet of sandstone chimney climbing and they look as good as the new pair I had at home. My knees didn't survive so well. The sizing seems to be correct. Great all around shorts. The material breaths well too. These are made in Thailand. I've been leery of arc'teryx that is not made in canada, but these shorts seem to share that same quality. Some of their made in china stuff is a lower quality though. Which is a shame for the company.
high quality shorts -inseam just right not like hot pants, run a little on the small side