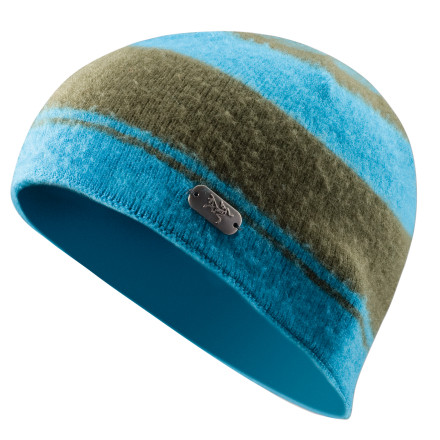 Community Images
Fits my head which is pretty big and looks nice.
Nice hat, but watch the color
First of all, this hat had a nice fit and feel, and would've looked great on me had I not been surprised by the colors. I ordered the "coffee bean" and pictured its earthy brown and yellow, but it was more like a green and yellow hat in reality. I sent it back because I hate the Green Bay Packers.
Very stretchy- no head size problems.
Bought for my mate who has a big head- fit him no problem! Great raw fabric.
This hat is very small, and designed to stretch to your head. I have a small-ish head and it works great for me, but for those of you with giant noggins, I'd recommend a different hat. Very breathable, reasonably warm, well made.
This hat is fantastic! Super streach and super warm. I got it in blue and colour looks better than in the picture.

buy it and keep yur heed happy!
havent been much of a beanie wearer in my lifetime, but decided I wanted to get a decent one for those cold winter days where I dont want to do my hair.

Love the color (blue colored one here), and the warmth is awesome. I'd say buy it on sale for sure!
It's the nicest acrylic hat I've ever owned. Super soft, nice and warm, light weight, stands up to the wind pretty well, plenty of stretch so it covers my ears well, good quality construction, and it looks as good as any beanie's ever going to look on me. It's folded over on the inside, so your ears get the hidden headband treatment to keep them toasty. The logo's nice and subdued, which is great compared to the rather in-your-face "HEY, I'M WEARING ARC'TERYX!" of the Bird Head. They make great stuff, but they can buy their own billboards, thanks. Oh, and it's made in Canada, too.

Unfortunately, well, it's still an acrylic beanie. Arc'teryx's strength is in stuff like jackets and pants, where they can work their magic with the cut and fit. Hats don't have quite the same requirements for fit - it just needs to be sorta cone shaped and fit over your head. Lots of other manufacturers make similarly nice stuff for less than full price on this one. If it pops up on sale, go for it; it's a fantastic hat. The price is just a bit high.
Pretty much one of my most used beanies. I like the style and the fit, and it functions like you expect coming from Arc'teryx. The price tag is steep, but it will keep you warm, wether you are hiking a line, belaying an ice climb, or marching to support climate action. The colours pop quite a bit, and the medallion is a nice touch.
Awesome but don't like color!
I would not have bought it but I tried it on in the store & was blown away by how good it felt. It was snug but not too snug. Most beanies that fit snug make my head itchy after a several minutes. You owe it to yourself to try this beanie. I really don't like the colors but when it feels that good, who cares. I would have preferred a solid earthy color or just good old black with no lines.
This is a really nice beanie. Most beanies fit tight on my head and hurt a bit. This is a really soft beanie and can stretch to fit big heads. Really warm and will last a long time.
Got it to compliment by Arcteryx Sidewinder jacket. Color seems to be represented correctly to me; might be the dude's monitor.

It's a hat; it's not rocket science.
Color is misrepresented on the copper/mahogany hat. It is significantly darker - almost orange and red, not two shades of orange. The copper color in particular is much darker than it shows in the picture. Other than that, the hat is of good quality, and covers ears well.
According to Arcteryx's website they say;...
According to Arcteryx's website they say; "Made with comfortably soft and brushed 100% acrylic, the striped Waldo features an internal double layered hem for extra warmth."Yet your website claims it's 100% marino wool? which is incorrect?
Unfortunately we are wrong, This is 100% brushed acrylic. specs will change soon, thanks for calling this to our attention.
I'm just another sexy bald man, and as such I'm always on the lookout for hats - be it for protection from the sun, rain, or cold. One problem with a lot of beanies is that they don't pull down enough over the back of the skull and even the neck. I guess most hat designers figure that most wearers will have hair to provide some protection between your collar and hat.

The Arc'teryx Waldo Beanie was like pulling on a hat made from my childhood "blankie." It was warm, comfortable, and best of all it covered all of the areas most beanies neglect without getting down in my eyes.

Now, I didn't actually **buy** it, because at $35 I figured it'd make a good thing to add to my Xmas list since my wife never knows what to get me. But if she doesn't snag it I'll definitely be tracking it down after the holidays.
does this beanie provide good ear...
does this beanie provide good ear coverage?
Yeah, this is a medium deep volume hat, so it will cover the ears. if you want a really deep one check out the Bird Head Touqe