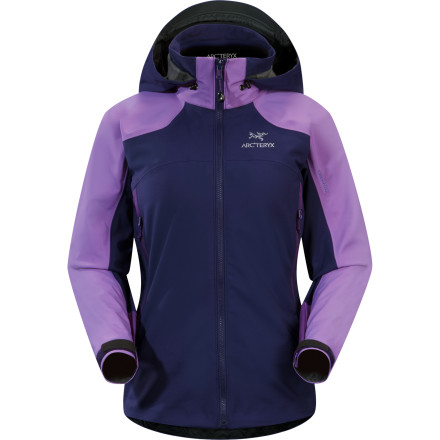 Community Images
Arc'teryx constructed the Women's Venta SV Jacket with WindStopper Soft Shell fabric in three different thicknesses to provide more weather protection and breathability for less weight. A flattering feminine cut ensures that your dude climbing friends treat you like a lady. This precision-engineered jacket fights off light rain and strong snow, all wind, and still breathes well enough to keep you cool while skinning toward distant couloirs or breaking trail on an alpine ridge. If that isn't enough, open the Venta SV Jacket's Underarm zips for even more cooling capacity.
Loved this jacket, perfect fit, flexible, nice feel to the fabric, cozy inside. Had to return it though, because our winters are long and cold, and the sleeves were too narrow to fit any kind of warm under layer. I at least need a fleece underneath, or might as well just wear my Gore-tex shell. It wasn't available one size larger, so ordered a Marmot and a Mountain Hardwear soft-shell to try instead. Awesome jacket for milder climate, would give it five stars if the sleeves were a bit roomier!
Sizing Hint
Gender:

Female

Fit:

True to size
I thought the XS would be the correct size for me, (that's what I have in the Theta AR and it's perfect) I am 5'3" and 120 lbs. The XS was a bit on the snug side and the armpits were uncomfortably tight. I opted for size small, and it was a significantly better fit, with a little room in there for a thermal layer if needed.



For a super in-depth 3 page review check out the post below:



http://blistergearreview.com/gear-reviews/arcteryx-venta-sv-jacket
I normally wear a small, but was wondering...
I normally wear a small, but was wondering if i should go a size larger if I wanted to where a fleece layer underneath. i want to use this for skiing in Montana.
Hey there, the Venta runs a little larger by design... so I would probably order the size you normally wear and/or the size that matches up to your waist/chest sizes in the sizing chart...
Great performance from a GREAT brand. This will be a jacket I will own for many years to come. Fit is VERY flattering!
Hello, I am seriously considering buying...
Hello, I am seriously considering buying this jacket. I am wondering however, how waterproof it is. Would a hardshell be better? Even thought the Arc'teryx ones are so much more expensive... Thank you!
The Venta SV is considered to be very water resistant, which is to say, it won't keep you totally dry in a downpour or really wet, sloppy snow (might get slight leaks in seams). But for cold snow or light drizzle, you'll stay dry. The Venta SV has Windstopper "finish taped seams" that will keep most of the moisture out, but breathe better than a GoreTex hardshell.
I'm 5ft 3ins & weigh 126lbs. The medium...
I'm 5ft 3ins & weigh 126lbs. The medium seems tight under the arm pits. Is this the style or should I get the large?
The Venta SV is cut to be a somewhat close fitting jacket. It may be the pit zips that are bugging you. A large would be loose. You could take a look at the Gamma MX hoody for an alternative.
I'm trying to figure out how warm this...
I'm trying to figure out how warm this is... I can't find it in a store to try it on. I'm looking for something that will work as a ski jacket for temps around 30F. How does this compare to the easyrider or the Hylus (I've tried both of those.) I love the Easyrider but I really want a hood...
The Venta SV has about half the insulation value of the Easyrider. It is totally windproof and really close to waterproof, so more protection than the Easyrider or Hyllus.I've skied lots of mild days in the Venta with just a baselayer, and it works great.
There is a newer version of the Easyrider, with a hood, called the Firee.
You may want to opt for a hardshell unless you are backcountry skiing. This jacket is water resistant, rather than waterproof. It may not be your best bet in a really wet snow storm, as the seams could leak.


I got this jacket as a gift and it covers many of the criteria that I had. It has a hood which is great in windy or rainy weather, the fit is trim so it doesn't look like I'm wearing a sack, and while the inside is fleecy, the outside is smooth and doesn't attract the hair of our 5 cats!
All in all a very good jacket!
Nice Gore Windstopper Jacket
This is a nice Gore Windstopper jacket. The fit seemed true to size, although I found the collar to be a bit big. There is room for a couple of light layers underneath, and it still looks flattering on.
does the hood detach from the jacket?
does the hood detach from the jacket?
No, it doesn't. Arc'teryx doesn't make detach-able hoods
My boyfriend swears by Arcteryx, but I wasn't sold on this jacket (maybe b/c I am not used to spending so much money for a coat). The jacket seemed to be well made, and was comfortable, but it wasn't very warm and the neck was a little big, allowing wind to get stuck inside the jacket.

Seems like a good jacket, but it wasn't perfect in my eyes, so I returned it.
I just bought this jacket and it is wonderful! I love the fit and quality is above all else.

I did find out through an Arcteryx rep (I work in an outdoor shop) that the only reason they went to China is because they could not find enough seamstresses in Canada. I was also told with the tariffs and all on importing, plus the cost of setting up a factory there exactly like the one in Canada, it works out to about the same cost on their end, therefor, no cheaper on our end. Only about half of their products go through China (according to what I was told).
Another excellent jacket by Arcteryx. The Venta fits the female form very well unlike some other manufacturers who started making women's jacket like the men's with wide shoulders and narrow hips. Arcteryx still keeps the hour glass shape in their women's jackets. I tried my Venta out in 30 degree weather for about half an hour with 2 light layers underneath and it performed well as a wind blocker. If out longer on a day hike I would have worn more though like a fleece jacket and a mid-layer sweater. Although seamed taped I would still recommend a more waterproof jacket like the Scorpion. For performance and fit I give 5 stars but I marked 4 because, like the other reviewer I an tired of seeing 'made in china' on everything without getting the 'made in china' price. Nevertheless I find Arcteryx's jackets to be the best for female fit and I have tried MH, TNF, Marmot, and Columbia and most went back.
The jacket was for my wife and is very sweet. However, when the jacket arrived I noticed that it was made in China and Canada. I was disapointed to see that and I have already taken it up with Arcteryx. I would rate it as 5 stars but the China thing really bothers me.
Is this something you could wear in the...
Is this something you could wear in the winter and stay warm?? By winter... I mean, say, 15 degrees and a bit of windchill...
You will need some layers under for warmth. Perhaps a shell on weather days.
I added this shell to my growing arsenal of jackets. I've been bike commuting all summer and needed something that would allow me to continue as the days grew colder in Salt Lake. This jacket is very comfortable and the back is long enough that it doesn't ride up and keeps my lower back warm. Which I find to be an important characteristic for skiing as well.

I tried out a number of other bike specific (waterproof) jackets, and found them to be fairly uncomfortable and lacking in breath-ability. Not so for the Venta- it is surprisingly warm considering how light it is (the windstopper material works admirably), and comfortable even with a few layers underneath. The pit zips are more than adequate to vent off excess warmth and moisture when I really get cranking.

I've survived a couple of pretty heavy (for SLC at least) rides in the rain - my commute takes about 30 minutes - and the jacket has held up beautifully. I've not noticed it beginning to wet through at all. I was genuinely impressed with its performance (though, admittedly my expectations for softshell water resistance are pretty low).

I've also worn the Venta climbing, and it provides a welcome cozy belay even on brisk Fall days. It has nice details like fuzzy lined pockets (on the outer jacket side but not the inner side - likely for added warmth without sacrificing weight), velcro cuffs, two hood pull adjustments, fuzzy lining at the neck zipper (mandatory in my opinion), and bi directional pit zips (awesome for convenient mid ride venting!).