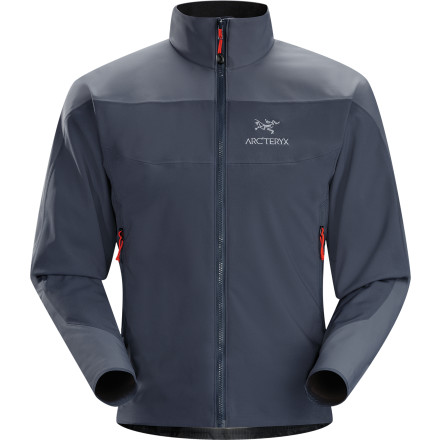 Description
One jacket for all of your active winter pursuits.
Make the Arc'teryx Men's Venta AR Jacket your go-to jacket for cold-weather cragging, winter ski tours, or gusty days around town. Thanks to three different kinds of Gore Windstopper fabric, fully taped seams, and an interior zipper wind flap, you get full protection from the wind along with stretch and breathability. No-Lift gusseted underarms don't pull up the jacket when you reach for that next hold or plunge your ski pole, and two hand pockets and an interior chest pocket hold your camera, lip balm, and energy bars.
Hands Down Favorite
Familiarity:

I've put it through the wringer

Fit:

True to size
I have had my Arc'teryx softshell for 3 years now and still going strong! By far my favorite jacket. The fit is absolutely brilliant! Full movement without feeling baggy or constrained even while climbing. The Gore-Tex outer is awesome and keeps even strong cold winds out, while the interior material is soft and comfortable to the skin. I have worn this jacket up several multi-pitch climbs on rough granite, lots of hikes, and almost everyday during the winter and I have yet to notice any wear. The DWR treatment however has worn out in high wear spots (which is normal) but reapplying is supper easy and will easily bead off the average California showers. Not the greatest at insulating if standing still in cold conditions, but for everything else this is my go to jacket.

I'm a taller guy and with a slender torso and the large is perfect for me (even long enough arms!) and can easily fit a base layer underneath. This jacket made me a HUGE Arc'teryx fanboy!
Go-to Softshell
Gender:

Male

Familiarity:

I've put it through the wringer

Fit:

Runs small
This is my go-to insulated softshell. It's warm, water resistant, and extremely durable. It fits me perfectly, but runs slightly small.

Potential downsides, depending on your uses:
1) Doesn't really pack well. Doesn't condense or compress, doesn't zip up into its own pocket, etc.
2) Does NOT stretch. Fortunately, the design/shape/cut allows for completely unrestricted articulation... just make sure you get the right size.
3) Probably short for people with a long torso. I have a normal torso; the front reaches 2" past the top of my pants/belt, while the tail goes down to the middle of my butt. I prefer this for more everyday, normal use, but for strong wind conditions I throw a hardshell on top. There just isn't enough coverage to keep the wind out from the waistline.
4) Shoulders may be narrow for broad-chested people. I usually wear a 38 to 40 in a suit jacket, which puts me somewhere in between Small and Medium according to the size chart, and this fits perfectly.
Runs Small, Thin on the Sides
Familiarity:

I've used it once or twice and have initial impressions

Fit:

Runs small
I picked this up to try to replace my 10-year-old Mountain Hardware Windstopper Tech jacket which I can wear alone in anything 20+ degrees. Prior to purchasing this, I looked at the Marmot Prodigy, Marmot Front Range and Patagonia Down Sweater. This was the most solid option.



I am 6'2", 205 lbs and this was short on me. The waist hit just at or above the waist of my pants, offering me very little wind protection since it would rip up into the jacket, even when cinched. I would strongly recommend getting a size up.



Note that this jacket is meant for ACTIVE use. I was looking for an all-in-one jacket that I can wear commuting in NYC and then take on the trail. This jacket is not that. Arc'Teryx has taken an "angel wing" approach by not including insulation on the sides, under where your arms hang. The Windstopper material is still there but the thin layer of (surprisingly warm) insulation is not. I imagine this is to allow you to vent some heat as you ACTIVELY do things like climb, hike, ski, etc. Unfortunately, this caused my sides to get cold very quickly in 32 degree weather with strong winds during my walk to the subway.



I strongly recommend this jacket, 1 size up, for anyone looking for an active jacket and so I still give it 4-stars. If you are looking for something to keep you warm in non-active states like commuting & every day use, I'd recommend looking at the Mountain Hardware Tech Jacket, Patagonia Down Sweater or similar offerings.
What is the center back length of a medium?
Unanswered Question
Lost a lot of weight, would have probably worn an XXL in the past. Now wearing an XL base layer. Had the specs from Arc'teryx on sleeve length and chest size for both, but most have deleted the email. Could anyone give me those specs for both XL and XXL for Venta AR? I'm guessing XL as I continue to lose weight. Thanks.
which is warmer? the gamma mx or venta?
which is warmer? the gamma mx or venta?
I think you will find this slightly warmer, slightly less stretchy, and slightly more durable than the gamma mx.
Best Answer
David is correct, the Venta AR will be warmer as it has a Gore Windstopper membrane. The Gamma MX will be more breathable and has more stretch.
Great light weight jacket
Familiarity:

I've put it through the wringer

Fit:

True to size
This is a great jacket it has all you need in a softshell. I wear it all the time. It keeps me warm and dry, it wicks moisture away from body. Fit is athletic, good room in shoulders and tapers nicely over torso.
Is this jacket lined with anything like...
Is this jacket lined with anything like fleece or something soft? Or does the burly weave outer fabric just come through on the inside?
It has a micro grid fleece lining. It is not very thick, so this coat is not all that warm.
simply amazing
Familiarity:

I've used it several times

Fit:

True to size
i bought mine n june n couldn't wait for the weather 2 turn so i could wear it. so far this has been my go to jacket for everything hiking,fishing,yard work and favorite star bucking . the jacket looks good with jeans and dress pants .i had the patagonia version and this jacket blows it away. its more fitted than the gamma ar which is ok and u can still wear a patagonia r1 under it and ill be warm into the 30's
Great softshell
Familiarity:

I've used it several times

Fit:

True to size
I have been searching for the perfect softshell to replace a well worn Marmot Dri-Clime. The Venta AR may not be perfect, but it is not far from it. It is quite warm and windproof for its thickness and weight. And a great option for the sidelines of fall soccer games or more active pursuits. So far, I have just two complaints: I wish that there were more than the two hand-warmer pockets (one chest pocket would be ideal); while the material has a little stretch/give, it is not quite enough at the cuffs (a small gap of stretch and a velcro closure would make this jacket even better).



It is a very worthwhile purchase.



At 6' and 165lbs, the large is a great fit.
Good all arounder, warmer than GammaMX
Familiarity:

I've put it through the wringer
I bought the Venta AR to replace my old worn out Gamma MX (which I loved). I thought about just getting another Gamma MX, but decided to go with something a bit warmer.



It's got a little bit of stretchiness to it, but nothing compared to the Gamma MX fabric, although on the flip side, the exterior is a bit burlier, and I wouldn't worry about it snagging on anything. The breathability is also noticeably less, which conversely means the wind blocking ability is noticeably more. This is great when you're not doing something really vigorous in the cold/wind, but not so great when doing something like trail running in the cold (which is where the Gamma MX would shine, keeping you warm, but generally not overly hot and clammy). As such, it can function well as a warmer insulation layer beneath a hard shell. The temperature comfort range between the two jackets has a large overlapping mid-range with a difference of about 10*F at either end, with the Gamma MX slightly better suited towards warmer conditions, and the Venta AR slightly better for colder conditions.



Also worth noting is that despite being made in China, and all the negative connotations with that, it's still very well built, with no noticeable quality differences to my older Canadian made pieces.



I think the one downside is that the cuffs aren't adjustable/stretchy. When zipped up, and I move my arms about, I can feel warm air being pushed out and lost through the gap between the cuffs and my wrists. An adjustable strap or stretchier material there would help greatly.
Great for smaller folks
Gender:

Male

Familiarity:

I've put it through the wringer
When my old North Face soft shell (size S) died after 7 years of use, I was in the market to replace it. Of course I checked out the current offering from TNF but noticed they've made it a lot bigger. The arms were too long, the chest was baggy, and the entire body was stretched out. I checked out all of the other soft shells out there from different brands and the S size of this one was the best fit for me. I had to order it online and cross my fingers, but I was very happy with it. I would say the only one smaller than this out there is the Patagonia Men's XS Adze (the only soft shell with XS as of this writing I'll note) but that was a bit too small and wouldn't fit another layer like a sweater under it. Note that I'm not tiny, but I usually wear small or extra small shirts from most name brands. So, this one was the winner when it came to fit.



As for quality, it's an Arc'teryx so you're going to be paying quite a bit. However, it really does amazing things in blocking even strong winds, and I haven't needed to put a sweater on under it for weather above 40F yet. I couldn't be happier with it.
Good but there are better
Gender:

Male

Familiarity:

I've put it through the wringer
I owned an Arcteryx Venta AR Jacket for over a year and in many ways it was a great windproof jacket -- it was light, nicely cut, had a burly outer fabric, and its fleece backing added warmth so I could wear it on its own with a tshirt to the high 40s. However, it also had a lot of issues with it -- 1) the face fabric does not stretch so it's hard to layer more than one long sleeve top underneath 2) the arms taper to the handcuffs which make it even harder to layer 3) it's a very short jacket -- sure it's windproof, but it barely covers my hips which leaves my crotch a bit too cold. These issues together made me consider how well my money was spent on a jacket this expensive!



I finally sold this jacket one day after I tried on the Patagonia Adze in stores, as I found it better than the Venta in most aspects. It's similar in that they're both windproof jackets with no hood and a light fleece backing. However, the Adze has a super stretchy face fabric which makes it MUCH more comfortable, it has hand cuffs = easier layering, and it is slightly longer -- about 1 inch -- which helps cover my sensitive areas while still maintaining an athletic fit for backpack wearing. The only downside of the Adze is that its fabric is softer and likely less abrasion resistant than the Adze. But, the Adze costs less than half of the Venta retail!



The Arcteryx Venta is a very hard sell considering how awesome the Patagonia Adze is; while the Venta is a good jacket, there are certainly better out there at better prices.
Probably my favorite Arc'teryx piece
Familiarity:

I've put it through the wringer
This jacket is a real gem, its likely the most versatile piece in my closet. In temps of 40 to 50 I can wear it on it's own, anything warmer and this might be too warm. If it gets colder, I can still live with it, but a layer would be necessary. Where I think this jacket really shines is in the windstopper element, its much warmer for its weight than it appears, despite a lack of real insulation as it blocks the wind 100%. This windstopper also creates an insulative property when active, as it will not breathe like the Gamma MX, if extremely active it can be worn in cold temps. The only thing I miss would be a chest pocket, but realize that is an alpine minimalist piece so there arent even adjustable cuffs. Sleeve length is generous, and the fit of the jacket overall is close. I've worn this for any time I am going to be out in the cold temps with wind, and possible light rain.... the DWR and nylon outer fabric work great. The windstopper itself is actually quote waterproof, but the seams are only finished with finishing tape, so its not seam sealed for water. Compared to the Venta SV this is much trimmer jacket fit wise.
Hey guys, sizing question. I'm looking...
Hey guys, sizing question.

I'm looking forward to by this jacket, and wear it with fleece or sweater under it. I'm 6.1 , 190 pounds, athletic build - should I go for large or xlarge? Thanks
A large will be perfect for you. I am 5'11 and 165 and wear a medium with a fleece under it and it's perfect.
I would say large as well, I am 6'3" and 185 lbs, but opted for the XL as I am long in the torso. This jacket in large would fit me almost perfectly, but it was difficult to slip on and off for casual use.
I would go with xl if you planing on putting some layer under it.



6.0 150 size L
I'm 5'10 185 lbs and a Large fits me really well. It doesn't look too bulky and big.I can get a light fleece on underneath it.
solid jacket
Gender:

Male

Familiarity:

I've used it several times
I am 6 foot 2 190 pounds, and I got a large. I have super long arms so I appreciate the length of this jacket's arms. It does have a slim fit and is very short (most non-technical fleeces hang out the bottom). I have used this jacket so far skiing, walking in a rainstorm, and out about in the city. Windproof is excellent, water repellant is excellent, high collar is the perfect height to be able to snuggle into on the chair lift or in the rain.



Note that the pockets are set higher than you would expect, which is designed so you can carry a pack with a waist strap and still access the pockets. Awesome for hiking, a little awkward trying to walk around the city with your hands in your pockets.



Also, I know this jacket says it has one interior pocket, but I have not been able to find it. A little weird that there is no wallet / chest interior pocket, but it means the jacket lies flat and looks great.



I bought this jacket to replace a beloved 10 year old Marmot softshell, so far it has worked great. Wind resistance is definitely better than my old softshell, and the only (tiny) complaint I have is the lack of an interior pocket. The only other complaint is that it doesn't come in bright red, but the grey isn't bad at all.
I am 5'11, 165 lbs, and wear 34 shirt...
I am 5'11, 165 lbs, and wear 34 shirt sleeve length
I need to be able to wear a light/mid weight fleece underneath
Can anyone give me some sizing guidence
If you would like to wear a fleece under it, I would go with a Large
I am the same height and weight and the medium is a great fit. The large is very baggy on me.
Go with a Large, I am 5'10, 160 lbs (big shoulders) and the Medium was just too tight and the sleeves too short. The Large is perfect with a fleece under it.
Extremely High Quality, Stylish
If you want a very good looking softshell that protects you from the wind and rain, look no further than this jacket.

Not only is it technologically perfect, it is one of the best looking jackets to wear around town. But like all soft shells, it can only keep you so warm.

If the outdoor temperature range is 32+-50 degrees then this jacket by itself and a knit long sleeve cotton shirt does the trick. Anything colder then a light mid layer fleece is necessary.

So this jacket plus a mid layer fleece is all you need to cope with freezing cold winter to mild spring weather. If you have to sit in the football stands freezing with light drizzle then this jacket + mid layer + hat will keep you as warm as any combination.

In colder weather, a down jacket works equally well, but only if there is no rain. I recommend this jacket for anyone who appreciates quality, functionality, and great looks.

Finally with sizing... I am between a medium and a large (42" chest, 32" waist) Mediums fit my lower torso but they are always a bit tight under the armpits. So the way for me to go with 99% of the jackets is large. No way you want your jacket pinching in the back.

The ONLY exception is Patagonia Brand. Patagonia sizing is slightly larger for all sizes and they are generally cut generously through the mid section. Therefore, a large size in Patagonia makes me look like Santa Claus. It is huge in the mid section. To avoid this, I am forced to buy medium for better fit and so that the jacket captures heat.

Not an ideal solution, because all Patagonia medium jackets are tight in the back and in the armpits. Anyone who is in between sizes will have to choose between ballooning fit, or slightly tighter better insultated fits with Patagonia. Arc'teryx does not have this problem.
I just got this jacket. I noticed that...
I just got this jacket. I noticed that "Arcteryx" is not embroidered on the back of the collar. Is it suppose to be? Thanks
Nope.

Hope this was helpful.
Awesome as an all around jacket
I bought this to replace my 6 year old Gamma AR that has been to hell and back. I was hesitant to buy this because I really like the stretchiness of my Gamma (made of the old polartec material) and this jacket has almost no stretch to it. But I found it on sale in black for under $200 locally and it fit me pretty well so I bought it anyway.

I'm 5'7" and float between 174-182 (muscular/athletic) with broad shoulders and this jacket in a medium fits me very closely with a T-shirt, polo, or other thin layer under it, which is what I was going for. I used to layer my Gamma (size L) over a hoody for cold days, but this jacket is to trim for that. The fit and style is clean and sharp, which is great for wearing around town.

It's thin and light, but deceptively warm but breathable. I've used it for running hills in 28-30degree weather, warming up for tennis in 50degree weather, and I even wore it watching a baseball game in sunny, 70 degree weather last weekend. I could probably use it for drier days on the ski slopes, but I have other jackets for that so I probably won't.

This is my 5th Arcteryx jacket (and my 2nd China-made one), and the construction is second to none, as always. Just like everyone else, I was disappointed when they moved their manufacturing to China, but I have seen no evidence that quality has suffered as a result and I wouldn't hesitate to buy another China-made Arcteryx jacket.