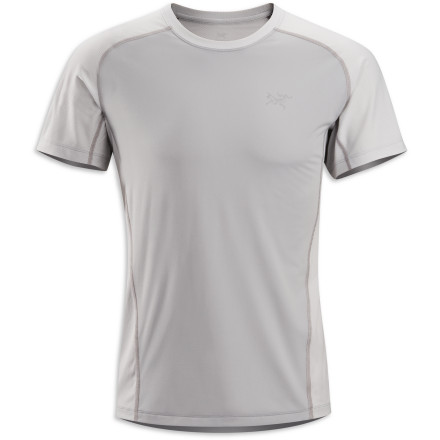 An incredibly thin polyester fabric makes the Arc'teryx Men's Velox Comp Short-Sleeve Crew breathable enough for the most demanding aerobic pursuits.
Mesh textile construction on the shoulders and back deliver maximum airflow
Smooth-knit front panel maximizes comfort and prevents chafing
Flatlocked seams eliminate chafing that occurs with normally constructed seams
UPF 50+ rating ensures that your skin won't pay a high price for long-distance hikes or runs
Too bad these have been discontinued. Still one of my favourite shirts. I love the fit and the feel. The Libro fabric is used on the shoulders sides and back and has exceptional breatheability and moisture wicking. it also has just enough stretch to move with your body. Helius fabric on the chest is smooth and a little less breatheable. it keeps the moisture and dries very fast.

If you can find them on sale or closeout- pick one up


thoroughly underwelmed...
I bought one of these after being impressed with reviews all over the net about them. It arrived and it looked sharp. I tried it on and the cut was a little strange. A tad shorter than I like, and the neck was cut rather wide, kind of a boatneck effect. Oh well, I thought maybe that would help with ventilation. The chest, back, arms, and shoulders fit perfectly.

I also noticed that the mesh portion felt a bit rough, but chalked that up to it having not yet been washed. I washed it and wore it to the gym. I was thoroughly underwelmed. The mesh was still abrasive, and the shorter length meant it showed my stomach when reaching overhead. The boatneck cut bothered me, too.

I bought this for warm to hot-weather hiking and for the gym, but I prefer my other options. If I want a techie crew, I prefer my MH Wicked Lite T, which I get for $21 on sale. It wasn't really any cooler than my Cap 2 crew shirts, $27 on sale, and much less so than my Cap 1 stretch tanks, which I get on sale for $18.

Maybe I'm just not an Arc'teryx guy, I don't know. For $65, this one is going back.
I have been dying to get and try one of...
I have been dying to get and try one of these, and the Naranja is too sweet, but $65 is just crazy. For that quan I can get two Patagonia Cap 2 shirts and have money left over for beer. Somebody convince me either way....
Best Answer
Sorry buddy, I am sure this is a great shirt but $65 is just a little too steep for me. I will have to settle for my Patagonia Cap shirts that I got on sale.