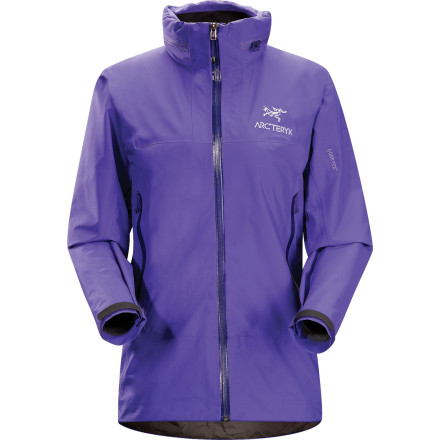 Detail Images
When weight and packability matter but you can't compromise on protection, the Arc'teryx Women's Theta SL Jacket comes through. Crafted with alpine climbers and backcountry skiers in mind, this Gore-Tex PacLite shell sheds snow, slush, rain, and ice--all while weighing in at just a few hundred grams.
Gore-Tex Pro Shell reinforcement on the shoulders and arms sheds the most serious rain and snowfall
Stowable hood only comes out to play when you need it
WaterTight zippers are impervious to the elements
Underarm vent zips crank up the airflow on a long uphill skin
Long cut and drop tail hem shields your lower back when you lean into a ski turn or sit on the lift
Adjustable hem drawcord subs for a powder skirt when you make fresh turns
Tiny GORE seam tape waterproofs every seam without weighing the jacket down
Articulated elbows and no-lift underarm gussets ensure the jacket stays in its proper place as you pole plant, swing your ice axe, or do the Y-M-C-A dance on top of a ridgeline
Femme-friendly fit grazes your curves and won't look boxy like a men's jacket
Hi There, would like to know if it's...
Hi There,
would like to know if it's possible for customer to make international purchase in China?
How to pay by Visa and what is the freight charges for transportation to China?

Thanks,
Hey Zhang,

Unfortunately we cannot ship Arc'teryx out of the United States. We also do not have a flat rate international shipping method. Please review the list of brands we are not allowed to ship out of the US by using the Help Center at the bottom of this page. Once you have some items in mind, add them to your cart and fill out the shipping information. You will then see the shipping options available to you and their cost.
I am planning an AT thru hike in 2013. I...
I am planning an AT thru hike in 2013. I just picked up the Beta AR jacket --but I am wondering if the Theata SL would be a better choice? it's lighter, more packable, less expensive and has a longer hem. I want to go light--but I want a jacket that's bomb proof and super breathable too. What's the best jacket for an AT Thru hike?
Arc'teryx's SL garments are designed to be lightweight without sacrificing function. The Gore ProShell on te Beta is overkill, especially if you're going to be carrying it for 2500+ miles. PacLite is entirely sufficient. I've used a Theta SL as camping rainwear for six years without incident. There are even more lightweight options, if you feel like exploring other brands.

Best of luck on your through-hike.
If price is a factor or you're going ultralite, I would go with the Theta SL. It'll still provide premium protection, at a lighter price.
You should look into the ALPHA LT as well. Gore tex pro shell protection at paclites weight. I have found paclite does not hold up well in heavy heavy rains (plus condensation seems to build up during vigorous exertion). Pro shell solves both those problems(better protection and increased breathability. The alpha LT is also longer cut in the front/back so it also provides more coverage than the Beta, and has a better front zipper than the Theta SL.
hope this helps
I am wanting to climb Mt Kilimanjaro and...
I am wanting to climb Mt Kilimanjaro and want a good outer shell. Can anyone recommend a good one?
Best Answer
Excellent choice in brand! I would recommend the Alpha SV though, its a tougher material and will take a lot more abuse... The Goretex packlite isn't very durable...
I agree with Dean entirely. Paclite isn't up to the job, and doesn't handle torrential rain as well as something like Gore-Tex Pro or eVent.
I would recommend the Arc'teryx Alpha LT instead of this Theta SL. The Alpha LT is about the same weight, but will have better breathability and durability due to the GoreTex Proshell and super high quality face fabric. It will also be lighter and more packable than the Alpha SV.
Can somebody tell me the differences between...
Can somebody tell me the differences between the hoods on the SL and AR -- other than the obvious stow away on the SL.? Do they fit the same and are the brims the same? TIA.
The Theta SL hood is a bit lower volume than the Theta AR. The SL may not fit over all helmets, particularly older, larger volume versions. The brims are the same, as in they both have lamination to give some structure. Also, the Theta SL is cut a bit more trim than the Theta AR, to save weight and reduce pack size.