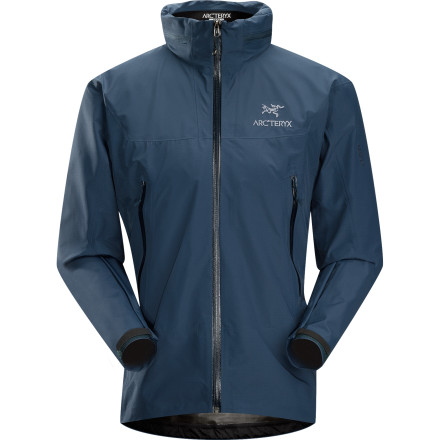 The Arc'teryx Theta SL Jacket provides lightweight, waterproof performance with enough toughness to withstand the abuse you dish out in the wilderness. Two fully waterproof-and-breathable Gore-Tex fabrics combine to strike a balance between packability and durability.
Gore-Tex PacLite fabric reduces weight and bulk while still delivering full protection against the elements
Gore-Tex ProShell fabric reinforcements in collar, shoulders, and sleeves resist damage to high-stress areas
3-D molded removable Stow Hood offers full coverage without compromising visibility
Laminated zippers and hems seal out storms
One-hand adjustable drawcords allow quick, easy operation
Engineered athletic fit stays close to the body while allowing full freedom of movement
Tested on the Appalachian Trail
Familiarity:

I've put it through the wringer

Fit:

True to size
My husband hiked for 5 months on the AT and the jacket was durable but wasn't totally waterproof. Items in his pockets would occasionally get wet. His arms would get moist and it wasn't from sweating. The jacket is very light, cool in warm climates and warm in cool climates. As for size, the sleeves were a bit long but otherwise a good fit. He liked the jacket but not worth the price.
Not worth the price
Familiarity:

I've put it through the wringer

Fit:

Runs large
The jacket looks great and fits great however when exposed to the elements for extended periods (2-3 hours) it gets very wet inside. I expected more for the price.


The Theta SL is a very light shell with some nicely thought out features. The cut and articulation of the shell is great. It is longer in the torso and has about a 2" drop in the rear. nice high volume pockets that work well while wearing a pack. The pit zips are smallish but do a great job of allowing heat and moisture to escape. The hood is a low volume hood. it fits over helmets but it can be a bit snug over some helmets. It cinches up nicely so it does not bellow in the wind. I am not a fan of the roll hood. I would have preferred a 1 piece style hood. The medium fits my 5'10" 165lb frame very well without being too big in the chest (It fits much slimmer than my Theta AR). Arms are a good length for those of us who have monkey style arms.

I am not fully sold on the mix of paclite and Pro shell. Paclite doesn't breathe that well and I have found it just feels wet inside (and I have had my clothes get wet as well) The gore tex pro shell holds up very well and breathes so much better. for $375 its a pretty expensive paclite shell. At this price point I would expect arcteryx to use the watertight front vislon zip (much smoother slider). Overall its a great shell however, for just a little more I can buy a pro shell jacket from some other manufacturers (ie: north face point five) So for the hefty price tag it gets a 3 star rating


Awesome jacket during rain and wind condition.
Is the Arcteryx Theta SL the same jacket...
Is the Arcteryx Theta SL the same jacket as the Arcteryx Theta SL Hybrid?
Yes, it has the Gore Pro in the shoulders and sleeves and the Gore Paclite in the body and sleeves.
Hey guys. I am 6', 225 pounds - athletic...
Hey guys. I am 6', 225 pounds - athletic fit. My chest is between 46 and 48 depending on what I'm preparing for. I usually run between an XL and XXL in jackets and was wondering if you thought an XXL would be too big in the Theta SL. We're getting ready for a Quetico canoe trip and then back to hot, humid Africa for agriculture/water project works, so wanted something light, packable, breathable, VERY waterproof for monsoons, and durable (while not being close to $300) - so this seems to fit the bill. We'll also do a few months in the Alps (not hiking, etc.) where I'll need to layer under it. Thanks!
The Theta SL is cut a bit more trim than other Arc'teryx jackets, but I bet an XL would work best with enough room for a warm layer but not too loose when you're rolling it solo. Double check the sizing chart above.
Quick question on sizing. I'm a small guy,...
Quick question on sizing. I'm a small guy, and I tried on a small with a puffy underneath it fit great. I'm also looking at the alpha sl. My question is both the alpha sl and the theta sl are athletic fit, will they both be cut the same size and fit the same in the chest arm and waist. I know the theta will be slightly longer. Just want to know if they are the same otherwise. Any help would be great
Other than the body length, they fit the same. I just had a conversation about those very two jackets with Arc'teryx customer service about 3 weeks ago.
The Famke Janssen of jackets
I'll preface this review with my cut and paste statement that I work as a backcountry backpacking guide in Yosemite National Park. Nearly all of the products I take the time to review have seen at least a half a season, if not more, of use... and I'm committed to not bothering to write a review until I feel like I've really gotten to know a product. I never thought I'd bother to write reviews, but I've recently decided that since I've spent so much time over these last many years reading reviews, and finding a tremendous amount of value in articulate and well-informed opinions, that I wanted to give back to the community. So, with that being said, here we go...

I picked up this hard shell for under half price. I was so stoked about getting it for such a steal that I didn't do as much research as I normally do, particularly seeing that its a pricey piece of gear.

For those who aren't familiar with Arcteryx's arbitrary system for naming their gear.. there are a few things that are good to know. Beta = waist length, to accommodate a harness. Alpha = hip length, to provide more coverage while striking a balance between fit and weatherability. Theta = thigh length, to provide the most coverage for heavy weather, and not needing to deal with a harness. LT = Light, SL = Superlight, SV = Severe (weather), AR = All-Round (multiple uses and applications). There are other prefixes, but those are the only ones that really apply to the Alpha, Beta, Theta line. There are cut and fit differences from jacket to jacket, but I'm not going to get too in depth with that here, since this review is, after all, specifically about the Theta SL.

The SV and LT line consist of shells made of GoreTex (GTX) Pro, which, without digging deep into minutiae, is a very durable double-layered waterproof fabric that has a third layer of backing on the inner side. This backing helps with both durability and wicking moisture away from one's body. The downside is that its heavier and more expensive than GoreTex Paclite. GTX Paclite, which is used in the SL lines, uses a similiar combination of two waterproof laminates, but does not use the backing on the inner side. The inner side of Paclite is a very slick, carbon backing that, when wet, gets a bit clammy. The advantage is that its lighter and cheaper than GTX Pro, the downside is that its less durable, and does nothing to wick moisture away from your body when any form of moisture builds up inside the shell. I've never had durability issues with Paclite, but you do have to be more mindful of prolonged abrasion and any sneaky twigs, branches, or talus that might be poised to puncture it.

This jacket uses a hybrid of these two fabrics, which is not only an ingenious compromise, but in practice it works incredibly well. The upper quarter of the jacket (the collar, the shoulders, upper back, and the upper chest) and the entire outer portion of the sleeve are made of GTX Pro, while the rest of the jacket consists of Paclite. The end result is that you have a jacket that finds a nice middle ground in cost, weight, and durability... providing abrasion resistance and durability in areas likely to see more use/abuse... and saving weight and cost in areas that are likely to see less wear.

All of these features combined - the hybrid of both types of GoreTex, the longer cut, the reinforced shoulders, the fantastic packability and low weight... along with the stowable hood, pit zips, and athletic cut all add up to a jacket that is absolutely custom made for backpacking. I've owned, and still own, quite a few shells... and I feel quite comfortable in saying that this is the quintessential backpacking hard shell.

There is no other hard shell that I'd rather have in my pack when I see the weather, and barometer, taking a dive.

PS. As a note on fit... I am 6'2" and approximately 165 lbs. I wear a 40 long in sport coats... and this jacket in a large fits me perfectly.
I was walking for about 2 miles in 35...
I was walking for about 2 miles in 35 degree weather and when I got home I noticed condensation on the top part of the jacket. Pretty much where the paclite meets the pro shell. Is this normal? I thought this jacket was supposed to breathe well? Very confused about this.
Tester, I do not own this jacket but have read many reviews of condensation. It is always in the same area, the upper part of the jacket. I have the Theta AR and have never had this issue but I do not sweat as much compared to others doing the same activity.
I dont know where to stick this question...
I dont know where to stick this question as its very general? I got this jacket and had it on with only a t-shirt in 35 degree weather. I was kinda cold but it really didnt bother me. My body runs hot all the time anyway. Would somthing like a LT or AR hold more heat than the SL shell? I guess my question is, what is the major difference with the shells if they are all breathable and waterproof and require layers to be fully warm?
Each of those shells have different styles of the same materials. The AR is the heaviest (about 17 oz) and is 3 layer Goretex Pro Shell. The LT is a little bit lighter than the AR but also 3 Layer pro shell. The SL is 2 layer Pac lite. So they are different variations of waterproof breathable materials. The weights and fabric thicknesses will influence how much warmth they will retain, but only by a slight factor.

Long story short, most hard shells will retain similar amounts of heat. If it's not right, wear some baselayers/midlayers or look into a waterproof softshell or waterproof insulated jacket!
I see. During summer, hopefully everything goes on sale more and I will pickup a fission sv or mako jacket. For now I will rock this SL as in a month its going to be perfect in 40-45 degrees.
Has anyone else had issues with condensation...
Has anyone else had issues with condensation building up inside when layering in colder conditions? How about how it performs in more mild temps?
Best Answer
Paclite certainly does not breathe as well as pro shell. I have noticed condensation in my Theta SL when doing intense activity (I always try to keep the vents open a bit to prevent it). The Pro shell on the shoulder and top of arms seem to breathe much better. I see your review below- this is certainly not meant to be a ski shell. Get yourself a pro shell jacket.
I've had condensation issues with this jacket in mild, wet conditions while exerting myself. But, no wp/b shell is going to pass your sweat vapor when it's as wet outside of the shell as it is inside. In cold, dry conditions, you shouldn't be getting condensation on the inside of the coat. If you're moving enough to start sweating under the shell, it's time to remove a layer.
I bought this as my main go to shell for all four seasons. I was looking for a jacket that would be versatile, lightweight and durable. It is a replacement for an old Patagonia Pac lite shell that lasted me almost ten years. So after a couple days of wearing it skiing here in northwest Washington I have only one complaint. The temps have ranged from high twenties to mid thirties. I layered it with an REI synthetic base layer and the Atom Lt Hoody. The jacket did an excellent job of blocking, wind, snow/ sleet and was very comfortable. The only complaint I have with it is that it doesnt vent that well. At lunch and at the end of the day there was a significant amount of condensation on the inside of the jacket, which also caused my Atom Lt to feel a big soggy. I will say that the condensation is primarily only where the PacLite fabric is on the body. The areas with ProShell were dry. This also has me concerned about wearing it on spring or summer days since we get quite a bit of rain. So ultimately thinking of returning it and purchasing a different Arcteryx with full Pro Shell
Could this be used as a winter jacket?...
Could this be used as a winter jacket? Typically temperatures around 15-30 degrees.
Best Answer
It could be used as a winter jacket. The fabric is completely windproof and waterproof, but is also very lightweight. You will need a decent midlayer for warmth underneath
Its jus a shell. You will freeze to death in 15 degree weather if you plan to only have this jacket on.
Hello, Is anyone aware if this jacket is...
Hello, Is anyone aware if this jacket is made in Canada or China?
Best Answer
My 2011 version is made in China
My 2010 version is made in china....ugh
I saw on in REI store it was Canada. The one I got off this site says China. Also on the left arm mine only says "Goretex" where the pictures off arcteryxt.com and also the jacket I saw said Goretex paclight shell. Anyone else?
I think that pretty much all their stuff is made in China now.



Nothing says "We care about Quality" quite like outsourcing to virtual slave labor in un or under developed countries. Especially one with a spotty record with respecting intellectual property and meeting contracts is concerned.



It's the one thing keeping me looking at other brands.
I've heard conflicting things, is this...
I've heard conflicting things, is this version's hood helmet compatible, or low volume?
Its low volume. It may fit over a small-ish helmet.
How does the Theta withstand abrasions and...
How does the Theta withstand abrasions and other such snags associated with trail running? I'm looking for a waterproof jacket with a stowable hood to run trails...thanks
It has a mix of Proshell and pac-lite gore tex fabric. The proshell is located on the shoulders and arms (which is a tougher denier nylon as well). It provides a little extra abrasion resistance . The paclite use a lighter nylon but the weave is still quite tight and is a very durable fabric itself. These are great jackets (they do fit a little longer in the torso- so you may want to try one on to see how it fits you)
good luck
is this any different from the 2009...
is this any different from the 2009 model?
Best Answer
This current generation of Theta SL started in the 2009/10 run. These use the combination of pro-shell and pac-lite The only thing that has changed since than is the color palate. The previous version of the Theta SL (circa 2006 and older) are a combination of Gore XCR and pac-lite and have a slightly different pocket orientation and hood configuration. Hope this helps
How does the sizing differ on this from...
How does the sizing differ on this from the Alpha SL? In terms of chest/length and overall roominess?
Edit* Sorry Johhny,, didn't know that the Theta was longer

These are relatively the same size, with the big difference being the the hood. The Theta SL has a "trim-fitting stow hood," while the Alpha SL has a "helmet compatible Speed Hood."
The length in front/back is longer on the Theta though correct?
Correct, The theta is longer in both the front and back.
100% recommend a spring and summer must
Great addition to my collection of Arc'teryx clothing!
how long is the centerback length?
how long is the centerback length?
, ☃bcs_badge_alumni_label☃
Best Answer
CBL: 30 in [M]

* To convert to other sizes, +/- 1" per size.