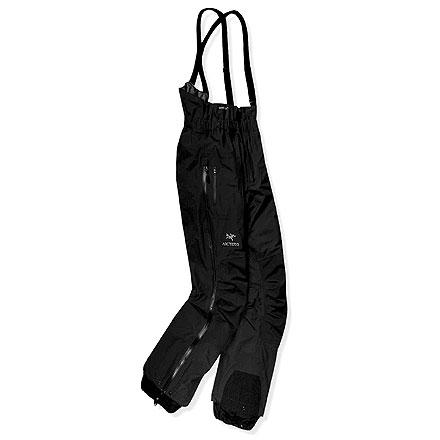 I'm a ski racer. Can you remove the...
I'm a ski racer. Can you remove the suspenders? And is the waist size 31?
The small size has a 31 inch waist, and the suspenders do come off.
top notch
Gender:

Male

Familiarity:

I've put it through the wringer
Pros: These pants are as good as it gets. They're light, they don't snag on anything (a valuable attribute if like me, you catch a tree from time to time), they don't collect snow, block the wind in any conditions and keep you dry. The zipper design on the front and side allow you to wear a harness under the pants if you so desire. They also include some burley reinforcements in all the right places.

Cons: They could use some side pockets and they're not exceptionally warm by themselves, but on the flip side the shell design allows you the flexibility to layer or not for any conditions.
These pants have worked great in the deeper powder since it has a higher back. With the Gore-Tex its nice to stay dry for the long run days. Also they are light weight and great for the warmer days.
Absolutely without a doubt the best ski pant I have ever worn. Simple design with great functionality. I really like the Theta LT's built-in suspenders. (I don't know why North Face and other manufacturers have gone away from this design.) Nice, easy-to-use zips with enough room at the boot area to go over your boots. Great product!
Light, tough, pants. Need more pockets.
These bibs are very well constructed. Every seam is perfect. The material is very lightweight but feels sturdy. I am going to use them for everyday telemarking pants, and I have no worries about durability. The only fault I can find is the lack of pockets. There is only one little pocket that would fit about one credit card with a bill wrapped around it. I miss the big chest pocket on my old North Face mountain bibs. When I wear a jacket, it's no big deal, but for spring I am going to have to find some pockets somewhere.
They're light, durable, and they come in TALL!
Being a lanky 6'7", I searched and searched for a good, long pair of bibs, but to no avail. After settling on the idea that a longer pant would work, I picked these up (at a sweet price, I should add). The fit is great, (although the length is still a bit short for me), and the material is burly. I've worn them from 40 deg slogs through wet snow to -10 deg 40 mph winds, and they were comfortable in both with only thin silks underneath. And I realized I don't need no stinking trap door bottom. I can't wait for next winter!
Arc'teryx Theta LT Pant - Men's
Bomber!
This Theta LT Pant is fabulous regarding its product quality.
The size, especially the length fits me so good, and I was very happy as well. I always have a hard time finding the right size here in Japan, since I am quite big as a Japanese (6ft2in tall).
If I could find some requests I can point out, there are only two.
The first one is:
If there were at least one front pocket, I would have had easy time storing my car key.
Second is:
Though the sizing is good from the action point of view, I personally prefer the pants to be a bit wider. The size now may be good for extreme conditions having less drag, it will be better to be a little wider for ordinary use.
These aren't your cheapest pants but they won't let you down. The waterproofing is like wearing rain pants, and they have some of the best windstopping I have ever used. They don't offer much warmth on their own just get some good long underwear and you will love them.
In a nutshell, the Theta LT shell pants well exceeded my expectations. Light as a feather, and impermeable to all the element, except my sweat. Of course moving in the other direction. And to boot, the thin shell kept my legs warm with only shorts on underneath for most of my last mountaineering escapade. Highest recommendation I could give.
Best ski pants I've owned!
These pants are awesome! I bought these because they were on sale and to eventually replace a pair I bought a couple years ago. My current pair have at least 250 ski days on 'em and still function like new, aside from some very minor wear and tear. They still breathe and shed snow, water, wind, and wayward beer like new. My tele knee pads (Arcteryx BTW) fit underneath, no problem. Other pants I've owned in the past (TNF, Marmot, Hard Corps, Spyder, etc.) would be fading fast by now. Buy these pants! You will not regret it.
I purchased my pants last year and am amazed at how light they are and how much I love to wear them skiing. I hesitated because of the price, but boy am I glad that I purchased them. I'm 6'4" and the Tall option fits me perfectly. [We carry Regular only. -BCStore.com]