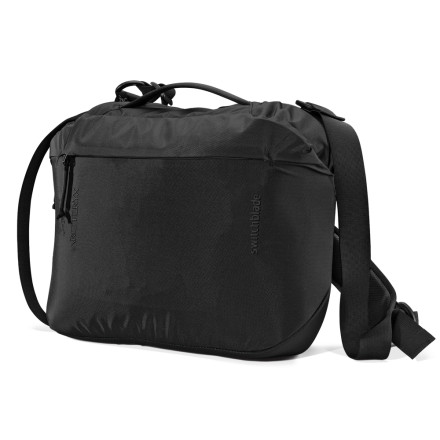 Detail Images

Community Images
Whether you sling it over one shoulder or strap it on as a stylish messenger bag, the Arc'teryx Switchblade Backpack rocks plenty of pockets for storing items large and small.
Outer shell made with durable 420D nylon fabric and a water-resistant PU coating to help repel the elements
Padded side walls protect your gear from unexpected (and expected) bumps in the road
Laptop sleeve in the main compartment houses your 15-inch computer and protects it from jostling
Multiple organizing pouches in the main compartment allow you easy access to your phone, wallet, and passport—these pockets line up vertically when you carry the bag messenger-style (slanted)
Exactly what I was looking for...
This has a slim profile but plenty of room for a bulky 13-inch laptop and all my other random stuff. I normally carry it as a briefcase but when I need both hands it is super convenient to just throw it over my shoulder. I don't like wearing a backpack all the time and this is a much better option than a typical briefcase. Easily accessed pockets for cellphone that are well protected.
Excellent durable and well-thought out man bag. Holds my 13 inch laptop in a cool innder sling, a couple books, my rain coat, as well as wallet/keys with no problem. Only complaint is the weird shoulder strap - had to fiddle with it for some time to get it to work on my left shoulder (I'm a lefty) - ended up needing to add my own plastic buckle end to keep the ten-inch strap end from flapping absurdly in the breeze. Now I love it, my favorite of several bags!
Is this a true BACKPACK or shoulder pack....
Is this a true BACKPACK or shoulder pack. I've seen this on other sites described as a briefcase/messenger bag. Confused.
Hey Lisa, its a shoulder pack briefcase/messenger bag...
it is hinted that the bag can be slung...
it is hinted that the bag can be slung over the shoulder, is that true? if so, how easy is it to access things like wallets and phones from that position. would like to use it mostly slung over the shoulder and i always carry my phone and wallet in my bag.
It would work well that way - over the shoulder
Are these real and does anybody have...
Are these real and does anybody have one?

I've never seen the black one anywhere and the "dark dusk" appears few and far between. Arc Teryx's website indicates "New" so maybe it's just a supply issue? It has been there for months already so perhaps it's just late to the game?

Looks cool and would love to try it but darn near impossible to find. And the black appears nowhere to be found.
I haven't found one either but I'm with you-- I'd love to try it out!
What are the dimensions of the switchbla...
What are the dimensions of the switchblade?
It's an 11 Liter bag. Although Arc'teryx does not list official dimensions, based on similar laptop bags with the same volume, this is most likely ~15 x 13 x 4 inches
organizer pockets of the Arc'teryx Switchblade