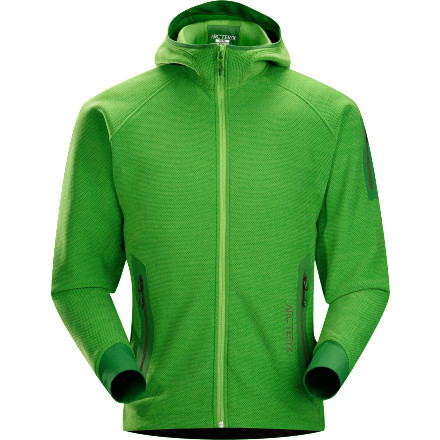 Community Images
The Arc'teryx Men's Strato Hooded Jacket's distinctive cobbled texture insulates your skin against the cold winter air, whether you wear it alone touring or hiking, or you layer it under a ski shell. Highly breathable Polartec Thermal Pro lets perspiration escape easily, and a DWR finish repels light snow and rain. Stretch-knit cuffs lie smooth under other layers and gloves.
I really enjoyed this jacket when I first got it. It is warm, comfy and a sweet color. However after a few weeks to a month it started to get "pilly." As a review said below, it is down by the bottom of the jacket and inside of the arms. I have the blue color jacket and it seems as though the color is already fading. Overall I am pretty bummed so if you are thinking of getting this particular jacket, you've been warned.
Very disappointed
Gender:

Male

Familiarity:

I've put it through the wringer
I'm very disappointed with this hoody. My first one was replaced a few weeks after its first wash, as it pilled (bobbled). It wasn't down to the way I washed it either. The second started to pill/bobble before its first wash. It wears where the arms rub against the body, whether it be zipped up or not. It still looks brand new around the shoulders & upper back. This material wears away by friction. It looks old within months. I strongly think that this product needs to be shelved until they can make a material that won't wear away so soon. My 3 year old Arc'teryx Covert hoody took over 2 years to start pilling.

I have only given this a 1 star because it won't let me rate it any lower.

Please people, just look at my photo attached. It's an awful hoody to own.
very good fleece with only one bad thing
This is really great product. I bouth it few years ago and I use it only for skiing. Only question I have for producers is why there is no larger than XXL?
Nice, but not worth the premium
Gender:

Male

Familiarity:

I've used it several times
Fit is as expected, at 5' 11" and 190, the large fits nicely - I don't look like a stuffed sausage, but it's trim enough to work as a layer under a shell. Front hem is higher than I'd like, this design may have some specialized rock climbing or backpack waist belt advantage, but for skiing or casual wear it'd be better if it were an inch or two longer. Material is not particularly thick or windproof, so it's a good all-rounder to mix with underlayers and shells but not a solo layer for cold temps. Served me very well as my only insulating layer on a trip through Europe, and still looks great after lots of packing and unpacking.



That said, this should retail for at least $100 less - and that takes into account Arc'teryx "brand tax" pricing. $225 for a basic fleece hoodie with no unique features is nuts even for Arc'teryx - other places have house-brand fleece hoodies with similar characteristics for 1/4 the price, or try Mountain Hardwear for half the price.
Hey guys, i'm coming to you from Seattle,...
Hey guys, i'm coming to you from Seattle, WA where, needless to say, it rains quite a bit. I'm a climber and recreational skiier and a cold weather hoodie like this would be perfect for trips up to the mountains, or, just on cold snowy days. I'm trying to decide between purchasing this, or an Atom LT/SV Hoodie. I know the Atom Hoddies are rediculously warm for their weight and still very water and wind resistant. Arc says this is similar. The only thing keeping me from purchasing an Atom Hoodie, is the water resistancy and another problem, the Atoms aren't what I'd call stylish,. I'm looking to wear which ever jacket I get alot around town and, wondering which one to get, my research draws me to the ever important question... Wnich jacket is more suited for wet conditions? The Atom? Or the Srato? And which one drys faster too.

Thanks Alot!!!

Thak you so much! thats what I wass looking for, the only thing that made me think of this jacket as water resistant was the Dynamic GNS outer.
Best Answer
Polar Tec thermal pro is a great mid layer and a solid outer layer for brisk days, but it is by no means water resistant. Think of it like a heavy, fleecy sweatshirt or sweater. Get the Atom and treat it with some Nikwax and you'll have a warm, water-resistant layer that you can wear all the time. Just pick a subtle color....
Fawesomest Arc'teryx Strato Full Zip Hoody
I love this jacket because it is water repellent, extremely warm, very comfy and stylish. I purchased the men's size medium being that I am a very tall (almost 5'10") athletic build woman and it fits great especially the sleeve length and I can wear a mid to lightweight top underneath or something heavier if needed which honestly I sweat in this thing and am from Michigan where the winters are chilly. Two thumbs way up. Once you go Arc'teryx--at least for me I will never go back. Quality and a lifetime guarantee are just a few more added bonuses.
Not worth it - baggy sweater fit
I think this fleece is made of very high quality materials, and well made, but it just wasn't for me. I returned it for two reasons 1- the fit is very loose, almost like a casual sweater. I am a muscular Med, and this fleece has room under it for several base layers. I couldn't really fit a slim vest over it very well. This is not a technical mountaineering fleece, it is a cool looking, nicely made fleece sweater. That brings me to my second reason for returning it - It is way too expensive for a baggy, non-wind proof fleece.
So I've got this fleece, the Delta SV, and the Apache Cardigan. I like the fit of the XL of the other two vs. the Strato Hoody, but as I mentioned I like hoods. The texture of this fleece is OK, but I prefer the Apache's, plus the Apache's interior texture is really plush and fine. If the Apache had a hood I'd go with that one over this, but since I wanted that feature I got one of these as well. The Apache looks nicer too I think.

Anyway, it's a nice jacket.
This is a great midlayer for snowsports and hiking in cool temperatures. It gives great warmth while letting sweat escape easily. It's not wind resitant. So you can wear it hiking uphill in moderate temperatures with no wind and need not fear overheating. When the wind blows though, you need to put on an additional shell.
HOOD! hahaha. Nice color, very rich, deep blue. They so "no piling" but i've heard that song before. I will post back after some use. The 4 stars, well im struggling to adjust to the different "sporty" style of collar to hood conversion. As is zips up it sorta tapers the zipper up higher that I am used to with a more casual "street" hoodie. I think this might have some advantages for athletic type activates. Seems pretty warm, fits a little large, like most Arc-gear
Any idea if the hood would work under a...
Any idea if the hood would work under a helmet? The brim has me concerned, but I can't tell how big or structured it is.
The brim on the Strato has some lamination and I don't think it would work well under a helmet. You should check the Atom LT Hoody (I know it's a different category)-same thermal value, but better weather resistance and has a low volume hood designed to work under helmets. Epsilon SV hoody works over most new helmets and has similar values.
I have a Giro G10 helmet and I'm able to wear the hood under my helmet. One thing though, I shave my head so I don't have any hair to take up space.