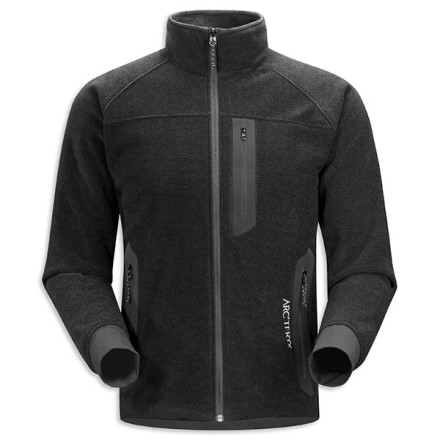 Community Images
The Arc'teryx Men's Strato Fleece Jacket provides excellent midweight insulation for skiing, hiking, and climbing, and the clean look will probably make it your around-town jacket as well. Arc'teryx used Polartec Thermal Pro Cobble fleece for a unique style and to give this jacket better snow shedding and moisture wicking performance. The Strato also includes a DWR finish to keep this thing from soaking up moisture, and stretch-knit cuffs to hold your sleeves in place.
This is a high quality standby that I wear all the time for a good fall jacket and a great midlayer under my Alpha SV jacket when the weather turns.Would buy again if I needed another one.Super high quality gear
So has the fit changed on this one? I like...
So has the fit changed on this one? I like their trim pieces also having a slim build. Thanks.
Hey,

From reading reviews of people that have this, it sounds like the fit is more relaxed on this, and a "regular fit" rather than the "slim fit". It tends to run large and have a more baggy fit.
bad fit
Familiarity:

I've used it once or twice and have initial impressions

Fit:

Runs large
I had to return this this jacket because the fit is too loose, especially around the shoulders and arms. Also this is not so important but the colors are not as the pictures. I ordered it in blue and it was much darker with a hint of green. Not as nice as in the picture. It did seem warm though but the fit was too baggy for my taste. I have another arcteryx jacket and the fit is perfect. Too bad this one isn't.
Good layering jacket
Familiarity:

I've put it through the wringer

Fit:

Runs large
It's of a slightly baggier fit, which is good for layering under. The M fits me well and I'm 5'10 with an athletic build. I use it exclusively for layering under shells while skiing.

On it's own, however, it's pretty flimsy as a jacket because wind just cuts right through it, so I would not recommend this except for layering. It wicks really well for that!
Odd Cut...
Familiarity:

I've used it several times
This jacket has an odd cut... at least for me. I went with a size medium and it fits well in the sleeve length and through the body, but find that the shoulders are exceptionally baggy and could use a trim. So, it gives me a fitted cut through most of the jacket, except in the shoulder and upper back region. I am 5'10" and about 165lbs. This is the only jacket that I won from one of the major outdoor gear manufacturers that has this problem, so I don't think that it's just me, at least not this time! :)



Otherwise, the jacket looks nice, wears well, and is comfortable. Love the wrist cuffs and the pockets are all well placed. A little spendy, and for this kind of money, I would've expected a slightly more consistent fit.
Unanswered Question
How is the fit of this jacket comparing...
How is the fit of this jacket comparing to Arc'teryx Tau? Especially in sleeve and back lenght. Thanks
nothing at all special about this piece to warrant the MSRP in a world full of fleeces. There is nothing to separate this from the market in features, materials, or construction.



At half the price on SAC I returned it, partly due to the Carbide color being a much darker shade than shown in the pics and partly due to coming to my senses on the price.



If you are an Arcteryx fanboy, go for it, I know many people are and there is nothing wrong with that. If not, there are better quality fleeces with more bells and whistles for a better price all over the place.
Was looking forward to this piece for wearing under my hard shells, wearing as a bang around top layer etc.... fit is normal, not fitted and color is darker in person. Basically, looks cooler on the site than in person. It is thin, which I didn't mind, warmth was average, but arms started to pill immediately, even before a wash. Everything sticks to it, as well. I actually like the fitted cuffs, great to slide into gloves, but the downside was they are so tight they get caught on my watches or anything else around your wrist. If they had made the cuffs of a stretch material and the pilling didn't occur, I would still own it and given it 4 stars.
This is a great addition to my winter snowshoeing gear.Cannot believe how well it fits and how soft the inside is.The cobble fleece is different than any other Arc'teryx fleece I've got-but I love it just the same.Fits perfectly under my Alpha SV shell when I want a full zip for venting.
Great addition to the gear closet
I just got one and love it. The Strato is definitely heavier than the Covert (1 layer vs. double) and is very warm.
I prefer the Covert for all day lounging. The cuffs on this are great.
I'm 5'11" 180lbs. and the Medium fits perfectly.
I can't say enough about the great fit I've experienced with Arcteryx - at least this and the Covert (I'll see soon about the Stingray). The sleeve length is a little longer than the Covert and I appreciate this under a shell as my arms stay covered all the way to the wrists during activity (which the nicely designed cuffs also help with).
I really like the honeycomb like pattern on this.
All in all a great fleece, not sure it's worth $200 but it's definitely another high quality item from Arcteryx.
By the way, I noticed this is NOT made in China but is made in El Salvador which I hope is the start of a new trend to bring manufacturing back to our hemisphere.
Has all of the quality that you would expect. I used this as an insulating layer all winter in Germany and Austria last year and I continue to wear it now. It has held up to fairly consistent wear without breaking down. The pattern of the material is pretty unique, but the jacket looks good and performs even better. I am 6'1" and 195 pounds with an athletic build and it fits me tight enough to slide on underneath a shell without any issues. The thumb loops greatly aid this and paired with a loft insulating layer you will be warm in anything short of conditions found on a Mountaintop. That being said, I wore it on top of the Zugspitze in Germany with 117 kph winds and while my face felt like it was going to peel off, my body was toasty warm paired with an insulated hard shell.
I am looking for something to layer under...
I am looking for something to layer under my softshell (Gamma MX) when it is cooler, but I want something that is not too bulky. Should I go with Strato or something a bit more close fitting?
I would look to a more fitted layer under the gamma MX. Checkout the caliber or delta Lt fleece. keep in mind, fleece does not slide well when putting a softshell over top.
Well I said a light fleece, but what I mean is light in feel and weight, but HEAVY on warmth! The blue color is rich and deep in it's tone, and the fit is great. Seams on this jacket allow it to cover your midsection when you reach up and back. The fabric is very un-fleece looking, so it's different in it's wear when you're out on a night after the slopes.

I like the cuffs as well, the ends fit nicely on my wrists, and are tight with out being overly tight. The logo is just flashily enough that people will know your wearing an Arc, with out looking like a Canadian Nascar driver! Zipper pulls on hand warmers are a plus, nice and durable, (like all Arcteryx gear!)

I'm 5'11" 165-170 lbs, and I got the M, fit great, a L would have been just a little too big for my look.
When I got the Arcteryx Strato - I was extremely happy with the look, the construction was like everything I've ever bought from Arcteryx - well designed, well constructed and looks great - this fleece is no exception. My only issue - it's too big! Returning as the sleeves are too long.
I bought the carbide color because it looked like a very nice neutral light color...however when I received it, it did not look anything like the above carbide style. It was darker and had a hint of green in it, which is why I exchanged it. It is a warm jacket with a very interesting fleece texture that I have grown to really like. Overall this is a very nice jacket.
What is warmer, the Tau or the Strato and...
What is warmer, the Tau or the Strato and what is a membrane fleece?
Best Answer
The Tau and Strato have very similar insulation values. The difference is the Tau has a very thin "skin" that gives it a bit more resistance to moisture and abrasion, but is slightly less breathable.
Sean,
My Tau jacket feels much warmer than my Strato. The fleece seems much more dense on the Tau (maybe that is the skin Brandon is referring to), he also correct that it is less breathable. I also find my Tau more versatile (wear it as an outer layer in the spring and fall), plus it gets more style points!
Really like the cut and the fabric. Only negative is that it needs a hem cinch cord. The hoody has one, but the jacket does not.
Really like the cut and the fabric. Only negative is that it needs a hem cinch cord. The hoody has one, but the jacket does not.
Pro's and Con'sPro-Love the fact that i can wear it unziped in the store where it is like 70 degrees and be comfortabull then go out side where it is 18-30 degress and not be frezing..Con-The rist cuffs are way too small so it is hard getting it off .. Thou it is also a pro cause it keep cold air from going up my arm..All around i love it and have it on all the time witch is bad cause now i need two cause it get realy dirty at work.
An earlier review referred to this piece as unique and I'd agree. I have hardface fleece and regular fleece and this is somewhere in between. I just received it so I can't speak for it's intended purpose, but it looks promising.

Arcteryx has been moving a lot of their production to various parts of the world and it's understandable to keep costs down. This particular piece is made in El Salvador. Find the right place and assert the right conditions and the quality is no worse than Canadian or US made products, and in fact can be better. I did a pretty good inspection of the piece and found no loose or gapped stitches, or any issues with construction.

Fit leaves a little something to be desired; it's not athletic like a Gamma Softshell, or indeed like my older Arcteryx Maverick fleece:
-The length is good, the front ends about 1~1-1/2" below my belt and is cut square. The hem is adjustable via a drawcord on either side w/cordlocks to keep things snug (I wish they were inside the pockets like on my Maverick).
-The body is fairly generous. I'm not incredibly svelte (5'11" 170lbs) but there's more than enough room in a medium; I almost wish I had gone for a small to get the snugger fit. Layering will be no problem. The shoulders feel a bit broad and there's extra room in the chest for someone more barrel chested (I wear a 40 dress coat).
-Sleeve length is good, even for my monkey arms, a little extra in the sleeves tells me someone taller would be happy with this piece. The cuffs are snug, it takes a little effort to get them on and off; I've got skinny arms so this could be a problem for someone with fat wrists. They do keep the draft out and the sleeves in place when layering, so I can't complain.
-Collar is very soft, a good height and good size to keep things relatively tight and draft free.

I'm curious how well it will hold up as an every-day jacket here in Charlotte, NC; I don't doubt it will be warm enough. Also anxious to see how it holds up on its own against the wind, it seems like it might not be as wind resistant as my Maverick, but only time will tell. I'll update as time goes on.