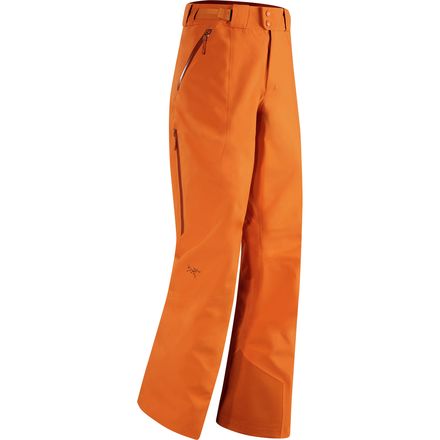 Community Images
Description
Get out there; you just ran out of excuses.
If brutal weather conditions have been holding you back from achieving all-day glory on the mountain, get your groove back with the Arc'teryx Stingray Softshell Pant. Built with waterproof breathable Gore-Tex Soft Shell fabric, this pant gives you the weather protection you need to crush backcountry ascents and to protect you from wind and flying snow on the way down.
Like traditional hardshell fabric, Gore-Tex Soft Shell fabric is guaranteed to be waterproof and breathable, but it is also slightly stretchy, soft to the touch, and more pliable
Keprotec guards at the ankles save the hems from crampons and ski edges
In the event of an in-bounds slide, RECCO reflector strip can aid recovery by rescue teams that are RECCO equipped
Arc'teryx designed its all-mountain garments to have a articulated, regular fit that layers well over base layers but isn't overly tight or baggy
Arcteryx is the best
Familiarity:

I've put it through the wringer

Fit:

Runs large
Amazing pants...first bought the sabre and it was WAY too baggy. Exchanged for these they are great!
Am I able to order "tall" sizing from you...
Am I able to order "tall" sizing from you or do I need to go straight to Arc'teryx for this?
We unfortunately do not have any tall variants in stock. You will probably want to check with Arc'teryx to see were you would still be able to find that sizing.
Could someone recommend a size, I'm 6'1...
Could someone recommend a size, I'm 6'1 and about 175-180.


Best Answer
For your sizing I'd recommend a XL for you. If that sizing for some reason doesn't work out feel free to return it for the next size lower. We do have one of the best return policies out there!
ron,

Jared could very well be correct with his recommendation but I wanted to chime in with a sizing recommendation as well.



With your height you are going to be right on the fringe of the "reg" and "tall" length, and if your inseam is 33 or longer I would definitely go tall. Your S/M/L/XL size is going to be best determined by a waist measurement. At 6'1" and 180lbs I would guess that you have about a 32" waist but that is only a guess. We are always happy to help find sizes for you, but waist and inseam are the best indicator of pant fit, and chest and sleeve measurements are the best indicators of jacket fit.
I'm 6'2", ranging between 190 and 200 lbs. and normally wear a 34W, 32L. I got a pair of these a couple seasons ago in Large and the fit is great. Not crazy baggy park style and not plum smuggler tight. Articulated fit makes sure you're never fighting your pants. My pair now has in the neighborhood of 60 days on them and they are still like brand new despite some hard use and abuse.



Only complaints I have w/ them is the lack of a back pocket and the Gore "Softshell" can be a bit swampy if working hard and over layered compared to some other materials IMO but the vents are generous enough to counter that provided it's relatively dry outside.
Ditto what Sid said, I'm the same dimensions. The 33" inseam breaks nicely at the boot like a good fitting slack. Go with the Large, the adjustable belt works nicely to pick up the slack at the waist. 5Stars. PS I blew out of my trim fit Ventis and Arc replaced them with these.
Arc Stingray
Familiarity:

I've put it through the wringer

Fit:

True to size
Sweet Arc'teryx quality , of course. But it seems more like a hardshell to me. NOT that there is anything wrong with that. Absolutely waterproof but definitely seem to be more breathable Then Gore PRO.

Fit, I have a old pair of small Arc pants that are getting a little tight for my now 31" waist. but the New Arc fit in a small , is plenty comfy. For Arc'teryx, I would not really call these athletic cut. They are down to the knee, then get pretty big. Sort of styling, without too much extra bulk.

Photo- Brand new pants and 10 year old Sidewinder shell. On a 5 below Zero day.
For normal pants, I wear a 34 waist and 29 inseam, went with a medium and it's a pretty good fit. A bit of room to move but still a little athletic. The length is way too long of course and will need to be altered so I deduct a star for not having short lengths available for this style.



Really nice quality throughout but crazy expensive, so deduct a star for value.



The material is awesomely soft for a ski pant and the inner material is nice against the skin. I had the sabre pants to try on, and that had a stiffer (although probably more durable) material. Have the sabre jacket and can't wait to be covered in gore tex next season!
Great so far
Gender:

Male

Familiarity:

I've used it several times
First thing you notice with these pants is how light they are. Frighteningly light. They feel nearly as thin as tissue paper and I was quite worried that they'd rip badly on my first fall. A few bad tumbles later and they still look like new. I just checked the wear areas and I see no signs of any snagging, tearing, or general wear and tear from rubbing, etc.



The thin material is very comfortable. These do not feel like ski pants. In comparison to normal pants, they feel like you are wearing nothing at all. They are also very quiet and do not make the loud rustling sounds I am used to with outer layers. They have kept me warm and I have not had to wear anything but a thin base layer underneath. The side vents are quite large and vent off enough heat to keep you cool (yesterday I was at Meadows where it was sunbathing and t-shirt weather).



The pockets are minimalist - do not expect to dump goggles or gloves in them. I have used them to hold my iPhone and wallet and that worked well, I did not notice their bulk while I skied. Having my iPhone in the pocket with headphones routed through my jacket worked very well and the zipper stayed firmly closed over the wire.



I like the athletic fit of these pants, they are trim yet still have enough extra fabric to let you move in . I have not had to adjust the inner buckle system as they fit me well immediately, but they seem to have enough give and take to fit people that are in between sizes. I picked up the mediums. I am male, 6 foot with some change and about 185. I wear (snugly) size 33s in Levi's. These fit more like a 34 Levi (if Levi's included elastic waist bands).
Unanswered Question
When will you be getting the Stingray pants...
When will you be getting the Stingray pants in in a medium - Sulpher?
Have a few days skiing in these pants, and unfortunately they were very wet early season days. I was suspect of softshell in these conditions, even if is Goretex softshell. Well, turns out the Stingray pants were fully waterproof and super comfortable. They're also a lot quieter than the Goretex hardshell rustling equivalents. Fit wise, in jeans I'm a 34" waist and 34" inseam, and the size Large worked well for me in the Stingray.
Awesome pants even years later!
Gender:

Male

Familiarity:

I've put it through the wringer
I've had these for years, bought them used and they're still one of my favorite gear items. They've held up from crampon stabs and gashes, multiple seasons of treework in several seasons, hiking duty and countless skintracks. They still look and work great, save for a few gore-tex patches on the lower leg sections. Water rsistance is actully still pretty damn good! Not what it was but better than I would expect, still a very good functioning layer, I just wish it had side zips. They tend to get warm while skinning and that' their only minor fault.
Good Pants, But Snow Gets In Back
Gender:

Male

Familiarity:

I've used it several times
I like the fit (a little looser than my mountaineering gear) and the feel (a lot softer and quieter than my Acteryx bibs) of these pants very much, but I have trouble keeping snow out of the back if I get in deep or fluffy stuff. They have an internal belt, but there's a little lip that seems to scoop snow up and allow it to either slide in or melt in place. They're good for days when it's a little cold (they have some insulation) and I'm not out in the backcountry but staying in bounds.



Full Disclosure, I've been participating in the Gore MountainTechs program since 2007 and have received similar pants in the past. Didn't affect my review of these pants though...)
Last year I picked up the Arcteryx rush...
Last year I picked up the Arcteryx rush jacket and fell in love. My current pants have a tear from last season and am thinking about switching to a shell pant. Question is, what do most people wear underneath? With the jacket I wear a long sleeves and a down jacket when it gets cold. What about on bottom? Thanks.
Guess it depends where you are, but for me last year skiing Whistler I wore Ice Breaker under shell pants... for example http://www.backcountry.com/icebreaker-bodyfit260-legless-bottom-mens
A few days of "grapple" at Jackson Hole convinced me that I no longer could stand sitting in wet ski pants. I originally wanted suspenders and tried the Arc'teryx bib pants, but found them too snug around my beer belly. Also, the Gore-tex Pro cloth was, ahem, loud. Notwithstanding my gut, I'm an athletic cut below the waist, and these pants fit well. The gore-tex is supple, without the rasp of the pro, and since I'm using these for skiing, not climbing, I don't expect durability to be an issue. I substituted a belt for suspenders, and don't miss the suspenders. The pants are light, dry and measure up to my expectations. Although I initially missed the extra thigh and back pockets I had on my old pants, I've just stashed the extra face and hand warmer that I used to carry in my camelback. I would buy these pants again.
Yes, 5 stars, this are very, very good pants. I'm a fan of the attention to detail of Arc'teryx and these are no exception. A technically outstanding pant with side vents being particularly useful to open up at base camp without letting too much cold air in.

The temperature regulation is excellent, particularly if you like to wear base and/or mid layers, which I do.

The snow and condensation just falls off these pants as expected, and more importantly, doesn't get into them with internal calf cuffs inside the pant sitting above the re-enforced sidewalls doing a great job, you just wouldn't know they're there. The Recco reflector adds peace of mind and is not conspicuous at all.

They look great, too. Medium at 168lb and 5'9" made for a perfect fit.
Great fitting pants, a little pricey for the feature set
Fit and performance of these pants have been awesome for me so far. I'm 6'2", 185lbs. and usually wear a 34-36 waist and ~33 inseam and the large in these fit perfect. They don't look like skinny jeans by any means, but far from a baggy fit for a ski pant and range of motion seems entirely unhindered.

Totally waterproof through 3.5 hours in heavy freezing rain on the local hill and as much wet PNW powder as I could throw at them over a week long trip at Whistler. Zippers and seams are very high quality. They provide basically no warmth on their own however, so make sure to plan to layer appropriately under them. Breathability seems decent enough, it was only while working pretty hard on uphill hikes and in a couple of glades that things started feeling a bit humid wearing a 260 weight merino base and a pair of UA Catalyst shorts under them. The vents seem to do a good job of drying things out in a hurry in these cases.

I got these at a 20% discount from a local store, and even at that price they feel pricey for the feature set. Yes, they are awesome pants and will hopefully turn out to be very durable (only have 6 days in on mine so far), but still feel a little overpriced to me. Adding a back and/or cargo pocket(s), some mesh/microfleece insulation/reinforcement of the butt and knee areas, and some sort of cuff saver system would be nice. Other than that they'd be 5 stars for me.
Not as advertised on arc web site
Arcteryx website says has lace hook on pant bottoms, this is false. Also wore them as shell pants for Mt saint Helens summit dec 18, 2011 and on way down did some sliding on my bottom and the pants are already faded. This is not the first issue or disappointment with arcteryx products lately. Only thing I can say is the soft goretex seems to hold heat A little better than regular goretex. I'm 73 inches tall, 175 pounds and large fits perfect.
Nice pants, overall an improvement from last year's
I have owned last year's, and now this years. The pants are cut slightly baggier, but not much. They feel a little less euro in the crotch, and now have reinforced insteps. Basically, they crossed the Saber and the stingray it feels like, only these pants still just have two pockets. Another improvement in my book, is the snowgaiters are longer compared to last years's... Again like the saber pants. The waist changed a bit too, but still has dual locking tabs, much nicer than other brands Velcro.
I wish Arcteryx would sponsor me, but I landscape
I've got a bunch of Arcteryx stuff. And every piece of gear I have is awesome. They use superior materials, innovative ideas, and top-notch quality to make the best gear in the world. And of course the Stingray pantalones are in that category.
They are made from Gore-Tex softshell material. But they are not a typical softshell pant. They are made with softshell material, but they have the Gore Tex membrane which means they are completely waterproof and windproof and a little bit breathable. Only a few companies make this kind of waterproof breathable softshell, but I really like them and Arcteryx makes the best. I own the Alpha SV and the Crossbow Jacket and while I really like both, I prefer the material of the Crossbow more. It just feels nicer to me.
So the Stingray pants are waterproof/breathable and are made from awesome softshell material, but that's not all. The smaller features really make this an awesome piece of gear. First, the Keprotec they put on the cuff at the bottom is a great idea. Keprotec is a very durable material which will help keep the bottoms from fraying or tearing. The also have the waterproof zippers for the front pockets and they have a RECCO device.
One minor complaint, the material is made from the 510 NP softshell material. I would have liked it if they made a pant with the thicker 800NP material like they used with the Crossbow jacket. The thicker material would definitely add to their durability. But I'm not complaining to much because I got them for 50% off at Altrec!
What is the inseam in a size L
What is the inseam in a size L
about 31.25 inches crotch to ankle. there is a sizing chart up top, just below the "options" box. Says "size?"