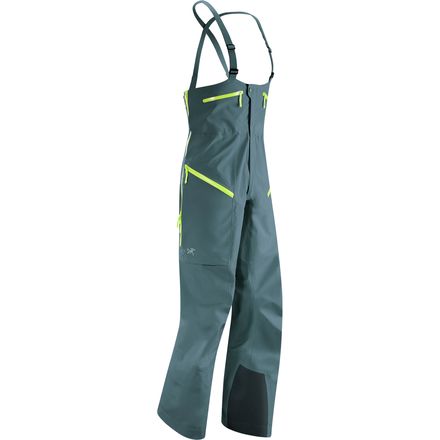 Detail Images

Videos

Community Images
Description
Don't get stung by the weather—let the best materials available protect you.
If you get buzzed over the pursuit of technical first descents, trust the Arc'teryx Men's Stinger Bib to look after your lower extremities. Rough and tumble nylon wears a smooth poker face but can stand up to the abuse of weeklong tours and days full of nothing but tricks and flips and cliffs. Gore-Tex Pro fabric is guaranteed waterproof, guaranteed breathable, and stands up to all the daily abuse you can dish out. With the bib's streamlined Expedition fit, extra high bib, and large-volume thigh pockets, you'll be making first tracks in that honey bucket of a couloir before anyone at work notices you've flown the hive.
Extra-large nylon yarns are tightly woven together to create a slick, abrasion-resistant surface. It's not non-stop squats and extra-large thighs that cause this bib to whisper while you walk. Nylon is rigid, and per the Arc'teryx engineers, a little rasp for your rail-riding means your pants are almost as tough as you are. The Gore-Tex Pro 3L laminate lets hot air escape without letting the snowfall it. When you're kicking your way up the mountain, side zips open up for rapid cooling or simply to show a little leg.
Anatomical design and articulated knees give you freedom of movement for easier uphill charges. The ergonomic 3-dimensional patterning lets you layer as needed without puffing out the pant profile. Kaprotec instep guards and Cordura cuffs protect the pant from crampon teeth, boot bruises, and sharp edges. The bib gives your belly a bit more protection than a jacket alone, and all but eliminate the chances you'll share a, um, vertical grin with your ski buddies.

Gore-Tex Pro 3L
Fully taped seams
Expedition fit, e3D patterning
Quick-adjust suspenders
Cordura powder cuffs
Keprotec instep guards
3/4-length side zips
Awesome Resort Ski Pants
Familiarity:

I've put it through the wringer

Fit:

True to size
For bib-lovers, these are a great option for resort riding. The mid height bibs are great for providing more protection on deep days, but not a full chest height bib that can be too hot on warmer days. Another great feature of the bib is that these have a very light elastic "cuff" thru the waist, so when you want to take off the suspenders, there's enough hold there to keep the pants from falling down.



The gore text pro is amazing for storm riding - nothing penetrates it. Even though these are a bomber shell, they're remarkably lightweight. In that sense, they're a great compliment to the Arc'teryx Rush jacket.



My only qualms with the Stinger Bibs is are the pockets and the cut of the bottom cuff opening. The pockets up on the bib are really small and not gusseted at all, making them useless for anything but small stuff like chapstick. And even then, because the pocket is so tight, it's hard to fish the chapstick out.



As for the bottom cuff, it seems to ride up my ski boots a little bit (see photo). It's just a little bit of ride up, which I think it caused by the articulation in the knee. Not a big deal but in a perfect world they would stay down a bit.



Overall, these are great Bib and I highly recommend them. I'm 5'11" and a slender 150lbs and a Medium fits pretty well. Maybe if they were slightly longer I wouldn't have that ride-up problem. Otherwise the fit is great.
Amazing pants.
Familiarity:

I've put it through the wringer

Fit:

True to size
These pants are great for all conditions. Two huge front pockets that are great for string mittens. nice vents along the the side which are quite handy when touring back up.
Great bibs
Familiarity:

I've used it several times

Fit:

True to size
I got these to replace an old pair of Patagonia Primo pants. It's been tough to find good hardshell pants with suspenders (not a belt) to keep the freedom of movement for both backcountry and resort skiing. What an upgrade these are. I'm 6'1", 175 lbs and got a Large. The fit is loose, but by no means baggy. Plenty of room to get full leg bends and not feel like you're going to bust a seam, but not enough fabric that it flaps around when you're ripping down the trails. The waist stretches plenty, and the bib has some room to spare for layering underneath. I have a 34" inseam and had no trouble with the length.



They seem durable so far, having survived a fair amount of New England tree skiing without a scratch. I was worried the fabric wouldn't be breathable enough for touring, but I've yet to use the thigh vents up to about 30F. The loose fit helps a lot with air circulation on the way up.



The bib pockets are the perfect size for a phone and wallet when riding lifts, though they sit under the waist belt of my day pack, which is a bit of a pain for touring. I don't put much other than a facemask in the thigh pockets, but they're plenty big enough to keep a map or pair of gloves. The two-way front zipper is also handy for relieving yourself.



I haven't had them in a full-on storm yet, so I can't comment on the wetting out issue people seem to be having. All-in-all awesome pants. Get them while they're on sale!
Stinger Bib Falls Short of the Mark
Gender:

Male

Familiarity:

I've used it several times

Fit:

True to size
After extensive research on these pants and positive remarks by Blister Gear review, I decided to pull the trigger.



Fabric:

Out of the box the N80Pp-X fabric felt much more supple than expected, but still rugged. The Keprotec instep and Cordura cuff add durability for climbing with crampons, though it would be nice to see the fabric go an inch higher and wider for added protection.



**Update: After 22 days of use the buttox region blew out in a big 3" tear along the seam. They were not sliced by a rock or any sharps.



Features + Fit:

The waterproof zippers work well. With three zippers each you can very easily open or close them for dumping heat or if nature calls. The storage pockets on the chest are perfectly sized for batteries, headlamps, multi-tools etc. The leg pockets are cavernous and accommodate gloves very nicely. The suspenders adjust easily and can accommodate a wide variety of heights, but the pants are geared towards tall slender folks. Personally the athletic fit through the torso was not an issue for me, but is something to consider if you have a few extra pounds or are broad.



Performance:

In good weather these pants perform very well. Zippers do not ice up and they do not ride up like other bib pants. I switched back to Gore-Tex for harsh weather waterproof performance in the snow, sleet, and freezing rain while skiing, digging snowpits, mountaineering, etc. Storm riding lift serviced laps the pants wet out after a few hours and I was left cold and wet the rest of the day. At first I thought it was a fluke, but every wet day in the mountains so far this year I've come home wet. This wet out is due to a change in the DWR coating used and is a known issue. It can be refreshed with normal washing, but is not as resilient.



Bottom Line:

These pants have better features and a better fit than any pant I've owned, but the waterproofing technology needs refinement. Durability suspect.




Has anyone else had issues with wet through? Mine were brand new at the beginning of the season. Seems very uncharacteristic for Pro-Shell.
Best Answer
Spoke with Arc'teryx. DWR coatings have changed in recent years to address environmental concerns surrounding fluorocarbons. (C8 fluorocarbons containing POFA and PFOS) The C6 class of fluorocarbons is the one currently in use and has lower performance. Currently the C6 class is in its first iteration and manufacturers have had wet out issues with them. Future iterations of C6 will improve.
Where can we get some of the old style fluorocarbons? Is there a black market resource? I've noticed a lot of new goretex\waterproof materials wetting out and seems like the old Nikwax (etc..) re proofing worked better. Thanks for finding out Ryan!!
Do the leg side zippers go from thigh to bottom? I need long side zippers to facilitate putting on/taking off my knee braces. Also, is the front zipper two way so as to facilitate urinating?
Hi Jim,



The Side zippers on the Stinger Bibs do not go down to the cuff, so they will be difficult to use with knee braces. I would look at either the Arc'teryx Beta AR pant or the Alpha SV bib. Both have very long side zips and snow gaiters that open up to facilitate putting them on over boots, crampons and knee braces.
performance review
Familiarity:

I've used it several times

Fit:

Runs large
finally got the XXL, the XL were just irritiating me

the XXL are humongous.

LOVE THEM

.they are way too big in all areas. seat waitst they fall downwithout the braces up legs are, well u dont feel the material what so ever, BUT the best hing is the lenght is perfect!!!!!

i like loose. i hate tight restrictiong clothes like a cat hates a bath.

the xxl are miles too big but.. i will never change them!!!!

a good pair of themals underneath, utterly sensational..utterly sensational was-10 plus wind sp prob more like -15 ish and these killed it .



the pockets are HUGE u can put a pair of goggels in the leg pockets or a glove in each pocket NO probs and not feel them!

the mini pockets o nthe waist line or rather tummy line are for phone ,money what ever.really good.

wind????

what wind??????

bullet proof.

used the patagonia powder bowl pants the day after as a comparison, both are brand new, thers a time and palcefor both

these are absolute no brainers for any kind of walking, hiking, tough stuff uhave to do, the patagonia are just warm. delish pants but u HAVE toi hae a longer jacket with them powder skirt or not.

the arcteryx i have a climbing jaket with then, ate it up and spat it out. no isees at all.

light as a feather.

unfortunatly im done for ski gear now for a long long time

these duds ARE the aboslute nuts.


intersting fit
Familiarity:

I've used it once or twice and have initial impressions
hmmmmmmmmmmmm , as someone said age appropriate midsection,..........

these are tapered around the waist nad feel restrictivve.

the length is perfect. the flow is perfect , the seat is perfect, the sqaut is perfect.

the waist is a nuicence. its JUST not right.

the next size up is WAy to big.

looksl iek i gotta diet to make these work best.

svelte tall guys will be all over these.

endo and ecto morph shape gusy might struggle unless they lay off the beers for a cpl of months.

but what a great design, colour,i got the green, ahh if only for the waist. anything wrong with cord belts i ask??????
My new go to bibs...
Familiarity:

I've used it once or twice and have initial impressions

Fit:

True to size
I've used the Patagonia Powslayer bibs for a little over a season, and decided to bite the bullet and buy the arcteryx stinger bibs when I saw it on sale. Backcountry was great on price matching and I got it for a good price.

I got the bibs not too long ago so can't comment on durability. I've used this a few times in April on some wet storm days, skiing on a mix of snow, wet snow and also rain, as you would expect from Gore Pro Shell it's totally waterproof and excellent on beading water!

I'm 5,5" ~147lbs somewhere between 30 and 32 waist and 30 inseam and the small fits me perfectly, the fit is not so generous above the waist area like the powslayer but it's not restricting, it's a nice snug fit, legs are less relaxed but still good room for layering, I could fit either a merino baselayer or a fleece pants for really cold days. It looks a little longer compared to the powslayer, but I'm not really sure.

The pockets configuration is great for me, the two upper pockets are small, but useful and they don't make the bibs part bulky, I would put things like money and cc for apres, ID and things like that, since they are not really easy to reach if you are wearing jacket and pack, I prefer to put stuff I grab more frequently during my day on my jacket pockets. The two lower pockets are big enough for a balaclava, glove liners, neck gaiter or other things like that, maybe a trail map if you are skiing inbounds in a place you are not used to.

Venting is great, two big side zipper venting that go from the top of the bibs to around the knees, the best is that it's a triple not dual zippers, so you can play with it, you don't need to open all the way to the top of the bibs to vent and you don't have zippers hidden bellow your jacket! The drop seat seems practical and easier to use compared to the powslayer.

I'm really impressed by the stinger bibs, it costs $100 less, and more durable(??) 80D vs 70D, but I think both are comparable and I'd get the one that fits better!
Solid Construction Makes Riding A Dream
Familiarity:

I've put it through the wringer

Fit:

True to size
These pants have really allowed me to go deep into the backcountry without worring about overheating or getting wet. The side vents do a fantatic job of dumping exess heat when touring in warm conditions but are placed in a way that don't allow snow in like snow crotch vents do. I've used these low elevation in Oregon where conditions are extremely wet and rainy. Didn't get a tad bit wet and didn't overheat, the garment breathed beautifully. These are by far the best ski pants I've ever owned. They don't have too many pockets and have just enough storage space and venting without being overly excessive. The only minor things that I don't like about them is its hard to roll the cuff, like when you have shoes on before or after you have boots on. Not a big deal just a minor nusance. Overall I'd buy these again, even considering Arc'teryx's high price. You definitely get what you pay for hear, a super high quaily durable product.
Not good fit for the imperfectly svelte.
Familiarity:

I returned this product before using it

Fit:

Runs small
Service was great. Color appropriate. Quality excellent. But, the product seems best for the young svelte person. I'm actually fairly fit, but age 51, and have an age appropriate middle, for a fit 51 yr. old. The bib part doesn't accomodate that; too small and tight. The next size up for me would then be way to big and long in the legs.
Why not combine the theta and stinger?
Familiarity:

I've used it several times

Fit:

Runs large
So I just gave my loaner bibs which were the arc'teryx thetas back to my buddy until I got my stingers. They are quite similar and wonder why they don't just combine them into the perfect bib. These stingers have been great though, super crisp 80D face and cordura cuff makes it pretty stout. Perfect blend of minimalist bib and enough storage. They fit a bit baggier than the athletic fit of the thetas or mammut pants in my experience. I purchased a large and I'm 5'10" 175, they fit a bit loose but nothing like a park rat getup. vents dump heat well and craftsmanship is lux. Highly recommended.
Weird Bibs
Familiarity:

I gave it as a gift but have feedback to share
I got these pants for my father for Christmas- he's an avid skier and demands quality out of his touring gear. He's 5'11 and about 160 lbs- so very tall and skinny. I got the size M, and the inseam on them was great- as well as the fit through the waist. However, the bib-fit part was just plain weird. The bib flap fits skin tight halfway up your torso- hard to get full movement in, and definitely not what he was looking for to tour in. I ended up returning these, and will be getting the regular Stinger instead. The quality of the pants is supreme- just not a fan of those bibs!
Arc'teryx Stinger Bib - Men's
Hi. I'm 5'9 195lbs and was wondering if a...
Hi. I'm 5'9 195lbs and was wondering if a large would be to big or if a med would be better fit. Thanks.


Best Answer
Roberto,



It really has more to do with waist size. If you are around a 33 in waist the medium would be best, a Large has a waist size of about 36 in. You can see the full sizing chart above under the size selection choice on backcountry, or here on the Arc'Teryx website: http://www.arcteryx.com/sizing-chart.aspx?EN/men-s-expedition-fit-pant-sizing-chart