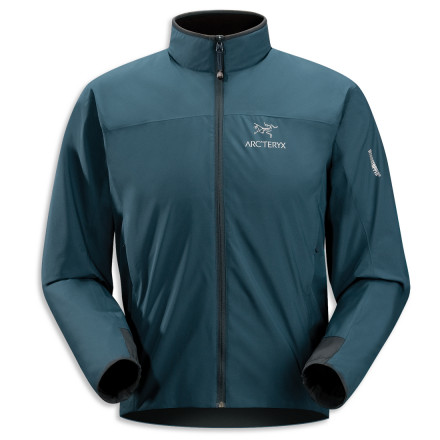 The Arc'teryx Men's Solano Softshell Jacket protects you from a howling gale with its nylon face fabric and WindStopper membrane. Although the Solano Softshell Jacket adds warmth and wicking with a brushed polyester lining, it has smooth nylon inside the sleeves to eliminate bunching when worn over a base layer. Thanks to the thin, lightweight design of this Arc'teryx softshell, it provides plenty of breathability for a trail run or cross country ski tour. *Only available for US shipment.
only if you're lonely and need the delivery
Well, my kids say I have a jacket for every 5 degrees of temperature. But this jacket now sits on my coat rack, waiting for its ideal time and temp. Yep, it looks good, as Arc'teryx jackets do. And, yep, it fits well. But my rain jackets (PacLite & Hoodini) give me all the weather protection I need. It is clammy and funky-feeling against the skin, sports only 2 outer pockets, isn't long enough in the back to be an efficient cycling jacket. But current BC pricing in good, so if you don't get much mail, and want a new jacket delivered to your house or P.O. box, go ahead and buy this one. It will look good on the coat rack, and maybe you'll find just the right weather for it to perform. So far, it hasn't done much for me.
My beer belly and this jacket were a bad combination. Drop hem in rear but very short cut in front. My Gamma MX and Atom LT flatter; this one fatter! Return.
Feels like you are not wearing a jacket!!!
I wouldn't choose this functional garment for any heavy duty use but for day to day usage, especially in the South, you can't beat it. Very comfortable, warm enough and light as a feather. I have had this jacket for about a year. I have washed it a few times and it looks good as new. I would definitely purchase it again.
We live in the south and we are looking...
We live in the south and we are looking for a replacement to his Northface Apex. We are wanting more warmth, but all weather on the outside. He wears this jacket most of the entire winter here.
This could be a good option as it's windproof, drizzle resistant and quite lightweight.
Another option, for a bit more toughness and weather protection, as well as just a touch more warmth would be the Venta AR or the Venta SV (slightly longer, and with a hood). The Venta has a bonded fleece inside; the Solano has a hung liner.
If you want to add quite a bit of warmth, only give up a tiny bit of weather protection,and add some breathability, the Firee is really nice, too.
Any of these will be a big step up from what you're replacing.
Denise, I assume you're getting this jacket as an urbanwear type piece. Basically, he's not going to be climbing mountains in it. As such, run and hide from Arc'teryx. It's designed to be overpriced urbanwear or high end mountaineering kit. Basically, nothing he'll need for a plain old winter jacket. Look at the North Face Sentinel thermal jacket, or Mountain Hardwear Android softshell jackets. Both are significantly less expensive and will do the job just as well. You could also just pick up a inter jacket at Wal-Mart...
Good looking but not for serious use
I'd only consider this as a light urbanwear jacket. It's not a serious softshell for outdoor use.

I've also had the cuff stitching come lose. I've never used this jacket with gloves, so that's not the cause. Nor have I ever used this for any rugged activity. It doesn't affect the function of the jacket, but it should not happen on a $200 piece of clothing.

The outer fabric was easy to tear- I walked into a door handle and freakishly managed to tear a hole in the sleeve. So I would never use this jacket for climbing.

The lack of a lining in the sleeves is good for layering over long sleeved shirts, but it makes the jacket unsuitable for cooler temperatures or for aerobic activity over a t-shirt as the sleeves won't wick moisture- they just get clammy.
How breathable is the Solano? I've never...
How breathable is the Solano? I've never had a WINDSTOPPER jacket before, which makes me reluctant to try the Solano. Plan on using it for active use in the winter, and breathability is key. I don't want insulation- in the winter, I end up wearing nothing but a merino base layer and my hard shell once I'm warned up. I saw a TNF Windstopper Active at a local store, which uses the same type of WINDSTOPPER, and it looked and felt like it'd a sauna if you were hiking or running in it.
Best Answer
For high output activities, I like non-membrane jackets much better. check out the Gamma MX, Gamma LT or the Epsilon. These all block a good amount of wind and moisture, but breathe much better than any windstopper jacket. Plus, they make great insulation layers under a hardshell if the weather really gets heavy.
Brandon, the Epsilon has a membrane. Rev, look at jackets like the Stoic Wraith or the North Face Verto. They're just ripstop nylon wind jackets that are crazy light and will block the wind. Windstopper breathes like crap and is only good for gloves in my opinion.
I wear this nearly everyday bike commuting in the PNW. I find it to block all wind and I only add a shell in constant rains; this jacket handles mist and light rain excellently. The fit is nice and trim (5'5" 125# wearing a size small). I also really like this jacket as light insulation on a ski day - I wear it touring when I don't need my shell. My cuff stitching is coming undone similar to ferrantech I suspect, but from all the glove/cuff interaction it has been through I am not surprised, however, the elastic is still fine, just some random stitch is loosening - not a functional problem at all. The "recommended use" section to the right includes cross country skiing - unless it is below zero you will sweat way too much in this skate skiing.
Best Answer
I am 5'8 and 165lb with 39" chest. I wear a medium for all Arcteryx gear. There is enough room to fit even a thicker base layer.
This is a very thin jacket that does well in the wind. It would keep you dry during a brief shower, but not in a steady rain. The polyester lining helps to keep your torso warm, but it's really nice that the sleeves don't have it (so that it's relatively easy to put on over a long-sleeve baselayer). Really, this is a high-quality, breathable, no-frills windbreaker. I gave it 4 stars primarily because it has only the two hand pockets (no chest pocket, and no internal pockets). It's fit is fitted (slightly more than the Gamma AR or MX) so there's not much room for layering.
I received this jacket as a gift. I am 5'10 210 lbs I have a XL and the fit is good nice a loose, I don't like them too tight. I use it for trail running and it blocks wind good and is warm enough for me to just wear a t-shirt under it while running in 25-50 degrees. Also a nice every day jacket. The only problem is that the stitching is coming out on the sleeves; not surprised since it was made in CHINA. Arc'teryx should stick with Cananda made. I own a lot of Arc'terxy gear all of it is good except the stuff made in China. I have stuff made in Cananda, Thailand, USA and its all good.
This is just a fantastic jacket. It weighs next to nothing, blocks the wind very effectively due to the Windstopper material, breathes just enough, and it's thin enough to wear as a mid-layer on colder days. It also looks great when you wear it, which is something that Arc'teryx always seems to get right. For me this is the perfect jacket for DC where I live, because it rarely gets frigid here, and I hate wearing heavy jackets. This feels like wearing a comfortable shirt and I can wear it a good 7 months out of the year. I also got it on Sale at Hudson Trail Outfitters in Rockville, MD for $150! Can't beat that!
A really great jacket to have.
After being somewhat disappointed with some of Arc'teryx latest offerings (don't they make anything in Canada anymore?), I can definitely say that this is a must have jacket. The athletic fit is like having a 2nd skin and it does keep the wind out. The only reason why I didn't give it 5 stars was the lack of a pocket up near the chest area (either inside or out) to carry an iPod.

Well Done Arc'teryx!
Hi, I'm 180cm and 80kg, what size should...
Hi, I'm 180cm and 80kg, what size should I choose? THANKS.
Best Answer
See the sizing chart next to the product image
Great running jacket! Beats Nike / Asics
This is great running jacket for winter time. I tried Nike, Asics, and ended up with Arc. I run in the city road maybe 3~5 time /wk, and needed something solid to wear during winter training season (read as off season). This jacket keep wind out, and has good enough warmth. The only downside is the material making noise while running, I guess that's the windproofing. I'd also hope that they will add an extra pocket on bicep or chest to carry a MP3. Oh, and pricing was VERY good, even compare to mass produced Nike or Asics....can't belive I spend more than $20 for running jacket. Haha.
First off, the jacket blocks wind like a champ. In San Francisco, the wind gets pretty strong in some places and I haven't felt bothered by the wind while wearing this jacket at all. The material is very light and packable. It does tend to get chilly on cold dry days, but I don't think this jacket was meant for those days. Carry a layering sweater and you'll be fine in the city. The sizing fits perfectly and true. It is cut slightly shorter in the front about an inch.