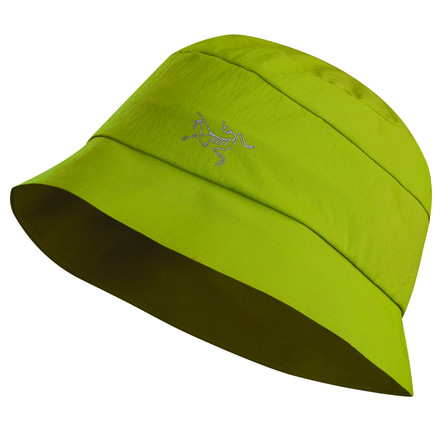 Colors
As the sun peeks over the red rocks during your desert hike, pull the Arc'teryx Sinsolo Hat out of your pocket and block the UV radiation from burning your sensitive scalp as it climbs in the sky.
Share your thoughts
What do you think of the
Arc'teryx
Sinsolo Hat
? Share a...
Super light weight, crumples into a lemon sized ball and springs back to shape easily. I have a large head and the L/XL fits snug and stays put. The brim isn't super wide, so don't expect it to block sun from much past your ears. Material is tough and yet supple, no comfort issues here!
this thing is a champ if...
This just arrived in the mail. I think I'm going to like it. The 94% nylon / 6% spandex blend is uber freakin lightweight, and feels comfy on my grape already. It sports a 2" brim and a 3.5" crown depth. I think it's going to be an awesome summer hiking hat.

I wear a 7 1/2 to 7 5/8 in fitted caps and the L/XL just fits. The color scheme in the Calico is saucy and fun. I will wear it hiking tomorrow and update my review.

Edit/Update: I knocked out a 7.5 mile dayhike today in sunny conditions and this thing is a champ if it fits you, but it was just snug enough to start bothering me halfway into the hike. I will be returning it and sticking with my OR Sun Bucket and Patagonia Bucket hats for now.
These sold out quickly, so I know plenty...
These sold out quickly, so I know plenty of folks have one...can anybody post up a review and some pics? I am also interested in sizing and fit opinions, since I can't find an Arc'teryx size chart that includes headwear.
Best Answer
Allllllrighty, then...no replies, so I guess I answered my own question by buying a hat once they got back in stock. See my review if you care...
Cam--I have a Sinsolo in the cargo green L/XL. The measured diameter of my head is 23 1/2 inches/60 cm. The hat fits my head like a snug (but not tight) stocking cap style beanie. For me, that's good cuz when I'm backpacking, it doesn't blow off in high winds or on top of mountains like in the appalachians that is. If your head is any bigger than that however, I think this hat would fit very snug. I like the way you can flip up the brim for a little fashion flare in the wilderness or to get a little more breeze under the brim. The brim is just wide enough to keep sun out of your eyes, but because the brim is so narrow, in rain, even under a shell hood, it doesn't always shed as much water as I would like and it drips onto my cheeks and down.