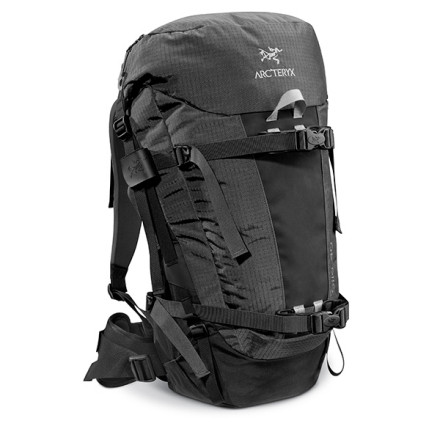 The Arc'teryx Silo 40 Backpack carries either skis or a snowboard and holds enough gear for a full dawn-to-dusk day or backcountry riding. This roll-top backpack includes a front shovel pocket for quick access in the event of an avalanche. Arc'teryx gave the Silo 40 Backpack 2440cu inches of cargo space to carry the food, water, and extra clothes for your all-day backcountry tours. Burly Superpack nylon fabric holds up to tons of abuse, and Hypalon reinforcements ensure that even the nastiest yard sale couloir crash won't wreck this versatile pack.
Not what it's cracked up to be.
At first glance when I originally ordered it, this backpack was awesome. The ski straps on the back the would perfectly fit my skis or snowshoes. It was very compact and the perfect size for winter Adirondack days. I also loved the simplicity of the design where the top did not have a zipper, just a waterproof roll top. Unfortunately when i got it from backcountry it was a different story. When the pack came the hydration port on the side was too small to fit my camel back tube through, i would have just cut it to make it work but i also found pieces of the stitching and fabric loose inside the main compartment, indicating there was a tear in the pack somewhere from manufacturing. So i returned it for another one. The second one that came had a large enough hydration port but its hip belt laced through the shoulder strap making it impossible to wear, the only way i could have fixed it was to cut the strap and then sow it back together but i had a problem with Arc'teryx and wanted a pack new that nothing was wrong with. So i returned that one and my third silo 40 pack came. I looked over my third silo 40 and sure enough some stitching was loose on the shoulder strap about where the chest strap is. I didn't feel like it was worth another return so I took it out for a day hike in the high peaks region. It was the most uncomfortable backpack i have ever worn!!! At the end of the day my back was so sore i wanted nothing else to do with the backpack (yes i was carrying the recommended load)... and to add on the frustration during the hike the weak stitching ripped by the chest strap. I returned it and am going to buy a mile high mountaineering pack.

Overall I would have given this backpack one star if it weren't for the design but do not buy this pack, after three manufacture defects in a row and one of the most uncomfortable days hiking of my life i will not be one to buy many arc'teryx products again. Stick with their chalk bags... at least they cant mess those up too much and for your own good look for another pack on backcountry, this one is not worth your time and money.
Trying to decide between the Arteryx Silo...
Trying to decide between the Arteryx Silo 40 and Black Diamond Revelation. The primary use will be ona 7-day ski mountaineering trip (The Haute Route). Any recommendations?
go for the black diamond it has more ski specific features plus you could get the avalung version
Is this pack better for wet conditions...
Is this pack better for wet conditions than the osprey kestler 32? i own the osprey and i was up in the mountains of japan on a wet sleety day and my rain cover and pack soaked through. i like all the pockets and gear loops of my osprey, i guess the big question is how do they stack up? i do not ski or snowboard either.

thanks bryan
Best Answer
The Silo series is not designed to be waterproof. If you want a waterproof pack, Take a look at the Arrakis 40. Otherwise, I suggest an alternate strategy for dealing with wet conditions:

Pack covers are notorious for soaking through. It isn't easy to keep water out when, by design, there's a big hole in the thing. Pick up a lightweight drybag - I have a 33 liter model from Granite Gear that weighs almost nothing - and use it to line your pack. Stuff everything inside of it and close it properly. Your gear will stay dry and you can keep the Osprey that you like.
Dave, I have the Arrakis 40 and love it. Looking to get my fiancee a 35-40L pack that can do ski touring, hiking, packrafting, etc... so I'd like it to be waterproof. Is there any other pack out there besides the Arrakis 40 that is waterproof? do we know why they are so hard to find? besides for price, it seems a no brainer?
Versatile and comfortable
The rolltop opening makes stuffing and rummaging simple without fumbling with zippers or ties, just a cinch of the straps that secure the opening. Not much compartmentalization inside but the simplicity has it's appeal. I dont typically need to carry all that this pack can accommodate, but the fit and ease of use give her 4 stars from me.
Great pack- Not lift friendly
The Silo 40 is a great pack. well thought out, superb construction, and very very comfortable. The ski straps work excellent for carrying skis and there is ample room and pockets to store gear and its very easily accessed. 40L however is a pretty big pack for resort skiing. I kept bumping into people on the tram and was a bit of a pain taking it off for the lifts. I have the M20 which I prefer for the resorts (the silo 30 would also probably work better). I have used this for many day trips and a some multi day trips and found it perfect. It is a great multi purpose pack!
Im looking for a pack that I can use for...
Im looking for a pack that I can use for day possibly some overnight/weekend backcountry trips, but that I can also use on the app trail this summer... Is this big enough or am I gonna be pushing it for space? Id go with the arrakis but I cant really justify that kind of cash
Eric,

This pack will do really well for weekend trips and overnighters. On the trail this summer, if you're traveling in a larger group and have a lot of "group gear" ie gear that everybody can use and only one person needs to carry, like pots and pans and tents, etc. this may work if you pack light (and I mean LIGHT). Depends on how long you're gonna be out there and how many changes of underwear you want to bring along. If you'll be out there more than a week and with a small group, look at "expedition packs" at the following address:

http://www.backcountry.com/expedition-packs-5000-cu-in

Or, if you still want to go the way of the light-weight packer, look at week-long packs here:

http://www.backcountry.com/weeklong-packs-over-4500-cu-in

You can find a lot of bags in a similar price range (Arc'teryx is pretty luxury stuff) that are still durable and light(ish) weight. As a college student I totally understand wanting to save on quality gear, and this is a great place to do it. Steepandcheap.com has had some good deals on great packs lately as well.

Happy trails!
the Arc'teryx Axios 50 sounds like it might be just right. A bit more room, a bit lighter, and for the same price. The Axios are designed for trekking, the Silo is more of a ski pack.

http://www.backcountry.com/arcteryx-axios-backpack-50-mens-3051-3661cu-in
Ok so maybe a bit bigger would be better, but Brandon, I am looking for somewhat of a ski pack, the axios doesn't have snowboard carry, which is almost a must for me. However, Hunter, I dont want to go too big because I will be riding with this pack pretty often. Too large causes alot of swing weight and is a pain in trees.
http://www.backcountry.com/mountain-hardwear-direttissima-backpack-2750-3500cu-in#review_200002331

Im looking at this pack.. It looks like the compression straps could be used to carry a board
Write your question here...Can anyone tell...
Write your question here...Can anyone tell me what you are doing with your rope on this pack? Does the pack allow you to have easy access to a rope without it being way down in the bottom?
jwo,

With careful packing and practice, you can always have your rope close(ish) at hand. However, this pack is geared towards backcountry skiers/boarders, with straps and pockets for appropriate gear. If you're looking for a climbing-oriented pack with a special rope pocket, check out this pack:

http://www.backcountry.com/the-north-face-fulcrum-35-backpack-2200cu-in

I love love LOVE this pack for day-trips and multi-pitch climbing.

Happy trails!
I use this pack for climbing as well as my backcountry winter activities. I use the vertical snowboard/ski straps across the back of the pack to hold my rope when climbing. It keeps my rope super accessible and leaves more room inside the pack for other gear. I use a 30 liter dry sack for my rope to avoid dirt, rain, and damage to the rope (since it is on the outside of the pack).
Unanswered Question
Hey Guys, I tried this pack on in a tall,...
Hey Guys, I tried this pack on in a tall, nice fit, except the waist belt. Apparently comes in large only. Can I get an extension to make it larger? Or is there another comparable pack for touring that is a bit larger in the waist but still fit a tall. Any input would be greatly appreciated. Thanks. James
I have never felt a more comfortable pack with skis on them! Finally a pack that rides comfortably with the skis in vertical position. This pack is almost perfect - I can't quite fit my old shovel (Voile Telepack) but my new one fits great (BCA Traverse EXT) in the front pocket as intended and an insulated tube thingy would be nice. There is plenty of room for an extended day. Like you've read, the material is very durable. I have 3 other Arc packs (Bora, Needle, Khamski) and this may be my favorite. Too large for comfortable lift-serve for sure, but great for all day off-piste tours. What fits in the main compartment? Skins, couple sandwiches, zip locks of snacks, 2L water, down, helmet, goggles, hat, first aid kit, shell, extra gloves, socks, and hat: lots of space. Way nicer waistbelt compared to the 30L and 18L versions.
THIS PACK IS AMAZING. I WANTED A DAY PACK THAT I COULD FIT MORE GEAR INTO IF NEEDED AND COULD USE IN THE WINTER AND CARRY MY SNOWBOARD, SNOWSHOES, ECT. PERFECT SIZE, PACKS DOWN WELL WHEN NOT FULLY LOADED. HESITANT TO BUY AT FIRST BECAUSE OF THE PRICE, GLAD I WENT FOR IT. THIS IS MY FIRST ARC'TERYX PACK BUT I DON'T THINK IT WILL BE MY LAST. THE DESIGN SEEMS TO PAY ATTENTION TO EVERY DETAIL ABOUT HOW A PACK SHOULD BE MADE. THE BACK PANELS AND WAIST STRAP FIT GREAT THEY ARE CURVED TO FIT THE NATURAL ARC OF THE SPINE AND HIPS. WATER RESISTANT ZIPPERS. THE PACK BECOMES WIDER AT THE TOP, WHICH IS SMART, I ALWAYS FIND THAT WITH MOST PACKS GEAR FALLS TO THE BOTTOM AND PUTS MORE WEIGHT ON THE LOWER BACK, THIS PACK IS BALANCED. I ALSO WENT FOR THIS PACK FOR THE ROLL TOP CLOSURE. SOME MAY NOT LIKE IT BUT I THINK ZIPPERS BECOME A HASSLE, AS WITH LID/BUCKLE CLOSURES. WORTH THE PRICE.
WHERE IS THE OPENING FOR A HYDRATION TUBE...
WHERE IS THE OPENING FOR A HYDRATION TUBE ON THIS PACK? (I CAN'T SEEM TO FIND IT)
Best Answer
The port is located along a seam above and to the side of the left shoulder strap. You almost have to run your finger along the black fabric to find the opening. its certainly there- just a little tricky to find. If you open up the bag you will also notice a slightly different rubber material along one of the seams (above and sideways to the left shoulder strap), thats where the port exits the pack.
What are the physical dimensions of a size...
What are the physical dimensions of a size tall Silo 40 (LxWxH)? I wanted to know if I pack this less then full could I bring it on a plane as a carry on?
Silo 40 Tall: 27" x 12.5" x 12 (LxWxD)
I'm sure you could use this as a carry-on, even if it's full. Probably a bit bigger than airline standards, but it will definitely fit in the overhead.
anyone know if this pack could work well...
anyone know if this pack could work well as a climbing pack in the off season?
thanks
Best Answer
I've used my Silo 30 for some cragging, and I think the 40l would be great. It's got aluminum stays so it can carry the kind of weight that climbing gear involves.
I use this pack for hiking and rock climbing in the warmer weather. Although it may have some unnecessary features for fair weather usage, I find it to work great.
Does this have good hookups for an axe or...
Does this have good hookups for an axe or two?
, ☃bcs_badge_alumni_label☃
Yes, these have two ice axe loops.
Will this pack carry a fat powder ski? I...
Will this pack carry a fat powder ski? I have the Volkl Kuro's that are 132mm underfoot. Will they fit on the side on the pack in the A-frame style?

Thanks in advance!
Best Answer
I'm sure it will work, but I would reassess carrying those anchors on your back. Are you going to be walking through powder to get your turns? That will be very difficult. If you're walking on hard snow, why would you be riding Kuros? If you're slowshoeing, why not just get some skins and AT Binders? It is not fun to tour with heavy skis on your pack, and will cause back pain and lots of frustration. If you have other plans in mind, then go for it! You'll be able to get those Kuros on there, A frame style. Enjoy!
I know they are somewhat heavy, but not that bad. I've done some decent bootpack hikes with them on a different pack I have now in a A-frame position and had no problem with weight. Thanks for the answer! Look forward to using my Kuro's with either this or more likely the Silo 30, assuming they will fit on the 30 also.
Arc'teryx Silo 40 Backpack
I just used the Arc'teryx Silo 40 Backpack for a two day tour in the backcountry and I really like the suspension and frame on the pack - heavier loads were no problem at all. There is a good hydration system and access is nice via a side loading front pocket and top loading main compartment. I think the closure system on the top is a hassle but it does keep snow out (I planted my head about 4 feet into a wind drift and everything stayed dry). The ski carry could also use improvement but is functional enough.
How large is the hydration pocket? I am...
How large is the hydration pocket? I am a previous owner of the Gregory Targhee and liked the pack but am a snowboarder so i was a little turned off as it seemed the Targhee was a little more skier oriented although the hydration pocket was rather roomy
I've stuffed a 100 oz. reservoir in my Arc'teryx Silo 30. The hydration pocket on this will fit the same, but it's not too big as to have extra fabric. It holds a full reservoir nice and snug.
im 6'2", proportioned averagely, would i...
im 6'2", proportioned averagely, would i need the tall or regular?
Best Answer
Yeah, buy the tall. You cold get away with the regular, but the tall will fit you much better.

If you are still not sure, here is the link to the pack measurements on the arcteryx site. www.arcteryx.com/pack-fit.aspx

Great pack, customer service
Super comfy, bullet proof construction and if you have issues, Arc'teryx has customer service right up there w/ backcountry.com. Been attaching my board to this pack all winter and the system is holding up like new! Fish-mouth opening makes it so easy to pack and offers great accessibility to anywhere within the pack. Really slick design and clean-looking; not too much going on on the outside so you don't look like you belong in the Himalayas.
I own this pack in size 'short' - it took me all winter and most of spring and summer to finally locate a good backcountry board pack and buy it. So far I've only used it to climb a technical peak, and while it isn't really a climbing pack (a little heavy), it was the perfect size for a summer bivy trip and extremely comfortable (I also own the bigger women's Bora pack, also very comfortable) despite being very full while climbing 5th class and hopping over mile-long talus and boulder fields. I actually really like the rolltop so far- it does take two hands (vs. zippered packs), but opens up all the way instantly. The shape of it (wide at top, narrow at the bottom) makes it very easy to 1)pack it; 2)find/feel for things inside it; and 3)unpack it. Also, the burly straps for gear/snowboard look like they will hold up much longer than straps on other packs I was looking at (i.e. osprey switch 25 or 36). I originally bought the BCA stash BC rider pack, but it was WAY too long (I am almost 5'5"). One thing I noticed but don't care about at all is that you can't really overstuff this pack- the roll top closure doesn't really work if you have too much stuff in it, and it is a little harder to cram shut.
--and now, an addition to the review--
its summer now and I used the pack all winter. I
couldn't be happier. I have noticed that I have to pack my shovel and probe carefully so that the everything makes it out of that outside pocket effortlessly (time is life). However I have a longer probe and a large-ish shovel (blackdiamond guide 300cm and T7).