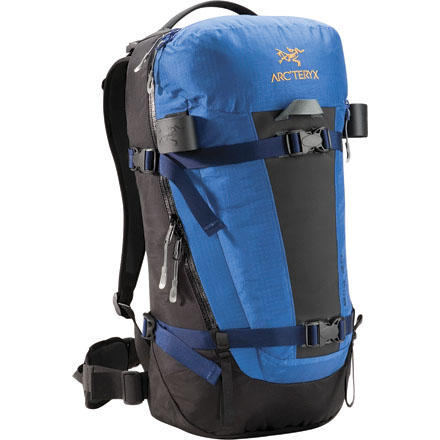 Detail Images
The Arc'teryx Silo 30 Backpack holds everything you need for a half day in the backcountry, and it has the versatility to let you travel on skis or a snowboard. Whether you prefer one plank or two, the Silo 30 Backpack carries your ride(s) in a variety of positions to best suit your preference and the terrain. With 1648cu inches of cargo space, this Arc'teryx pack holds plenty of extra clothing, food, and water to keep you going from first tracks until you get tired. The Silo 30 Backpack also includes removable pre-formed hip-pads for plenty of support and comfort when you have to pack your skis or board a long way up the trail to in get some early season turns.
very well made & versitle
Familiarity:

I've used it several times
Ive bean using the pack for about 2 years now, everything from summer overnights to multi-peak mountaineering. outer straps are very versatile and can hold alot more than just skis. rear strap is perfect for sleeping pads, snow shoes, or the layers you just took off.. at first wasn't so sure about clam shell design but now that im used to it i love it. waste straps are in my opinion the perfect size for this size of pack. built arc'teryz strong!
Looking at this pack for day long tours...
Looking at this pack for day long tours in the backcountry.
I am a splitboarder who mainly rides with a 20L pack and wanted a little extra space for a lunch/water. and I have a few questions
Will the shovel pocket fit a black diamond deploy 3 shovel and super tour 265cm probe?
Has anyone used the crampon carry? how is it?
Best Answer
I pickup this backup yesterday from REI and I was able to fit my black diamond deploy 3 without any problems. There is still plenty of room and another loop that could hold the probes. It shouldn't be a problem.
Good for some...not for me
I love the aesthetics and even the layout of the pack...I loaded it with everything I would need for a day in the backcountry and put it on and no matter what I tried...could not get it to fit. Could be that I am a 5'9" female with a freakishly long torso...but the pre-molded back panel hit in all the wrong places for me. I really wanted to make it work but the back panel had the internal frame (which on this size pack, I don't really understand) did not make it work. Backcountry was, as always, a wonderful example of what a business should be but the pack was too heavy and too uncomfortable for me. If only they would design a pack for us tall and gangly female skiers...
I've been using the Silo 30 and Silo 50 for two years now. I couldn't ask for a better backpack in the backcountry and resort. The silo 30 is an ideal day pack bag for tours or in the resort. The outside zip carries skins easily, the top zip carries goggles, hat, snacks, or any gear you use often, and there is ample space inside for your shovel, probe, bladder, lunch, SLR, and 2 layers of extra clothing. I very much like the ease of the ski carry as well: fits up to about a 130mm waste ski no problem. There is minimal damage after 2 years of 50-100 ski days with it. It is hard to find a good-fitting small pack for tall people (I'm 6'1), so the fact that Arc'teryx makes this in small-large is perfect. I really don't have anything negative to say about it..
I was a little afraid that this pack doesn't hold enough as I traded in my Arc'teryx Miura 50 because it doesn't have ski/snowboard carry and a is a bit large for me even in "short". It surprised me that this pack held my Nikon D200 with two lenses and a 60m rope plus some odds and ends for the dogs on the hike. The ski poles and snowshoes get attached outside, as does the crampons. It's so comfortable that I hardly feel that it's there - just like all Arc'teryx packs.

So if you are small in frame or height, get this pack. You won't be disappointed! :)
I absolutely love this pack! although there are a few things I would change
I use this as my snowboard/splitboard pack.
This is the best pack (and i've tried many) for carrying a snowboard, this is due to the harness system Arcteryx uses.
I have fit a shovel, probe, and snowboard boots into this pack (it was a tight squeeze)

A-frame carry also works great and can fit a splitboard (or super fat skis)

Cons:
The organizing internal sleeves and pockets in my opinion just add weight and take up space in the pack, i guess they could be used to keep your gear dry, but they are oddly sized.

The hip belt would always seem to get loose from the pack side of the adjustment, this would only happen in millimeters per trip, but still annoying.

The pack started to fray and get weird bubbles in the waterproofing, I sent it back to Arcteryx and they replaced the pack no questions asked, by far one of the best warranties in industry.

Overall this pack works great and even used it as a daypack for transporting stuff to and from work, and loved it.
How is this pack for activities other than...
How is this pack for activities other than backcountry skiing/ hiking? Has anyone used it in warm/hot weather?
Best Answer
While I haven't used this pack in hot weather, I have used it in warmer weather for activities besides skiing/snowboarding. Because of its lack of separated zippered pocket for a shovel and probe, it converts over to other activities rather well. The multiple compression straps help stabilize any load, regardless of the conditions or activity. I wouldn't worry about it making you too warm - sure others with airflow this and mess panel that might do better - but this is still a great all around pack.
I've day hiked, skied, climbed, ran with this pack. Plenty of room, just enough features. Comfortable in all of these situations, Arc makes great shoulder straps.

The ice axe loops work great for ice axes obviously, but are infinitely useful.
I purchased this pack to accompany me on snowshoeing day trips. This is a great pack! This pack is light, has great pocket placement, bright interior lining to help you pick out your smaller items easier, and it distributes weight really well. The capacity of this pack is great for day trips providing plenty of room to pack additional base layers, or carry outer layers as you heat up from the trek, it also has a nice pouch for a hydration bladder, and has plenty of place to pack up some food for the day. I would highly recommend this pack, Arc'teryx will never let you down!
, ☃bcs_badge_alumni_label☃
Arc'teryx Silo 30 Backpack - 1648-1831cu in
RAD!
I returned my Silo 30 the same day I received it. The waist-belt is a total hunk of junk. The shoulder straps are paper thin. Never again with Arc'teryx! Osprey forever!!!!!!!!!!!!!!!!!!!!!!!!!!!!!!!!!!!!!!!!!!!!!!!!!!!!!!!!!!!!!!!!!!!!!!!!!!!!!!!!
Has anybody used this particular pack (Silo...
Has anybody used this particular pack (Silo 30) for a regular day pack? Off hand it looks like it would be a fantastic day pack! Please advise. Thank you.
Best Answer
Yes...it works great and there is only one compartment for everything (unlike more specific winter packs with a separate compartment for probe and shovel. If it fits you, its great, although I'm not sure it would be perfect for a bit more weight as the hip belt is not super substantial. Hope this helps!
The waist belt on this thing looks rather...
The waist belt on this thing looks rather cheap? Is it good quality and does it handle a load?
I find the hipbelt on the Arc'teryx Silo 30 to be sufficient to carry the kind of load this 30L pack is designed for. I like that the hip pads can be moved to fit right over your hipbones. The pads are made from high quality foam that doesn't totally compress when the belt is cinched, so, in short, Yes, it can handle a load.
Cool pack, but not perfect
Pros:
In general, I'm happy with this pack. It has several good external straps for carrying major gear (e.g., skiis, ice picks, etc.). The inside is nice - it has one basic inner zippable pouch for small stuff, an outer larger pouch for holding wet stuff (e.g., a shovel), and an inner pouch for holding a water bladder. The external part of the back is nice too with thermoformed padding that contours to my back.

Cons:
The backstraps are ultra thin. Other packs have nicely padded straps that fit nicely over my shoulders; not so much here.
The actual storage capacity of the bag is limited. can only carry so much.
Pretty damn nice, odd compression system
Used this pack a couple times so far. I got the regular and it fits me good. Just followed the sizing chart via Arc'teryx.com. Hiked with the pack and my skis for about 4 hours total. I am on the Volkl Kuros, which are 132mm underfoot. Pack has no problem fitting the size on the side for the A-frame carry. Have not tried the diagonal carry. Waist belt is pretty decent. Would prefer to be a little more beefy for extra support on the waist, but this pack is smaller to begin with resulting in the smaller waist belt. One thing I don't really like is the compression system. Wish it was just normal instead of the weird buckle wrap things. Tried to remove them but was left with too much slack in the straps leaving them too long. You will get use to them, just a little odd at first. Overall a good pack.
Unanswered Question
Is the inside pocket for a shovel or not?...
Is the inside pocket for a shovel or not? I have seen different answers. Personally, I have been using the pocket for my Black Diamond Deploy 7 shovel. Only the top of the handle sticks out of the pocket. I feel that by using the pocket for the shovel it gives me more space overall.

According to Arc'teryx.com it says that it has an internal shovel pocket, which makes me think it is made for a shovel blade. Brandon Carlile, guessing you are a Arc'teryx rep and based on a previous answer you gave to someone you recommended the shovel be placed towards the outside of the pack and clothes in the pocket.

Pack Pocket Configuration

* Faux lid pocket
* Internal security pocket
* Internal probe/ tool pocket
* Front security pocket
* Internal shovel pocket

Just curious if anyone knows for sure what the pocket was actually designed for. Thanks.
Will this pack carry a fat powder ski? I...
Will this pack carry a fat powder ski? I have the Volkl Kuro's that are 132mm underfoot. Will they fit on the side on the pack in the A-frame style?

Thanks in advance!
The Arc'teryx Silo 30 will carry fat skis A-frame, or vertically with the wrap system. This carry system can be configured to carry any ski or board in a variety of styles, and the alu frame carries them well.
Anybody used any of the ski carry systems?...
Anybody used any of the ski carry systems? From the reviews I see that the snowboard carry may be cumbersome, but what about for two planks?
Best Answer
MT Man, I've carried skis on the Silo 30. I used this pack for the past 2 winters and the carry system works well. I didn't find it necessary to re-adjust each time, just don't cinch the straps after removing your skis. I've found that it can be used to carry diagonally, vertically, or A-Frame, with just a bit of strap adjustment. One comment about the internal organization, the separator is designed to have shovel blades stowed towards the outside of the pack (along with probe and handle, for which there are sleeves), and clothing, etc, can be separated by stowing them toward your back, keeping them from spilling out when the panel is opened. This arrangement also keeps your clothes from coming in contact with any snow your blade may carry to the inside. I dig mine!
I have used the pack to carry my fat powder skis, Volkl Kuros. Didn't have to adjust the straps that much to get it to sit tight. Have not tried the diagonal but it seems to be easy to use.
Arcteryx Silo 30 Backpack
I demoed the arcteryx silo 30 for a day of sunny springlike Wasatch touring. First impressions are that it is very lightweight and simple. I didn't use any of the ski or board carrying features, so I can't comment on those other than to say that the straps are well made and include a rubber component that may reduce wear while holding skis or a board. I tend to prefer external shovel and probe storage, but I found that the internal shovel pocket is huge and can easily accommodate most shovels. My probe slipped nicely inside the pack on the side along the zipper. Pockets were well placed and easy to access quickly. I stowed the following with ease: hydration bladder, extra fleece, beanie, goggles, snacks, skins, extra gloves and a multi tool. If you are planning on touring in mid winter, or might encounter nastier weather, I'd suggest the silo 40 to carry a few other essential items (puffy jacket, extra food, extra layers). I'm about 5 foot 8, with a proportional torso and the regular size fit me very nicely. The shoulder straps adjust well, and the pack fits snugly to my torso. The hip strap was comfortable, but did pull my jacket up from my hips frequently. The pack was light and did not inhibit me during climbing, and it skied well without giving me any balance issues while dropping steep terrain. Overall, I definitely recommend it for day and half-day touring.
I took this pack out last weekend with my snowboard and snowshoes and each item fit comfortably and securely. It took a minute or 2 to adjust the straps for the board, but that's not a big deal to me. The shape of the bag is pretty narrow, so it's comfortable for any body time. One suggestion for the bag: a pocket/compartment for smaller items (snack, chapstick, sunscreen, etc.), that's accessible without having to take the bag off (either on the side of the bag or the waist straps)
Is this pack (silo 30) big enough to fit...
Is this pack (silo 30) big enough to fit average size men's ski boots or do I have to buy silo 40?
It has the cubic inches, but it would be awkward to fit them in the shape of the pack. It could be done, though. Unfortunately, average sized ski boots is not a great descriptor, and the size of the boots themselves can depend greatly on their make, model, and function.Good luck!