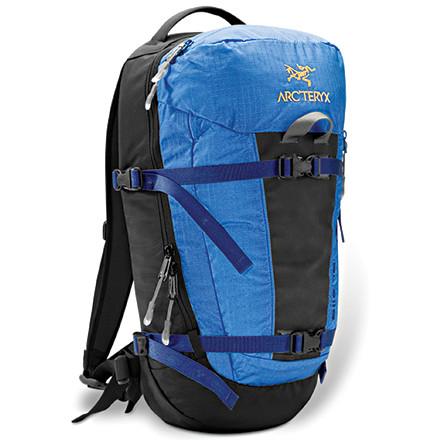 Detail Images

Community Images
The compact size and versatile features of the Arc'teryx Silo 18 Backpack goes great with a quick morning backcountry tour or yo-yo runs on your ski or snowboard. Wrap System straps hold skis or a snowboard in a variety of positions to let you choose the most appropriate for the terrain. The Silo 18 Backpack holds just enough extra clothes and snacks for a short tour, and its hydration pocket lets you bring along your favorite bladder.
The material is water repellant and I use it even in the city
Looking for a pack that i can use at...
Looking for a pack that i can use at university and in the backcountry, does anyone know if this will hold a 15" Macbook?
It should, the MacBook 15s are less than 10.5 inches wide. There will be no padded , separate laptop compartment . Of course.
I'm sure it's a great daypack for what it was intended for
I was looking for an 1098cu pack for long day hikes. I really wanted this to be the winner, but unfortunately it has to go back.

The straps are way too rigid and hard with absolutely no padding or cushioning. I'm sure this is fine if your wearing a down jacket, vest or fleece, but not for spring/summer sleeveless hiking. I only hiked for an hour or two before I had uncomfortable red marks on both shoulders from the straps cutting into my skin. Also, if you're not planning on strapping on a board or skis, all those straps are good for nothing, it's hard to affix anything else to the front of the bag with these straps and all of the hardware just adds weight.

I'm giving the bag 4 stars because it is a great bag - for what it was intended for- winter hiking.
How big is the hydration pocket and more...
How big is the hydration pocket and more to the point will it hold a 100 ounce bladder
Best Answer
The 100oz reservoir is a tight fit in this pack. you can make it fit, but just barely. 72oz works great.
I've used REI's minimalistic stuffsac type backpack for years and it's been good but someone what limited for what I'm looking for. The Silo 18 has been great. Very durable and streamline. I have no fault with it.
Hi all! I'm looking into buying this...
Hi all!

I'm looking into buying this backpack for some day hikes as well as to use as a school bag. I was looking at the Silo in particular because I longboard pretty frequently, and when I need to hoof it I'd like to be able to strap the board on to the bag. Has anyone used it for this purpose, or to strap on a snowboard? How does it work out?

Thanks in advance!
I've carried a snowboard on this and it works fine but a longboard would carry better since it's a smaller pack. Should work out great for you!
Hi, Will the Arcteryx Silo 18 and/or Silo...
Hi,

Will the Arcteryx Silo 18 and/or Silo 30 fit a Blackdiamond Deploy 7 shovel in the shovel pocket without detaching the handle.

Thanks
The pack is meant to carry a shovel and or skis on the the outside of the pack.
Simply run the shovel with the handle side down through the top gear loop then lower it down and tighten the shaft with buckle straps to keep it in place.
thanks mitch, i appreciate the answer. personally i like to keep my avi gear inside the pack. i usually use an arcteryx borea, but im considering this pack as a general-use daypack that might see snow/ski gear from time to time. have a good one.
Does this bag has Insulated hydration...
Does this bag has Insulated hydration sleeve?
The sleeve is not insulated.
What are the physical size dimensions of...
What are the physical size dimensions of the Silo 18? Length, width & height(expanded)? Need something that'll hold a hoodie, jeans & trail running shoes while biking
Silo 18: 19.5" x 10.5" x 8" (LxWxD)
it will hold these items, and maybe a water bottle, too.
I posted a review on here a couple days ago, but I just wrote a more in-depth with multiple photos on my blog over at www.one-backpack.com

Figured I would pass that along.
First off, let me say that I just got this bag today...so this may need to be updated in the future. But, this pack is awesome. I am not reviewing it as a snow pack, but rather a small day pack...similar in size and toughness as the Black Diamond Bullet. I currently have the Bullet and love it. I've had it for a few years and it's super tough and functional...but there are only two compartments...not a lot of organization. I love that the bullet does not have back padding, as it conforms to your body and does not have any shape of it's own...it's also light and packable.
But I wanted something a little bit larger with more organization but just as tough as the Bullet. In comes the Silo 18. For me, this thing is just about perfect. It is tough, perfectly sized, and has a total of 4 pockets. The framesheet is not removable, but that's okay...there are obvious pluses to having one. Using it as a daypack, I do not need the ski holding strap system...so I cut them off....in fact I cut all the extra stuff off and even trimmed the extra length off the shoulder straps. Now this thing is a streamlined, perfectly-sized, water resistant daypack. I can not understand why this pack hasn't gotten more recognition as a daypack or otherwise...it is absolutely awesome. I did a ton of research before buying this pack and I really feel that it's one of the best options out there. And of course quality-wise it's all top notch...standard Arc'teryx. Feel free to ask any questions about the pack.
Comfortable enough to forget its there
One of my favorite features of this pack is that the pockets are designed so that if you stuff one it does not take away from the holding capacity of the other. The molded frame is incredibly comfortable and the V like shape of the bag makes it ergonomic to flow with your movements.
This bag has a small pocket at the top of the bag, a vertically oriented outer pocket, and inside the main pocket a small zippered pouch which is useful for things you don't need too often. I love that the main pocket's zippers run the length of both sides of the bag so if you are looking for something in the bottom you don't have to unpack the entire top. Although the waist belt is flimsy it still helps hold the bag to you and take some weight of your shoulders.
Can't help but feel this pack is a little heavy for such a small pack but what you pay for in weight you get back in comfort and function. Over all a solid choice for a bag.
This pack is well made, as is everything Arcteryx I've used, but I was shocked at how heavy this pack is for such a small pack. Also, as a 5'4" tall woman with a short torso, the sternum strap did not work for me--could not be adjusted high enough.
This is my most frequently used backpack. I use it for
1. school: (fits lap top, books, notebooks, has a separate pouch for pens, wallet, keys, cell phone, yet another pocket that fits 2 apples, and yet a third on the front that fits small items too.
2. Day hikes: fits water, snacks, sunscreen, bug spray, extra layers, camera, etc. The straps on the outside make it easy to attach trekking poles. I take it on hikes of less than 6 hours and it is perfect. I typically attach my OR multimat so we can lounge around when we take breaks.
3. climbing gym pack: fits shoes, harness, chalk bag, snacks, water bottle, tape, grigri, and draws
4. cycling backpack - stays in place
5. resort skiing pack - hat, gloves, goggles, food, water, extra layer. I would not want to carry skis on it though.

I have not ever, and probably would not ever use this pack as a touring pack. It isn't big enough, and although the fabric of the pack is very durable, the hip belt is too flimsy to carry much weight. I would not want to carry skis on this pack. It would be very tight if you tried to cram spare winter layers, goggles, gloves, helmet, etc into this pack for skiing.

General comments:
1. 2 external pockets are easy to use and big enough to hold essential gear.
2. Internal pocket helps with organization.
3. pack fabric is very durable
4. back panel is heavy duty. this is not a fast and light pack, but it can carry high density loads rather well
5. mine was made in the phillipines and the zipper sometimes snags on stray edges of sloppy stitchwork. (I typically expect more out of a $100 day pack)

I love it, I use it almost daily and would recommend it to a friend. I would not recommend it for it's intended use as a ski touring pack though.
I bought this as an all around pack. Something I could use for school as well as day hikes. It was not as big as I thought it would be based on previous reviews but it still is a great pack. I can fit my 15" MacBook Pro, a Nalgene, and about 3 books (not large hardcover books) in the main compartment. With those in the main compatrment there isn't any room in the front smaller pocket for anything substantial.

If I lost this pack or could buy any other pack I wanted again, I would buy this pack without thinking twice.
Hauls Quite A Load for 1098 cu. in.
Loads of space for day trippin'. Well thought out for high-speed decents after hiking with your boards strapped on.....tried it out and is so easy a caveman.....I don't miss a thing about my old Kelty 1900, especially the useless mess pockets, also my friends can now carry their own stuff, or maybe I'll sell it to them.
Only pack you can wear on the lift, even when stuffed, I like this pack alot.
How is this pack for taller people - I am...
How is this pack for taller people - I am 6'3" - I see there are reviews for the Miura 20 that do not recommend that model. Perhaps the Silo 18 is different in that it sits higher on the shoulders - any one had experience of this?
It does seem to sit a little higher on my shoulders, but I am only just over 6'1". There is a lot of adjustability in the straps too.
I am 6'2" and own the Silo 18. I don't think that tall people were the basis for the pack's design but I can tell you that it fits me fine. I do have to adjust the straps a bit but it is simple. For me, it does sit a bit higher but that's fine. The pack is so small that you will not load it up too heavy anyhow.

The pack works great for me - it holds my camelbak 1 liter bladder just fine, ski goggles, food, extra layer and snowshoes. Its built well and takes a beating!
How is this pack for taller people - I am...
How is this pack for taller people - I am 6'3" - I see there are reviews for the Miura 20 that do not recommend that model. Perhaps the Silo 18 is different in that it sits higher on the shoulders - any one had experience of this?
The Arc'teryx Silo 18 will fit a tall torso better than the Miura 20 due to strap and frame design. It's still a bit of a stretch for the Silo 18 to fit a 6'3" frame correctly. That being said, the Arc'teryx Silo 30 comes in torso lengths, so a tall size in that pack would be the best fit, and can be compressed for small loads. I've got a couple tall buddies who use the Silo 30 and love it.
This thing just holds a lot of stuff. I found a extra compartment 3 months after I had owned it. I use this for day hikes in the summer and for day outings in the winter while I am snowshoeing. It can hold my shovel and avalanche probe with ease. The bladder compartment works great as well. I have no complaints.