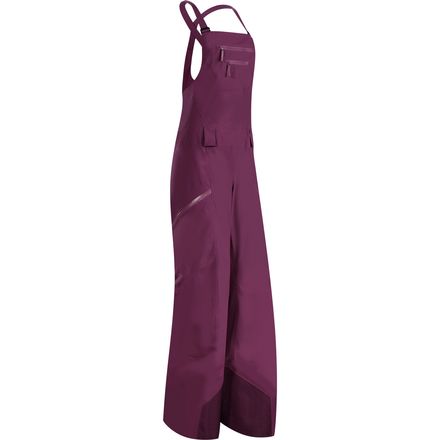 Videos
Description
Bibs are beautiful when you're heading out for a full day of deep snow and face shots.
Bibs are not just for babies. Bibs are for badass snow-babes like yourself who hit deep powder and crave record-setting blizzards. That's why you own the Arc'teryx Women's Sentinel Full-Bib Pant. This Gore-Tex beast gasps with unfettered enthusiasm when the forecast calls for snow in the valley, snow in the mountains, and no sun in sight. A relaxed fit lets you layer underneath when you're trekking in booger-freezing temps, and the form-fitted silhouette keeps you looking lady-like as you dominate the white-washed world in front of you.

Waterproof breathable Gore-Tex shell fabric and a high-back bib design ensure not one flake of the fluffy stuff gets through to your baselayers. The fact that this bib features a quiet supple fabric, graceful lines, and a shred-ready articulated fit is just icing on the cake. Side zips double as heat-dumping vents for rapid cooling. Powder cuffs hug your boots to keep your feet snow-free. Instep protection prolongs the life of the pant by shielding it from vicious edge cuts and crampon teeth.
Belt loops let you bling your bibs with a sequined belt. Pockets on the thigh and bib provide a place for your phone and mid-day snacks. When the day is done and you're recounting the endless face shots to a jealous crowd at the bar, loosen the suspenders and let the bib fall away for a slightly less intense look. Unless you need the extra protection because your nickname is Ms. Spills-A-Lot.

N70p Gore-Tex 3-layer, fully taped seams
Relaxed fit
Articulated knees, seat
Side zippers
Kaprotec edge guards, 100D Cordura powder cuffs
Side cargo pockets, bib stash pocket
Recco reflector
Why does backcountry.com not offer these bibs in petite/short sizes like Arcteryx.com does?
We do carry some of their pants in short and tall options like you'd see on their site - for example, the Sentinel Pant (ARC00DU).

Actually it looks like Arc'teryx only makes these bibs in the standard length:

http://arcteryx.com/product.aspx?language=EN&gender=Womens&category=Pants&model=Sentinel-Full-Bib-Pant-W
pretty in purple
Familiarity:

I've used it once or twice and have initial impressions

Fit:

True to size
I purchased my first pair of bibs last year (the Black Diamond Front Point women's bibs) and loved the functionality, but they just weren't the right fit for my body type or for the activities I wanted to do. That said, I sold them this season in hopes that the Sentinel bibs would be a better alternative. Boy, was I right.

To be fair, I just got these this week, so my only experiences with them have been indoors modeling them for my boyfriend... That said, I'll add updates in the future as soon as I get some days in them and get a better feel for the functionality. In terms of fit though, these bibs are fantastic. I'm normally a size 4, so I ordered a Small and they fit perfectly. They're a bit narrower at the hips, so if you're curvier I'd definitely recommend sizing up. Since I'm fairly short (I'm 5'5"), the Smalls ended up being the perfect length for me. However, if you're taller than 5'6", I'd recommend going with the Mediums to make sure they're not too short.

These bibs are fleece-lined, which makes them SUPER comfortable. The straps are also the perfect width, so they don't overpower petite frames like a lot of other suspenders tend to do. The Kaprotec-reinforced edge guards feel really durable, so I'm hopeful that they won't get torn up when I'm laying my skis on edge! Overall, I'm STOKED on these babies so far. More updates and photos to come.
Got my women's bibs!
Familiarity:

I've used it several times

Fit:

True to size
I finally settled on these women's bibs after trying a few from this website. These bibs are chic, comfortable and demure. I don't think they even say arc'teryx on them at all, which is great since I don't like advertising. The color (teal) is killer and goes well with my peach ski jacket, or any other top i put on. The bibs actually cover your chest, unlike the TREW bibs, and though they are a little long, they are perfect once your ski boots are on.



They are quite slimming and I am warm all day. I have had a lot of admirers asking me where I got them! I love these, they would have been fun in a neon yellow but I am happy with the teal.



If you are looking for women's bibs, these are the ones.
A Well Thought Out Design
Familiarity:

I've used it several times

Fit:

True to size
-I am 5'5" 125 lbs bought extra small, they are a bit long in the leg but I have short legs for a girl.



-The suspenders are very adjustable, but I have mine fully extended, would not recommend xs for girls any taller than me to avoid…front wedgie…



-These are much warmer than pants, but they also have adequate ventilation.



-I wish that the cuffs were a smaller circumference, they have a bit of a bell bottom look.



-The cargo pockets are angled down and move items to the side of the thigh so that there is no restriction while skinning or skiing.



-The cargo pockets are perfect for a beacon on one side and snacks on the other.



-The kangaroo chest pockets are perfect for those items that you want quick and easy access: big pocket fits your cell phone with a lot of room to spare and little pocket is great for chapstick, ID and debit card. Also, the little pocket is awesome in that it hangs lower than the big pocket so there is not an uncomfortable stack pressed into your chest.



-They not have an Arcteryx logo displayed



-I thought the belt loops were extraneous initially, but they turn out to be really helpful.They can be used to hang gloves AND it is a good idea to wear a belt in the backcountry. It can be too hot to wear the suspenders while skinning since there is no ventilation from upper thigh to boob height, so I drop the bib portion. The pants still stay up perfectly but I've decided to follow the current trend and trade my transceiver harness for a spot in my cargo pocket. The belt is then advantageous to ensure that your pants don't get ripped off along with your transceiver if you find yourself in an avalanche.


Not for tall girls
Familiarity:

I returned this product before using it

Fit:

True to size
Too short in the body with no ability to lengthen the straps so these are going back. Im 5'9" so not so tall but clearly designed for a shorter frame.
I love them
Familiarity:

I've used it once or twice and have initial impressions

Fit:

True to size
These pants are my new favourite. The vents are perfect for walking uphill ski touring. The bib has awesome pockets and keeps the snow out when the pow pow is super deep!
I wore my Sentinel bibs for a classy yet also sunny powder day at a litttle-known Utah Gem of a resort, Powder Mountain.

Our Gearhead management team gathered to partake of the bountiful fresh snows.



See the bibs in action at 0:32 and 1:29.

As I stated in my review below, I found them surprisingly shapely and flattering for a bib. SIGNIFICANTLY more so than the Norrona Lofoten Gore-Tex Pro Shell bibs I sported the 3 years prior.
N.E.A.T.
Familiarity:

I've put it through the wringer

Fit:

True to size
I rarely give 5 star reviews, but this piece of gear is one of those rare items that could be considered 'GOATWORTHY'. Here's why:



* SIGNIFICANTLY lighter than the Norrona bibs I sported the last 3 years. Now I find myself reaching for these Arx bibs every time, they are seriously about 1-2lbs lighter.



* The featherweight nature of these bibs makes them INSANELY comfy. You can hardly tell you are wearing them, super supple, form fitting and flattering. YES - THESE GIVE YOU A SHAPE!!

I actually feel like a lady when wearing them - LOVE!



* Great zipper placement. The 2 small chest pockets have been very useful for stashing items like keys and credit cards. The side pockets are HUGE and I often stash snacks, gloves, a hat, my phone etc...when touring.



* Speaking of great zipper placement, the sizable zips on these pants ROCK for 2 reasons. They offer a HUGE zone for ventilating during touring or spring skiing days. You can dial the amount of venting you need quite easily. Going to the bathroom is a CINCH. Approximately, scientifically 40x easier than trying to use the bathroom in my Norrona bibs.



* To evacuate: Simply unsnap one side of the bibs, zip both sides halfway down and squat! No removing jackets, no unzipping your top from your bottom - the Norrona pants were GARBAGE for trying to pee in the woods - these pants are LEAGUES ahead



* Durability is good - Got 60ish days on these and nothing major to report. There are some minor scuffs on the inner pant cuffs where they rub my boot buckles. These cuffs are significantly more durable than those on the Norrona bibs.



* After 60 days I have noticed less water repellency , so looks like it's time to treat these with some Nikwax - I think the Norrona pants demonstrated better longevity in this sector.
Arc'teryx Sentinel Full-Bib Pant
The women's Sentinel bib pants are amazing...
The women's Sentinel bib pants are amazing - but the belt lops are kind of goofy looking - sort of all dressed up and nowhere to go. Are there Arcteryx women's belts available to wear with them?
Best Answer
If I were to make a suggestion it would be for the Arc'teryx Conveyor Belt (which we do not carry) but really any nylon belt should work if you really wanted to give these bibs someplace to go.