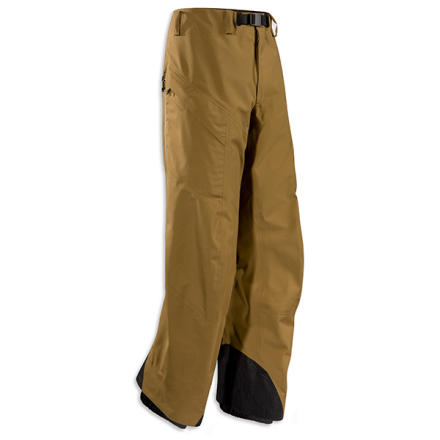 I absolutely love these pants - they're the most water resistant pants I've ever worn and are of great quality. The inside of these pants are a very soft fabric. Fit is perfect for me w/XL @ 6' tall with a 36" waist. This pant also has a RECCO reflector.
the pants are great if you don't ski, but ski boots and poles seem to tear the material fairly easily. i just sent mine back to arc teryx and they are going to get me into a more ski specific pant. If you board, go for it. If you ski, keep looking.
, ☃bcs_badge_alumni_label☃
relaxed fit
Classic Arcteryx construction with a more relaxed style. Comfortable, warm due to fleece lining and great thigh zips. Tour in them, shred in them. Fit well over the boots.
After 80+ days of skiing in the Sidewinders, I must say these are a durable functional pant. They are light and breathable (especially with the side zips) enough to wear on a warm spring tour with a pair of gym shorts. But they(along with a pair of patagonia R1 pants) kept me warm through a weekend of resort skiing with -15F temps. The gaitered cuff works great, as do all the zippers, and they show little damage around the cuffs from ski edges that would be very noticeable in a comparable pant.

A note on fit. I am 6'2", 160lb, and a 34"inseam. I got the large pants, and I have the belt cinched up just about all the way. They look a bit baggy, but the hem is just above the ankle of my boot, to help avoid getting tangled in crampons, edges, etc.
I have an older (2 year) pair of Arcteryx...
I have an older (2 year) pair of Arcteryx Stingray pants with the instep protection, not the hem/cuff of the new model. What is the difference between my Stingrays and the new Scarab pants? Thanks, Phill
Best Answer
The main differences are the looser fit of the Scarab, the thigh pockets, and the superfabric instep patch-it's really cut resistant. These have vents too, if your stingray's don't.
I'm almost positive these are made in Canada, but I'll double check mine tonight.

Follow up: definitely made in Canada
how would you compare the insulation in...
how would you compare the insulation in the scarab pant to the titan?
The Titan pants are going to be substantially warmer than the Scarab pants. I have the Scarab pants - think of a softer-faced version of the Gore-Tex Pro Shell (this is a Gore-Tex Softshell pant) with a light layer of fleece bonded to the inside. They are definitely very nice, but I personally think that they are only a little bit warmer than a standard pair of gore-tex hardshell pants. The Titan pants on the other hand have Primaloft insulation sandwiched between a Gore-Tex shell and an inner lining. These are going to be exceptionally warm - perhaps even too warm in temperatures above 0* F for most people. While comfort at different temperatures is going to differ from person to person, I've skiied comfortably in the Scarab pants with the wind chill factor around 0* F with a warm baselayer (I was using a powerstretch tight).
This is a superb ski pant. It works well in regular temps with a light capilene layer beneath, but the adjustable waist that stays up on a nice day (not recommended for dude riding) can also accommodate my superwarm fleece bibs underneath when the temps get bitter. I ordered the med size at a waist of 33 to 32 depending on brands and adding fleece was fine, and still had good mobility. and if you get too hot, the side vents blow the steam out fast. The only caution I might add without dinging a star rating is be careful putting them on in a rush, the hook on the gaiter will catch your toenails. Otherwise, buy them and go to fun cold places in them with confidence.
These pants are very soft to the touch and dont become crinkly like the pro-shell does. A lite fleece liner keeps the chill away. They are a roomy cut great to ride in. Another fine Arc'teryx product, just wish they would have made them in black cause the blackbird is a strange color. I exchanged mine and got the brown wich goes better with my jackets...
what temperature ranges would you recommend...
what temperature ranges would you recommend for these? ill be hiking in 20-50 degree weather and don't want to get clammy. Also, are they pretty quite?
My Scarab have kept me comfortable from below 0 up through t-shirt weather. They breathe well, have vents, and you can adjust your underlayers according to temp and activity (I just wear shorts under when it's warm). The fabric is quiet and soft.
I've put about 60 days on my Arc'teryx Scarab pants (I got a pair mid-winter)and they are my favorites for lift/tram riding. They are, of course, totally water/windproof, and built really well. But, what I really like about these: loose fit-not a tight alpinist style pant that Arc'teryx is known for; bonded fleece inside adds some warmth, but not too hot, I only wear a baselayer on 90% of days; great pocket placement for lift riding access; super tough fabric on the instep.