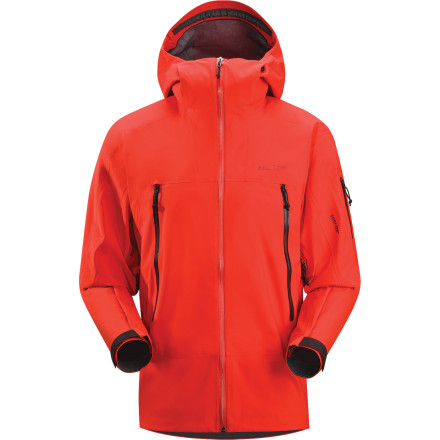 Community Images
Some of the nastiest weather conditions result in some of the best powder days. Don't miss out because it's too cold. Arc'teryx designed the Sabre SV Jacket so you could get out and ski all day when others are stuck at home wishing it wasn't so cold. Gore-Tex Sofstshell fabric keeps mother nature out while it allows your body to regulate its temperature. Light fleece insulation on the inside keeps you warm on the lift but doesn't overheat you like a big, fat puffy jacket.
Arc'teryx's most relaxed fit for progressive styling
Gore-Tex Softshell fabric is guaranteed waterproof and breathable
1.6mm seam allowance reduces bulk and weight
Articulated elbows and gusseted underarms give you free movement and durability
Underarm Zippered vents quickly regulate temperature
Molded zipper garages eliminate icing
Powder skirt with gripper elastic and snap closure
Surprises me every time I wear it!
Familiarity:

I've put it through the wringer

Fit:

True to size
I've worn this jacket on frosty peaks with gusts over 50+ mph, in hail, snow, rain and anything in-between and this beast just does not stop. My go-to was a NAU Asylum (another great jack on its' own) but after sporting this for two seasons, I haven't looked back. Very functional, light and pleasing appealing. This jacket, unlike most Arc'teryx, fits true to size. They don't make it anymore (I think) but you'd be doing yourself a favor by getting yourself into something equivalent.
Couldn't decide, so I ordered one of each in XXL. I'm 6'3", 275. Very fit below the waist - "million dollar" belly above. There is no question that the Sabre had more room for layering and the front pockets were a little deeper and roomier due to the cut. So why did I return the Sabre and keep the Stingray? Because the Stingray fit better. They are both long, but the taper in the stingray is more slimming - similar in some respect to the cut of the Gamma MX. I also have a Patagonia Gore-Tex shell that I use for REALLY cold, extra layer conditions, and wanted a jacket that I'd likely wear with one heavy or two light layers at most. The other thing that I liked better about the Stingray was the collar. I'm betting that on really nasty days, the Sabre would work better, because the jacket zips up high - almost to right under my nose - and there would be room for a little pocket of warm air. But for day in, day out, the Stingray collar struck me as more comfortable and practical. I'm expecting that either of these coats will be as comfortable and watertight as my Stingray pants. I chose those over Gore-Tex pro due to the feel of the fabric and their relative "quiet". Can't wait for wet snow.
Hi there. I was linving in google for...
Hi there.

I was linving in google for last few weeks to find out right size and color for this awsome jacket and finally Backcountry's offering road rash color in medium, perfect !

Now I need to match pants and I have few options. I'm desperately searching for Sabre pants in Green Light or Squid Ink in medium, but obviously very hard to find one. Alternatively,

1) Is Totem pants goes OK with Road Rash Red jacket? Everybody is wearing black(or gresy) pants and I'm kind of want to look different.

2) How Sabre jacket looks with Singray pants? I know that jacket is relaxed fit and pants are athletic fit. Is it going to be awkward looking matching sabre jacket with stingray pants?

3) Size : I tried Sabre pants at local shop and medion is my fit but little tight on waist. Should I go for large in Stingray pants?

I found a good deal for Stingray Totem pants and I can't decide if it's OK to go with Sabre jacket. Thanks guys.
Hi Chris

The carbon copy color would match pretty nice with your red sabre. I have the crossbow in blue ray and the sabre pants in carbon copy color and seems to be pretty happy with the setup.

The sabre pants I think would be a nicer compliement to the more relaxed style of the sabre jacket then the stingray pants. I found the sabre pants to be a bit more relax but definitely by no means baggy as other reviewers has mentioned. When compared to my TNF monte cargo and fargo pants the sabre defintely are a slimmer fit. The stingray pants is listed as a more athletic fit then the sabre so I would imageine the fit will be much form fitting. Again, it's a matter of personal preference.
Like mod Arcteryx, its perfect
Great jacket, fit, warmth, feel of fabric is all top notch. I have the Flylow Quantum Jacket also, I must say this one fits better and feels soft to the touch. I really like the Flylow Quantum for the money, but it you don't mind spending the extra then this coat is awesome.
Hi Paul Udovic I see that you owned the...
Hi Paul Udovic

I see that you owned the Sabre in Bondi blue color (awesome looking). I have a few questions. What shade of blue is it? how you like the color your self. How's the fit and performance for you? I purchased the Carbon copy color but though it was a bit too bland. There's a bondi blue one available in medium at a pretty decent price and I'm thinking about purchasing it so just wanted your thoughts on this color and the sizing in Medium. I'm 5'10, 175lb.

Thanks, Jeff
Hey Jeff,
Sorry for the lateness of my reply. Bondi Blue is a bright blue with a hint of green in it (I believe it is referred to as CYAN). I love most blue shades and tend to buy a lot of different blues in my wardrobe. It will really depend on what what types of colors you like to wear. I get a lot of compliments on it since its really different.
As for fit. I am the same height and weigh just a little bit less. I like the fit of the sabre for layering but it is a bit big with just a t shirt underneath. When the temps rise I tend to go for my pro shell jackets or now I have the Gore active shell.
If you get a good deal on the Bondi blue - go for it. The price for fall 2013 is going up $50 on the sabre ($525)
Hi Paul

Thanks for the detailed replied, it was really helpful.

There's a brand new one I can pickup for 270 in Bondi blue so I might just jump at it while still around.

Have a few more questions hope you can help.
It's there any feature differences between the bondi blue model versus the 2011 and 2012 models?

I was also interested in the greenlight color and want to know your thoughts on this color (I understand colors are a personal choice,like you, I also like blue) I actually purchased the carbon color (nice) but found it really bland for my taste.

Also, would you recommend the Sabre Pants to go with the jacket? In terms of color schema for the pants would carbon copy color go well with bondi blue? any recommendation in color, I currently have a pair of TNF Monte Crago's in green, not sure how that would workout with bondi blue.

Thanks again.
Jeff,
$270 is just above wholesale so I would certainly jump on that (next years line up does not include any blues). Greenlight is OK but not as nice as Bondi Blue thats for sure (greenlight s also discontinued for next fall) I am not aware of any changes between model years.
Sabre pants are nice but a little baggy. Depends on how you like them to fit. The Stingray pants are more athletic and I prefer the fit. Black or dark greys are probably the best colors for pants with this jacket so yes carbon copy is a perfect match, (even squid ink looks pretty cool next to it).
Hope this helps
Cheers
PAUL
Unfortuately, i missed my chance on that bondi jacket. There's a Crossbow jacket in blue ray at the same price I could pickup. How does the blue ray color? How's the crossbow vs sabre in terms of performance? Reading the reviews here, seems the crossbow has more bells and whistles with the thicker goretex and extra internal pocket. Which is a better all around jacket assuming i can get both at the same price?
Jeff
The crossbow fits the same and has one more internal pocket and the thicker gore tex in the torso, shoulders and the tops of the arms. there is not that much difference between the sabre and crossbow. Pick it up if you find a great deal!
I see that the Sabre is SV rated, but I...
I see that the Sabre is SV rated, but I have read many comments that this is not as durable as the hardshell SV. Is this accurate. Also is the carbon copy a popular color? I found a good deal on it but can not tell by pictures what the actual color is. Some look black and some look lighter gray.
I do not own this jacket but have seen it in a retail store. I like the color carbon copy, it is kind of like a flat black/very dark gray. Can't help you with the durability.
Roy

Had a Sabre now for its second season and it is holding up as well as any of my Pro shell jackets. I prefer using the Gore softshell while skiing and snowboarding to my Pro Shell jackets. The fabric is more supple and has a touch of warmth with the fleece lining.
Hi Roy

The color of the carbon copy is a really nice color of dark grey.

I have a brand new one in size Medium if you are interested in purchasing.
Arc'teryx Sabre SV Jacket
I am 5'10" 180 lbs and I bought this jacket in size medium. I have used it several times for snowboarding as well as general use around the city. The relaxed fit is comfortable, however I find the sleeves too long for me, requiring the velcro cuffs to be cinched most of the time. The quality of the materials and construction are excellent.

I do have one criticism of this jacket, and I wonder if anyone else has found this to be annoying... Although the brushed lining is very soft, when I want to wear just a t-shirt with the jacket, I find the taped seams to be extremely itchy or prickly. It has something to do with the material used for the taped seams. I realize that this is a minor issue as I can wear long sleeves or layer beneath this jacket, but unfortunately this issue kept it from being "perfect".

Please feel free to comment.
This is the best jacket I've ever owned, totally worth it. She hasn't failed to amaze me yet, Jackson, Baker, wherever it always passes the test.
Hi, I'm considering a Sabre and would...
Hi, I'm considering a Sabre and would welcome some thoughts on sizing. I am 5ft 9", 38/39" chest and weigh 72Kg. (For info I already have a Beta AR in medium which fits "ok" (would have preferred a slightly closer fit like my old Rab Drillium) with room for a couple of layers easy. I'm guessing that a medium Sabre may be even baggier, if so should I go for a small? Thanks in advance.
Best Answer
This is the loosest fit in the witeline series. It does fit a lot baggier than your Beta AR, it is also longer in the front and back. If you prefer a more slim fit than certainly go for the size small.
Yes, it is baggier than other Arcteryx jackets I tried. I am exactly your size and I ended up with a medium. While I could wear a small, I thought the arm movement was slightly restrictive. I love the jacket. I have used it in really stormy and windy days. One of my favorite things about it is the fantastic wind protection - it is amazing going up the lifts with the wind blasting on Mt. Hood. Also love that the hood is helmet compatible.
This is not meant to fit close. This is Arcteryx most relaxed cut ever. It is new school gear for stylish people. You would be much better off with almost any other Arcteryx jacket because their standard fit is exactly what you are looking for. I am 5'10" 155lbs, and have a medium. It is the greatest jacket I have ever owned. I've had a few Arcteryx jackets, and used to always have to buy a large to get the fit I was looking for. Baggy, but not 17 year old long tee style baggy. Sleeve length is perfect for me, but I have long arms.
I'm looking for all-around jacket for...
I'm looking for all-around jacket for climbing / skiing year around in North West. Would this jacket be a good choice, or should I consider one of the hard shells?
Hey there, this jacket is a hardshell, meaning 3 layer... it just uses Goretex softshell material, which technically isn't softshell... its Goretex where the inside 3rd layer has a kind of soft/fleece face... I think this is a great all around jacket for what you are looking for... only thing you might consider is that this has a powder skirt and you may not want one...
What's more durable? Goretex pro shell or...
What's more durable? Goretex pro shell or Goretex soft shell? I'm extremely rough on gear and need a jacket that can hold up to skiing, general camping and mountaineering. Also which will offer better protection from rain? Although I'm looking for a primarily winter jacket, I want to be dry when Vermont winters throw me a curve ball.
Sounds like a Pro-shell jacket would suit you better. Pro-shell tends to be more packable, breathable and durable. Softshell is warmer, softer and more quiet. Take a look at the Arc'teryx Rush (similar to the Sabre SV, but in pro-shell, and with more pockets) the Alpha SV-maximum toughness or the Beta AR for a super versatile jacket for all seasons.
Sizing question? 5'8" 215 lbs. I wear a...
Sizing question? 5'8" 215 lbs. I wear a large in Burton jackets Will the that be the same with Sabre SV due to the larger sizing of this model people below are speaking of? Thanks.
You should do fine with a Large in the sabre. BTW it will have a long cut in both the front and rear.
My red Arc'teryx shell faded pretty severely after only 1 year and the various panels faded differently - a major disappointment and Arc'teryx said essentially "too bad."
Is the Quail grey a darker color? Some...
Is the Quail grey a darker color? Some pictures I have seen on other sites show it to be darker. also are these easy to clean? I am decideing between carbon or quail grey
Roy, the Quail Grey is a lighter grey, similar to the Carbide color of other Arc Teryx items.
Got this jacket this season and wasn't sure what to expect for the weather conditions I would be skiing in this year. I decided to just purchase the jacket and the 150 weight Icebreaker baselayer and layer as needed on top of that. REALLY glad I didn't get any insulating base layers as some sales dudes recommended. This jacket and the thin baselayer kept me toasty the whole trip. Many times we got on the gondola I had to take the jacket off. The 'light fleece insulation' is VERY VERY light, so don't be confused... I would say there might be a millimeter of fleece like material, and definitely wouldn't consider it to be 'insulation.'
This jacket repels water like a champ (obviously), and despite taking a good number of spills and a few trip through the trees, I can find no signs of wear so far. I love the giant front pockets, and the internal pocket is the perfect place to put your music player and run your headphones out of the neck. The powder skirt worked as intended (on the two days it...). The hood fit closely around my helmet, but was in no way restricting.
As everyone knows about this jacket, it fits a bit big compared to the other jackets I tried on. I find myself very curious about sizing down to a medium (sorry Backcountry!), as I think it looks much to big in any stance besides ski position... I guess I'll just have to stop by a local shop and try a small on first...

Bottom line: I would buy this jacket again; I will definitely highly consider buying other Arc'teryx products despite the prices; Consider sizing down in this jacket.
Downside: My girlfriend is now convinced that she needs an Arc'teryx jacket :-\
I know this is a looser fitting piece than...
I know this is a looser fitting piece than most Arc'teryx shells, but I'm wondering how much looser? What is the chest size of an xxl? I'm 6'5, 225 lbs.
Chest is around 50 inches.
When compared to my Alpha SV and Stingray jacket it feels as if it is a 1/4 to 1/2 size larger.
hi, other than the fleece liner how is...
hi, other than the fleece liner how is this jacket different from the Theta AR jacket/ Is one more waterproof than the other in an extreme hard down pour?
Thanks,
Keith
Hey Keith.
The Sabre is a softshell, the fabric will stretch with your movement. The Theta is a harshell and will not stretch. The Sabre also has a powder skirt, where as the Theta does not. Both shells use Goretex so in theory they will have the same waterproofing capabilities.
ok curious i have a alpha sv how does this...
ok curious i have a alpha sv how does this compare lengthwise
I have a medium in both. My Sabre SV is 2" longer in the front (31" front zipper compared to the alphas 29") the collar is the same height. The rear of the sabre is a bit longer as well (maybe an inch. The sabre has a touch more room in the torso FYI.
Does this coat have insulation, if so, how...
Does this coat have insulation, if so, how much. When you wear this jacket do you need a insulation layer? I live in Breckenenridge, so guage your responses based on high altitude conditions.
Best Answer
The Sabre does not have insulation. It uses a thicker softer face fabric with a light fleece bonded to the gore tex membrane. The combination of these 2 things adds a touch of warmth to the jacket (less than a 50 wt fleece I would estimate). I always use an insulating layer under the jacket (such as the Atom Lt or epsilon). regular fleece does not slide well under the fleece backing of the sabre so look for a smooth faced insulating layer.
Hope this helps.
Is this more of a fully waterproof Venta?...
Is this more of a fully waterproof Venta? A soft shell with just a soft lining is how I would describe my Venta AR and with its Windstopper and taped seams construction, it's been amazing. Was just wondering of this would be worth as a dedicated winter coat as I prefer layering as I use an Atom LT or Hyluss. How would someone compare these 2 coats, Sabre SV and Venta AR?
This uses a stretchy gore-tex lined fabric, so it's completely waterproof. If you like to layer, I would suggest getting something with a tricot liner instead of the microfleece in the Sabre. If you're sold on Arc' then check out the Alpha or Beta series, otherwise, Rab's Latok jacket, Patagonia's Super Alpine, Marmot's Apinist, or any other number of hardshells would do the trick. This will not be any warmer than the Venta.
The Sabre is a snowport specific fully waterproof softshell jacket. The Venta is not fully waterproof. Although the seams are taped with a finishing tape, it cleans up the seams on the jacket and adds a bit more water resistance it does not meet Gores standards of what a waterproof jacket is. Also the front zipper (as well as pocket zippers is not watertight). The sabre as mentioned comes with articulation meant for snowsports as well as a powder skirt. James is right on the money when he says you should look at a hardshell to compliment your wardrobe. Check out the Arcteryx Rush jacket as well as those he mentioned