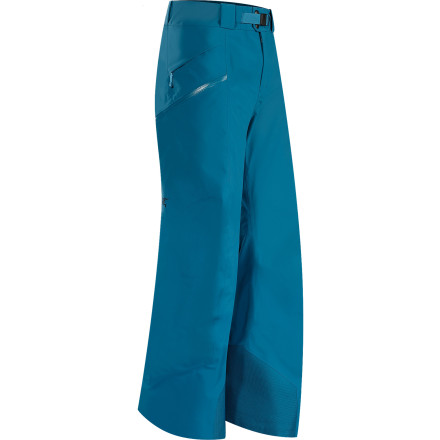 Description
Relaxed style and the guaranteed waterproof breathable protection of Gore-Tex fabric.
You might like to wear your dad's tighty neon ski pant once in a while, but we know for a fact that the Men's Sabre Pant will be your go-to most days. The waterproof breathable Gore-Tex fabric is guaranteed to keep you dry, and the relaxed fit means you can sit down on the lift without worrying about busting seams. Side vents let air flow in and out of this pant so you stay cool during hot hikes, and the flannel backer that lines the inside of the legs means more warmth when you're on a cold lift chair.

Gore-Tex waterproof breathable fabric uses a three-layer construction in order to block moisture and precipitation from the outside but also allow vapor and moisture underneath (inside your pants) to escape outward through the pores in the fabric
Soft shell fabric feels smoother than your typical hard shell fabric
Side vents open wide so you can ventilate hot air from within in order to cool down
Slide 'n Loc snaps join your pants to your Arc'teryx jacket to create a system that keeps snow from sneaking through at your waist
Keprotec insteps guard against abrasion at the bottom of the pant legs
RECCO reflector aids emergency location when you need to be found by a RECCO-equipped rescue team
Powder cuffs stretch over the top of your boots and seal out snow on particularly deep days
Schools still Out!
Gender:

Male

Familiarity:

I've used it several times

Fit:

Runs large
Plenty of room in the fit dept. which is nice for maneuvering around in.
Really liked the fact that I waited until You put them
On sale which anyone can appreciate ! This is my first experience with Arcteryx and am hoping for the best from them and backcountry.
hmmmmm. good and crazy
Familiarity:

I've put it through the wringer

Fit:

Runs large
while i gotta say they are BIG , i got XXL bec i like them bigger, nothing upsets me more than tight pants . errrr unless im oggling gals at a club or someting.... sorry ..,.
where was i.. ok..., these are fricken HUMONGOUS. arc guys, seriously how many 9'8 snow folk do u know that dont have a last name Bryant, Bird, Ewing or "yeti".
cmon seriously these are lonnnnnnnnnnnnnnnnnng ,i have to take these into a seamstress to get them to cut the leg cuff off by ..wait for this , and im 6 foot......
around 15 + centimers!
that is rediclous!
anyway. as a pant, these are terrific, they arnt too heavy. not paper thin. the cuffs are extremly carve resistant. pockets are fantastic. waist belt is great , plenty of room to move on a board .maybe .. i dunno maybe they cud be a little higher on the waist line? if im not wearing a long jacket ( i only wear these with the patagonia untracked bec of the length..) then they tend to attract snow. id make them with a upper band to keep the snow out better. but all non bib style pants seem to tend to attract powder.., apart from that they are spot on.
well besides the fact you u need to play for the clippers or suns to fit in the m lenght wise!
ilgive them a 8/10 bec he quality is terrific

seriolsuy i had to roll these up to my shins to get them to fit properly. absoutely rediculous!!!!!!
Functional fabric-lacks durability
Familiarity:

I've used it several times

Fit:

True to size
Like most Arc Teryx, the form, fit, and function of the garment is great. However, the durability is not the same as pro shell. The seams started puckering after 30 days of lift serviced riding. Once the seams started puckering, than dirt started to be ground into the raised seams. These pants look 3 seasons old, already.



I contacted Arc Teryx customer service. They were condescending and very unhelpful. They offered such gems as "wash more" and "if it's not leaking, then it's not a defect." They then suggested that I contact Gore. Way to back up your product, Arc Teryx.



Bottom line, the function is great. However, expect these pants to look very worn way ahead of their time. My expectations is that $1,000 in jacket/pants should look pretty good after 30 days. Don't buy this pant if you have the same expectations.
Not durable.
Gender:

Male

Familiarity:

I've put it through the wringer

Fit:

Runs large
I snagged these pants on a tree branch my second time out in them, and ripped a 6" hole in them. The relative thinness of the shell material combined with the baggier than usual fit seem to make them especially prone to this type of damage. Having now compared these to similar garments made by Marmot, Patagonia, and others, I have to say they are certainly not worth the $450 price tag. A 5 week turnaround on repairs sent to Arc'teryx (you have to pay for these, as tears are not covered under warranty) mean that the season is nearly over by the time you get them back. I won't be making this mistake again at least not with this brand.
Crazy Baggy
Gender:

Male

Familiarity:

I returned this product before using it

Fit:

Runs large
Ordered these because they come in short inseam. I'm 5'7", 160 lbs, stocky build with a wide chest (size 40 coat) and these pants are ridiculously baggy on me. The leg cut is super wide to the bottom. I might need to get a small short but I'm not sure it's going to help that much. For a short inseam they were also longer than I expected and still caused a lot of bunching at the knee. Great quality, but funky cut IMHO. They're going back. I expected a bit less material in the med-short size. All they did was knock about 1" off the length from what I can tell.
Stylin' Pants
Familiarity:

I've put it through the wringer

Fit:

Runs large
Like previous reviews -these pants run big. I am 5'10" 165lbs with a 32" waist and i fall between a small and a medium. The smalls fit great but can get a bit snug in the waist if i am wearing a midlayer (like the gamma MX pant). The medium fit nice but are a touch baggy- not in a bad way. I ended up with the medium and they are my go to pants. comfy with large well placed pockets to stow gear. A lift pass loop that comes out of the pocket is an awesome feature and hard wearing keprotec patches protect the inside of the legs.

Material is nice and soft without the noisy krinkle of gore tex pro. The fleece inside provides just a hint of added warmth.

Great pants if you can pick them up on a good deal
A bit big
Familiarity:

I've put it through the wringer

Fit:

Runs large
I have these in the tall version, size MT. I am 6ft 185, with longer legs. This pant runs fairly big, I am a 32 waist and could probably get away with the S. They are also baggy, but the quality of these pants seems top notch. This is one of my go to resort pants, however, I wouldn't tour in them - just too much material.



As a side note, I am less than pleased with Arcteryx customer service. I was forced to purchase through their website because BC.com doesn't offer these in longer sizes. I wrote them to inquire about a refund / exchange as I was outside of the 30 day window and had only worn 1 time and I didn't hear back for almost 4 weeks. When they did reach back out, I got a canned response basically restating their return policy, which I was already aware of. I thought for spending $500 on a pair of pants they would be more accommodating / offer more options. Maybe try a different style? If I have learned anything in the outdoor industry, it is that customer service is #1. In this case, Arcteryx dropped the ball and I will honestly not purchase any more of their gear because of it. There are plenty of other brands that care about their customers. This is why I purchase everything through BC.com, they have the absolute best customer service and offer an awesome return policy.
Those Canadians....
Familiarity:

I've put it through the wringer

Fit:

Runs large
What can I say, except this is a classic Arcteryx piece of gear. Durable, super well thought out, technical superior, and bomber to have with you in the snow and cold. Keep in mind that these are on the baggy side compared to their other pants. I like this since it makes them super comfortable and keeps options open for layering, but if I was doing something super technical like ski mountaineering I would maybe want something a tad more slim fitting.



If you want a hard working pair of pants that are super comfortable, look great and have amazing craftsmanship, look at these.
so far so good.
Familiarity:

I've put it through the wringer

Fit:

True to size
arcteryx quality. great fit and construction. I use these primarily for touring in addition to a pair of softshell touring pants that I own. I bust these out for the wetter or colder days. the flannel lining adds a touch of warmth but not too much, and I'm guessing come spring time I can wear these with nothing but some boxers and be a great temp for some corn tours. Lots of bushwhacking this year so far and the goretex pro shell is holding up great! stoked on these pants!
To quote Cher. Simply the Best!!!
Familiarity:

I've used it several times

Fit:

True to size
These are the shiz nizzle. I use them for snowboarding. I previously used Burton 3L Gore pants. The material on these are far superior than others I have used or tried on. I am 6'3" and purchased the XL. They are a bit baggy but that is how I like them. If you are looking for a pair to hike with, I would size down. I also added a better belt to their stretch belt. I honestly can not imagine there is a better pant for ski/snowboard use.
I wear a size xl in the stingray pant. I...
I wear a size xl in the stingray pant. I want to move into a sabre pant for the extra baggy ness . Is it safe to assume I would order size xl as well in the sabre? I am 6 foot 4 and weight about 230 pounds. I have a long torso. I do not think I need the tall model.

Cheers Dion
Best Answer
Dion,

I would recommend staying with the XL size, and at 6'4", I would recommend the tall to anyone over 6'1". Although you can consult the sizing chart attached to this product page for more specific inseam specs.
Well I went with XL-Tall being about 215 lbs and 6'4" (193cm or 195 - not sure). I've read this advise to go with tall version and it was my biggest mistake. Now I'm looking like an astronaut with ridiculously long and wide pants.

I'm a well-knit guy, but they're really big. You can easily size down.

So I'm staying with XL jacket and midlayer that fit's me perfect(baggy a little) and Large-Reg pants which i need to get though.
I am 6'5" and 265lbs, I went with the XL none tall an I am very happy I did. I have a 36" inseam and the standard fit great.
Arc'teryx Sabre Pant - Men's
New school
Familiarity:

I've used it several times

Fit:

True to size


I love the fabric that these are made of, burly Gore-Tex pro with a inside face fabric. They are awesome.

Thigh vents, minimalist. I am excited to connect the slide and lock system with my caden jacket. It should make a bomb proof one piece like two piece system.



The baggy style is in and will also make me a little less dorky. Since I foot and long these will shorten me a bit. Not the reason I have them but a definite plus.



Arc quality guarantees satisfaction
Quality you can trust
Familiarity:

I've put it through the wringer

Fit:

True to size
What doesn't Arcteryx make that isn't top of the line quality. I love these pants. I have had them now for 2 seasons and hey have held up really well. The pants are unchanged in that time and still use the N80p-x goretex material. They are extremely warm if layered appropriately and can also be worn on the warmest days. I love the large vents on these pants and the loose fit. If you plan on hiking mainly then you may want a pant with a slimmer fit but I have hiked a ton in these and find no problems with the looser cut. Waterproof as always since they are goretex and the shell fabric has held up better than expected. They are much softer and do not make the swish swish sound when you walk like goretex pro shell does. I love the large pockets on them and the built in waist belt helps you achieve the best fit possible. I expect I will not need a new pair of pants for quite a while with how well these are holding up.
Favorite snow shell
Familiarity:

I've used it several times

Fit:

Runs large
This piece is amazing. I wanted to get a pant that was a little more baggy and relaxed to fit the new freeriding style, and these are awesome. The squid ink color is sick, and it goes great with my orange sidewinder sv top. The powder skirt interface system is awesome for keeping out snow. Big thigh vents for those times when your legs need to dump heat from those quad burning mogul runs. Have handled everything I have thrown at them, from trees to deep powder. Favorite ski pant I have ever had.
Got these as a gift for my dad. He absolutely loves them. They fit him really well and they're true to size.
There are some mixed reviews on these pants, mostly coming down to the style and fit so thought I'd throw my $0.02. As a preface, I ski 90% backcountry and 10% resort. I'm about 6' 160 lbs. Finally, I sometimes review products for GoreTex through a program called Mountain Techs.



Overall I like these pants for skiing at the resort, but the fit makes them difficult for _me_ to use in the backcountry. Too bad because otherwise they are a fantastic pant.



Pro:

I'm personally a big fan of GoreTex proshell fabric which these pants use because of its durability and breathability, even it sounds like you're wearing a paper grocery bag. Arcteryx also did a great job on seems, zippers etc. Aside from quality, my favorite part of these pants are the enormous pockets. I can easily stow an avalanche beacon, snacks, camera and even my thermometer which I like easy access to. The other really nice feature on these pants are the boot gators which is easy to slide up and down when fussing with buckles during a transition (as opposed to the gator on the Arcteryx Theta bibs that have a metal hook and snag on things).



Con.

Biggest complaints are the fit. They are definitely baggy. I don't mind being in fashion but I do find they can make kick turns difficult because of the low crotch. To make this worse, the belt is elastic so its hard to really snug down over my skinny frame. I'm told Arcteryx will replace provide a static belt if you ask for it. The pants also have side/thigh vents but I find they are a little small when I'm working hard on the up track.... making those a little longer would help quite a bit.



Overall - this pant lives up to the Arcteryx and GoreTex names in quality and performance. They are definitely stylish but it seems to come the cost of functionality, at least for me in the backcountry. But still a great resort pant.
Super Baggy Snowboarder Stereotype Pants
So, you took the old baggy-cut Arcteryx Stingray pants and removed the insulation? And you're calling them the Sabre pants? Ok, that's fine...



Seriously, maybe it's the fact that I spend so much time in my Theta mountaineering bibs that all the other Arcteryx bottoms feel like they're cut for 14yo snowboarders - which was me, 20 years ago. But these are cut so baggy through the legs that I feel like they're going to flap in the wind behind me! They're the right waist and length, but other than that they feel like they're 3 sizes too big.



And the ankle openings are so big they cover my entire snowboard boot - and all but the toe of my AT ski boots. I'm going to give them another try, but they got so much powder up the leg last time that I swapped out at lunch for some other pants!



Beyond that, the side zips, pockets, belt, and fabric weight are dead on. The lack of insulation is perfect for me, I run hot and like to pick my own level of insulation anyway. I just want to take these in to a tailor and get about 4 inches out of the leg diameter.



Disclosure: I occasionally receive and test GoreTex products through the Gore-sponsored MountainTechs and HuntingTechs programs. This was one of those items, but that didn't affect my review.