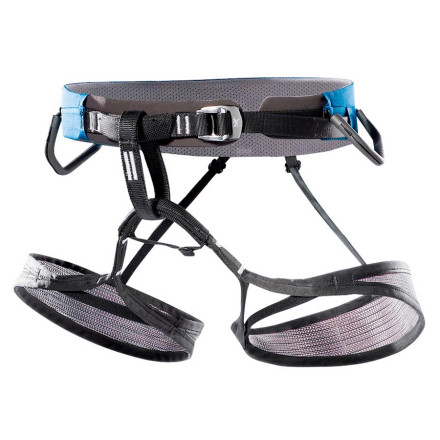 Detail Images

Community Images
The Arc'teryx S240 Climbing Harness's unique fabric weave shaves bulk to the absolute minimum, so you can concentrate on sending your project without distraction. You're sure not going to notice this 8.7oz harness when you're skipping the last bolt and gunning for the anchors with the last bit of your energy. Thanks to Arc'teryx Warp Strength Technology, the S240 Climbing Harness distributes your weight across every stitch of fabric. It provides premium comfort while you hang and work the moves to the next project on your list. *Only available for US shipment.
Share your thoughts
What do you think of the
Arc'teryx
S240 Sport Climbing Harness
? Share a...
Great low profile harness that somehow remains comfortable for hours on end. Every time I put it on I get comments on how great it looks and how sleak it looks. This thing is just as comfortable as any padded harness without the stiffness and bulk.
I just got the Arc'Teryx Lt harness Mostly the same design only the color scheme is a little more steezy than this one. It fits great as i am quite skinny most harness tend to become very uncomfortable on my protruding hip bones. my only worry is how fast are these mesh leg loops gonna become tatered?
this harness is fantastic!
-light as a feather
-can't feel it on
-bare necessities only
-amazing buckle
-very vented (the leg loops are mesh and see through, i didn't know this upon buying them)
-haul loop is strong
-removable sheaths on the gear loops
-very good looking harness that fits like a dream

downside- you can't adjust the legloops

would give 7 stars if i could! way to go arc'teryx
The is an awsome sport harness. I use this harness for the gym but have done a few outdoor climbs with it. It's super light an comfy. Hands down a great harness.
Real lightweight, enough gear space for sport climbing.

It took me a while (months) to get used to, but after hanging on it for a while it is no longer uncomfortable on the legs when sitting after a fall, or holding someone else after a fall.
Women will want you, men will want to be you
You will climb harder, look stronger, and be awesome...

As others have said it is super thin yet it remains very comfortable even for all day wear.

I've never noticed the lack of rear gear loops. For sport climbing it offers plenty of room to rack up draws - or you are on your project and you don't need them anyway. If you climb trad and want one harness to rule them all... this ain't it.

I'm a 31 inch waist and the medium fits perfect.

-Kevin
I now have a 320 and a 240. I use the 240 for climbing indoors and the 320 for outdoors because it has more gear loops. But realistically I could just use the 240 for outdoors too since I only do sport climbing.It's super light and comfy, and it looks great! It's also super compact and mod-able so doesn't much space at all compared to harnesses like Petzl and BD.
Sizingwise it's the same as the 320: I usually wear size 32 pants and I got a medium. I would advice to size up even if you're a size 33.
I just received this harness about a week ago and I have loved every minute of it. This is a really light harness which is fantastic for gym and sport climbing. It also packs away very small which is great if you have to trek up to a climb. It is comfortable as well, I barely noticed it on me the whole time while climbing. Arc'teryx even gave it a cool tin for storage. A+
Light wieght and comfterable
This harness is great it's really light but it's still amazingly comfortable.
The warp technology is awsome
would this work for trad climbing
would this work for trad climbing
Best Answer
The Arc'teryx S240 would work as a trad harness, but the Arc'teryx R320 is better suited with 4 racking loops, and a rear haul loop for tag lines. I find the 2 loops don't carry enough gear unless you're running it out, or take a sling along. Both styles pack down really small.
Great harness for indoor climbing.
For the most part I do alot of indoor climbing and this Harness is great. It's light weight, I can spend hours in it with no discomfort. The one down fall is if I intend to go outside and do any Trad climbing this is no good. It only has two gear loops which is fine for inside, when all you have on is an ATC and maybe a quick draw or two, but outside you would overload it with cams etc.

Also I am a 34 inch waist (in most pants) and the medium didn't come close to fitting properly I had to return it and get the large.
This harness is killer - so light, so small. Arc'teryx made an incredible harness, you hardly even notice you're wearing it. I've hung a while with no discomfort. Took my first lead fall and I'm still here! The two gear loops don't give you much to work with if you plan on anything more than a set of quick draws, but it is a sport harness after all.
besides being very light weight, one of the best things about this harness is how fast it goes on. If trying to go fast, you could prob have it on and adjusted in under 10 sec. there is one buckle around the waste that doesn't require double backing. everything else is elastic.
As thin as bubble gum! literally!
Don't waste your time on gear that really was last nights one-night-stand. I was at the climbing gym and found everyone walking up to me, including this hot little temptress saying, "WHAT!!!! This is insane!" I replied with a cocky swagger back, "Yes.. Yes it is... and that's why your gonna give me your number" This is literally as thin as a stick of bubble gum! Sure it's $100 and it should be more. I wore this harness all day, not one uncomfortable spot on it. Here are the SPEKS: The leg loops expanded nicely for my super-thick mt. bike thighs. My waist is a 34.5 And This fits perfect. If your smaller then a 34.5/35in go to the medium. Not gonna Lie.. I saw Spiderman wearing this harness yesterday. Now you know his secret. Gotta run,,, that girl is waiting for my call.
I've had this harness for a little more than 3 months now, and after a summer of hard climbing it still looks like new. Beyond its good looks, it's proved to be comfortable even after hanging and belaying all day long. It weighs next to nothing and because of the slimness of the weave, it takes up almost no space at all in my pack. The only negative for me is the snugness of the leg loops. I have 24.5 inch thighs (M waist), and though fine in summer gear, I wonder how comfy it'll be over my fall clothing. Other than that, it rocks!!!
im in between s and m which one
im in between s and m which one
go for a medium if your 30" or more in the waist.Be sure to check the leg loop sizes, as well. I have a 31 inch waist and have a medium size harness. I end tightening up just about to the harness's limit, but a Small is not an option for me because my legs are muscular and the medium loops are already really tight.
should i get this or Petzl Hirundos. i,m...
should i get this or Petzl Hirundos. i,m pretty small and short
This harness is pretty bad ass. It is very light but surprisingly comfortable. I have taken many falls in this thing and it stands up to the abuse. Hard to beat Arc'teryx, for anything really. OK that said my main climbing partner climbs in the Hirundos and he loves it. Maybe one day we'll swap but I kinda think it would be like swapping wives... They both seem to be on par with each other except for gear loops, but the S240 has a better color in my opinion (not metro just that it's a bit loud for me.) Its a crap shoot. Id go with the one that's more comfortable to you.
i have the hurundos and would not recommend it.... after 9 months of hard wear the stitching is coming out in various points, i will be returning it. It is not good for hanging or working a route for more than 20 minuets. I will be getting the R320...
This is a bad ass harness! Light, comfortable, and easy to put on. You should spend the money.